Boehner Puts Tax Rate Increases On The Table
The latest offer from John Boehner includes a significant concession.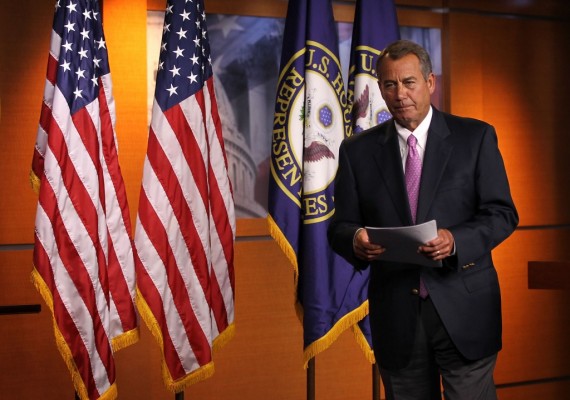 After weeks in which it seemed as though there would be no movement at all in the negotiations between the White House and Congressional Republicans over a possible deal to avert the quickly approaching fiscal cliff, it appears that there's been movement in the form of an offer from Speaker John Boehner that includes increasing tax rates on high income earners:
Speaker John Boehner has proposed allowing tax rates to rise for the wealthiest Americans if President Barack Obama agrees to major entitlement cuts, according to several sources close to the talks.

It is the first time Boehner has offered any boost in marginal tax rates for any income group, and it would represent a major concession for the Ohio Republican. Boehner suggested hiking the Bush-era tax rates for top wage earners, including those with annual incomes of $1 million or more annually, beginning Jan. 1, two sources said.

Obama and Boehner spoke by phone Friday after a lengthy face-to-face session at the White House on Thursday. The quickening pace of private conversations between the two key players in the fiscal-cliff talks shows progress is being made in the negotiations, although they are not close to a deal yet, sources said.

Boehner also wants to use a new method of calculating benefits for entitlement programs known as "chained CPI," which would slow the growth of Medicare and other federal health programs and save hundreds of billions over the next decade.

The speaker's offer would not include extending federal unemployment benefits, and it is unclear how it would address sequestration — the tens of billions in spending cuts scheduled to go into effect for the Pentagon and other federal agencies starting Jan. 2.

And Republicans remain unyielding on agreeing to raise the U.S. debt limit as part of any agreement to avoid the fiscal cliff.

Boehner's offer on tax rates was a significant move toward Obama's position. But the proposal, as a whole, still isn't acceptable to Democrats because of the level of revenue, the changes to entitlement programs that would hit beneficiaries and the absence of an extension for unemployment insurance benefits, according to a source familiar with the talks. The president has also been adamant that any deal include an increase in the debt ceiling.

Boehner's office would not comment on the current state of the talks with Obama beyond saying no deal has been reached at this time, nor is one expected soon.

"The lines of communication remain open, but there is no agreement, nor is one imminent," said Michael Steel, Boehner's spokesman.
From the President's point of view, this isn't a perfect offer in many respects, however it's significant because it marks the first time that the GOP has moved off it's "no tax rate increases" orthodoxy, and it essentially means that the GOP has now given up its biggest bargaining chip. Assuming a deal is reached, the question now isn't whether tax rates will go up for high income earners,but merely what the terms of that increase will be. There's still room to negotiate over the rates and exactly who the increased rates would apply to. Indeed, there is even disagreement on the Democratic side on that point, with Senators like Chuck Schumer taking the position that $250,000 is too low a link and that the trigger amount for higher rates should be closer to the $1,000,000 that Boehner's proposal includes. In some sense, though, those are minor points now that Boehner has conceded that there will be tax increases.
That doesn't mean that a deal is inevitable, though. For one thing, the President has been as adamant about resisting any talk at all of entitlement reform as Republicans have been about resisting tax increases. If that remains the case, then it's hard to see how the deal can be made in the short amount of time left. In fact, the time factor is another huge caveat to a deal. With the Christmas holidays approaching, Members of Congress are eager to get out of town although they have been told by leadership that they will likely be working through the end of the year. Additionally, the President is supposed to leave on his holiday trip to Hawaii on Tuesday, although that departure can obviously be delayed as it has been several times in the past. In either case, there are only 15 days left in the year and if a deal is going to be made it will have to be made soon so that legislative language can be drafted and votes whipped. Finally, there's the question about how Republicans are going to react to news of Boehner's new offer. It's largely been bumped out of the news cycle by the tragedy in Connecticut, but the news will slowly start to get out and one can assume that Grover Norquist and other anti-tax activists will be pushing back pretty strongly on this. This leads to the question of how many Republican votes Boehner would actually be able to get for a final deal. Theoretically, he doesn't need to hold together a majority of the caucus since he'd likely get most of the Democrats to vote for the plan, but a final vote that includes a large number of Republican "no" votes would be particularly embarrassing for the Speaker.
It's still possible that there will be no deal at all, but this significance of this move by Boehner cannot be understated. It's probably more likely now that there will be a deal than at any time since the election.