Boris Johnson Could Face No-Confidence Vote Next Week
Next week could be a crucial one for Boris Johnson's future in power.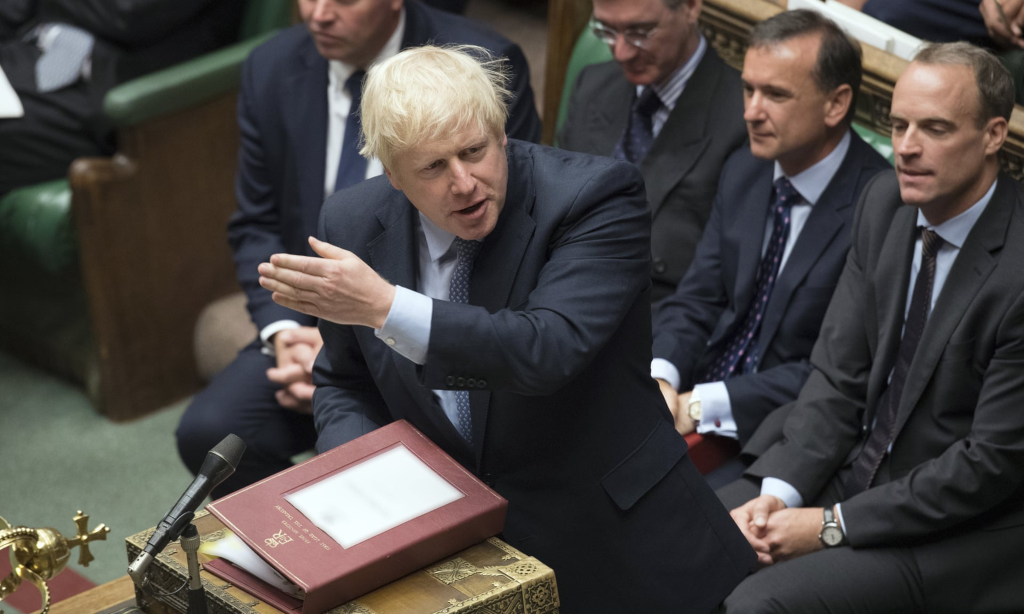 British Prime Minister Boris Johnson could face a no-confidence vote in the House of Commons as soon as next week, placing his continuation in power in doubt even as he seeks to reopen talks with European Union representatives:
There could be a vote of no confidence in the government next week in order to remove Boris Johnson as prime minister and secure a Brexit date extension, a senior Scottish National party MP has said.

Following talks between opposition party leaders at Westminster, Stewart Hosie said the move appeared to be the only way of ensuring Johnson did not push through a no-deal Brexit on 31 October.

"We have to do that because there is now no confidence that the prime minister will obey the law and seek the extension that parliament voted for only a few weeks ago," he told BBC Radio 4's Today programme.

"If we are serious about the extension, that is the only game in town."

Hosie, a former SNP deputy leader, said the aim was to stop a no-deal Brexit, and that all opposition parties and Tory rebels needed to be united.

The SNP MP urged the Liberal Democrat leader, Jo Swinson, to get behind the move, which could lead to Jeremy Corbyn being installed in No 10. Swinson has previously said she would not put Corbyn in Downing Street, even for a short period.

"If another name came forward that was acceptable to everybody – a Ken Clarke or Dominic Grieve-type figure – then self-evidently that would be a good thing to do," Hosie said. "But it is also self-evidently the case that the second-largest party [Labour] should have the first chance to form that administration.

"If Jo Swinson and the Lib Dems are actually serious about stopping Brexit then they need to stop playing political games [and] get on board with everybody else."

Hosie said it was a short-term procedure to get an extension to article 50 and then have a general election.
This latest move comes at the end of a rather hectic month for Johnson that saw him suffer successive defeats even as it seemed he was getting the nation closer to an exit from the European Union. It began at the end of August with the new Prime Minister seemingly calling his opponents bluff by persuading Queen Elizabeth II to suspend Parliament for an unusually long five weeks, a move that was essentially designed to prevent any legislative moves to block a no-deal Brexit at the end of October. Not surprisingly this was not well-received either by the general public or by members of Parliament, including members of Johnson's own party. When Parliament returned in the middle of the month, it struck back at Johnson by causing him to suffer a string of legislative defeats, including the passage of legislation that would bar a no-deal Brexit at the end of October and blocking his efforts to call a snap election that would have taken place immediately before the October 31st Brexit deadline. Additionally, Johnson suffered defections from within his own party, with several Tory members crossing the aisle to sit with the anti-Brexit Liberal Democrats.
Ultimately, of course, Parliament was suspended as Johnson wanted, but that wasn't the end of his problems. Opponents took to the courts to stop what they contended was an illegitimate and illegal suspension. While the courts in England and Northern Ireland upheld the suspension, the Scottish High Court said the suspension was illegal and implicitly found that Johnson had misrepresented the reasons for the suspension to Queen Elizabeth when he sought Royal Assent for the move. At the start of this week, of course, the Supreme Court of the United Kingdom agreed with their brethren in Scotland and held the suspension to be illegal. As a result, Parliament has been back in session since Wednesday and Johnson's fate hangs in the balance.
Whether the no-confidence vote actually goes forward will no doubt depend on a number of factors.
The first, of course, is the question of whether or not the anti-Johnson forces in the House of Commons can agree on a course forward. The biggest obstacle in that regard appears to be who would serve as Prime Minister even on a temporary basis. The Liberal Democrats, whose support is crucial to any such measure succeeding, have objected to the idea of Labour Party leader Jeremy Corbyn taking the position and even some Labour MPs reportedly aren't entirely thrilled by the idea.
The second question is the somewhat related one of whether a vote of no-confidence would succeed. This, of course, would require a majority vote in the House of Commons and would depend largely on whether or not the many Tory backbenchers who have rebelled against him would vote with the opposition. According to some estimates, there have been enough defections from the Tory side that Johnson no longer has a working majority even when you take the cooperation of the Democratic Unionist Party, and even that may be in doubt due to the issues surrounding the fate of the Irish Border in a post-Brexit world. Obviously, an unsuccessful no-confidence vote would embolden Johnson in his Brexit strategy.
The final question, of course, is what happens after a no-confidence vote. The most likely outcome would be an election at some point in November, and current polling indicates that the Conservative Party would walk away with a victory that would nearly guarantee Johnson staying in power until 2024 at least. Are the opposition parties willing to take that risk? That's a question they'll have to ask themselves.