Bowe Bergdahl Back In The U.S.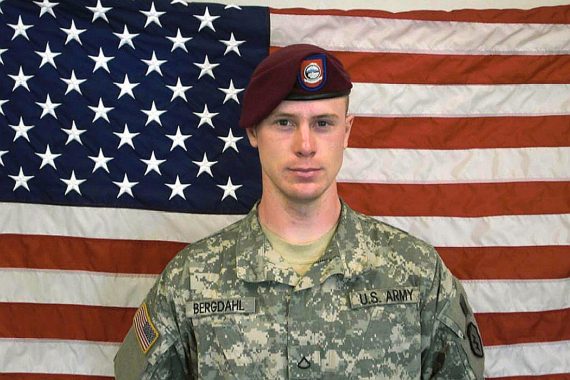 After more than a week in Germany, Sgt. Bowe Bergdahl has been moved to a military hospital to continue his recovery:
WASHINGTON — Bowe Bergdahl, the Army sergeant who has been recovering in Germany after five years as a Taliban captive, returned to the United States early Friday to continue his medical treatment.

A Pentagon spokesman, Navy Rear Adm. John Kirby, said Bergdahl flew to Brooke Army Medical Center in San Antonio from Ramstein Air Base.

While at the Texas Army base, Bergdahl "will continue the next phase of his reintegration process," Kirby said, adding there was no timeline for the process.

"Our focus remains on his health and well-being," he said. Defense Secretary Chuck Hagel "is confident that the Army will continue to ensure that Sgt. Bergdahl receives the care, time and space he needs to complete his recovery and reintegration," the spokesman said in a statement.

The Idaho native was expected to be reunited with his family in San Antonio. He was captured in Afghanistan in June 2009 and released by the Taliban on May 31 in a deal struck by the Obama administration in which five senior Taliban officials were released from detention at Guantanamo Bay, Cuba.

Before his departure from Germany on Thursday, officials in Washington said Bergdahl will not receive the automatic Army promotion that would have taken effect this month if he were still in captivity. Now that he is back in U.S. military control, any future promotions would depend on his performance and achievement of certain training and education milestones.

Officials previously had said the intention was for Bergdahl to be reunited with his family at Brooke and to spend an undetermined period there in further recuperation.

Officials have kept a lid on details of Bergdahl's condition out of concern that he not be rushed back into the public spotlight after a lengthy period in captivity and amid a public uproar over the circumstances of his capture and release.

Officials also said Thursday that the Army has not yet formally begun a new review into the circumstances of Bergdahl's capture and whether he walked away without leave or was deserting the Army when he was found and taken by insurgents.

The answers to those questions will be key to whether Bergdahl will receive more than $300,000 in back pay owed to him since he disappeared. If he was determined to have been a prisoner of war, he also could receive roughly another $300,000 or more, if recommended and approved by Army leaders.
When Secretary of Defense Chuck Hagel appeared before the House Armed Services Committee earlier this week to discuss the Bergdahl deal, one Member accused the Administration of basically hiding Bergdahl in Germany:
In another heated moment that left Hagel visibly angry, Republican Rep. Jeff Miller of Florida badgered him about why it was taking the military so long to interview Bergdahl, who is being treated under a post-captivity regimen at the Landstuhl Medical Center in Germany.

When Hagel started explaining that doctors treating Bergdahl will decide when he is ready to talk, Miller cut him off.

"Wait a minute. Wait a minute. Why hasn't he been returned to the United States?" Miller asked, noting that wounded soldiers from battle zones get flown back for treatment within days. "You're trying to tell me that he's being held at Landstuhl, Germany, because of his medical condition?"

Hagel responded: "Congressman, I hope you're not implying anything other than that," and the two continued to talk over each other.

"I don't like the implication of the question," Hagel said at one point, and when Miller persisted about injured combat troops coming back to the United States quickly, Hagel raised his voice.

"This isn't just about a physical situation," he said. "This guy was held for almost five years in God knows what kind of conditions. … This is not just about can he get on his feet and walk and get to a plane."

Shortly afterward, Democratic Rep. Jackie Speier of California looked over at the Republican side of the committee room and asked for everyone "to think for a moment how we would be responding if Bowe Bergdahl was our son."

"I really fear for his return to this country with the kind of rhetoric that is being spewed in this very room," she said.
Given rhetoric like that from Congressman Miller, one wonders how long it will be before some Republican Congressman will be demanding that Bergdahl be brought before Congress to answer questions.