Bradley Manning To Face Court Martial On Espionage Charges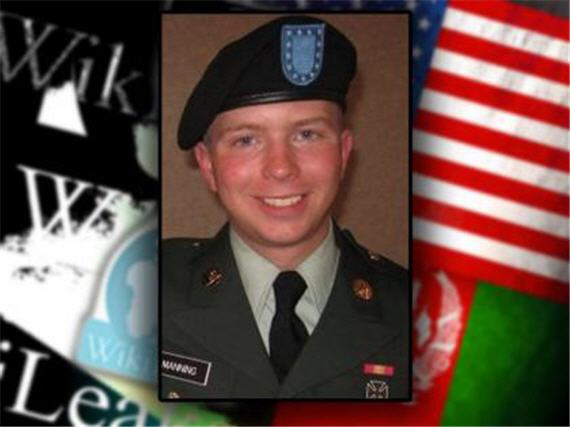 Not surprisingly, the Commander of the Military District of Washington has chosen to accept the findings of a preliminary hearing held last year, and ordered that Pfc. Bradley Manning face a General Court Martial for the charges that he stole hundreds of thousands of pages of classified documents which eventually ended up in the hands of Wikileaks:
The commander of the Military District of Washington has ordered a court-martial for Pfc. Bradley E. Manning, the former intelligence analyst accused of giving hundreds of thousands of classified documents to the anti-secrecy group WikiLeaks.

Maj. Gen. Michael S. Linnington made the decision Friday after reviewing testimony and arguments from a preliminary hearing at Fort Meade in December, officials said.

There was no word on whether the as-yet-unscheduled court-martial would also be held at Fort Meade, one of three installations within the military district equipped to host such a proceeding.

Manning, 24, is charged with aiding the enemy and violating the Espionage Act. If convicted, he could be sentenced to life in prison.

Manning is accused of sending raw field reports from Iraq and Afghanistan, diplomatic cables from U.S. embassies around the world and a video of a U.S. helicopter attack in Baghdad to be published online.

The U.S. Army Trial Judiciary will now assign a military judge, who will set a date for Manning's arraignment, motion hearings and trial.

During a preliminary hearing in December, Army prosecutors called computer forensic investigators who testified that materials uploaded to WikiLeaks came from computers on which Manning worked.

Manning's attorneys sought to portray him as a troubled young man who struggled with gender identity, was isolated from his fellow soldiers and should not have been given access to the classified materials.

Manning, who lived in Potomac and studied at Montgomery College before he enlisted in the Army in 2007, attended the hearing but did not speak. It was his first public appearance since his arrest in Iraq in May 2010.

During his detention, his case became a cause celebre among anti-war activists, who say the footage of the 2007 Apache helicopter attack that he is alleged to have released appears to show evidence of a war crime.
At least one of the charges against Manning, Aiding The Enemy, carries with it a potential death sentence but it appears that military prosecutors will demur from seeking that sentence and instead ask for life in prison. Between that charge and the others than Manning faces it's fairly certain that, if convicted, he would never see the outside of a military prison again for the rest of his life. Judging from last year's preliminary hearing, the outcome of the case hardly seems to be in doubt. Manning's lawyers offered no real defense at that hearing, not that they were required to, but it was rather clear from the arguments they did make that they didn't really have much to argue on their clients' behalf beyond questioning and testing the elements of the prosecutions case. The logical thing at this point would be for them to try to cut a deal on Manning's behalf, but it's possible that Manning himself doesn't want to plead guilty.
The other unresolved question in the Manning case, of course, is the status of Julian Assange and others associated with Wikileaks. As I noted while the hearing was ongoing, military prosecutors revealed at the time that they had recovered online communications between Manning and Assange that apparently predated the time when Manning stole the classified material. This material has been turned over to civilian prosecutors who are apparently investigating the matter further. Whether there's enough there to charge Assange under the Espionage Act or anyone else remains unclear at this time, though. Of course, American prosecutors probably aren't in a rush when it comes to getting something on Assange, he remains under house arrest in the United Kingdom where he's fighting an order that he be extradited to Sweden to face rape charges. If we want him, we're going to know where to find him.