British Prime Minister Calls For Snap Election On June 8th
A political surprise in Great Britain as Prime Minister Theresa May calls a snap election for June 8th.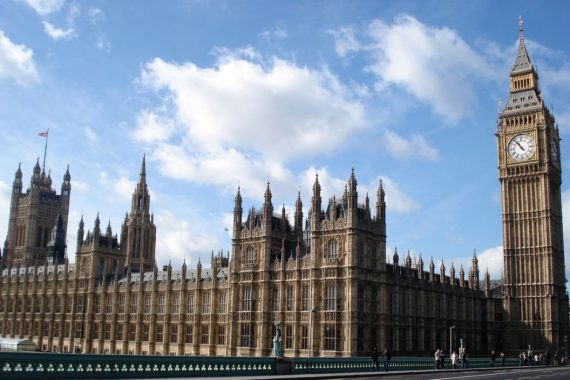 Less than a month after officially beginning the process of exiting the European Union pursuant to the results of last year's referendum, British Prime Minister Theresa May has called for a snap election in a move that seems clearly designed to enhance her power heading into a negotiation process expected to last the better part of two years:
LONDON — Prime Minister Theresa May stunned Britain on Tuesday by announcing that she would call an early election, placing a bet that voters would give her Conservative Party a strong mandate as her government negotiates the country's withdrawal from the European Union.

"The country is coming together, but Westminster is not," Mrs. May said in an unscheduled appearance outside 10 Downing Street, referring to divisions in Parliament. Mrs. May added that she had "only recently and reluctantly come to this conclusion."

The election would occur on June 8.

Mrs. May had repeatedly ruled out a snap election, so her decision on Tuesday represents an abrupt U-turn.

In calling an early election, she is betting that voters will give the Conservative Party, which holds a slim majority — 330 seats in the 650-member House of Commons — a stronger mandate. The opposition Labour Party is in severe disarray under its hard-left leader, Jeremy Corbyn. Within an hour of Mrs. May's comments, he said that Labour would welcome an early election — even though many of his critics in the party fear that it will lose seats.

But her announcement is also a huge gamble.

A new election will reopen some of the country's gravest divisions. It will give Brexit opponents another chance to soften the terms of the withdrawal from the European Union by voting for Liberal Democrat and Labour lawmakers who favor the bloc. It will give the Scottish National Party, which grabbed dozens of seats from Labour in the 2015 national election a new chance to reissue its call for Scottish independence.

If Western democracies have learned anything over the past year, it is that elections are unpredictable. And if Mrs. May wins anything less than a commanding majority on June 8, she will be weakened.

Many Britons may be exhausted from voting, after a referendum on Scottish independence (September 2014), a general election (May 2015) and the Brexit referendum (June 2016). In addition, local elections are scheduled for May 4. (It was too late to piggyback national elections onto the May 4 vote.)

Mrs. May took power in July; her predecessor, David Cameron, resigned after voters narrowly approved a referendum supporting departure from the European Union, a decision known as Brexit.

Last month, Mrs. May formally initiated the two-year divorce process, one of Britain's most consequential decisions since World War II.

She said her decision to call an election was a response to gridlock created by the opposition.

"In recent weeks, Labour have threatened to vote against the final agreement we reach with the European Union," she said. "The Liberal Democrats said they want to grind the business of government to a standstill. The Scottish National Party say they will vote against the legislation that formally repeals Britain's membership of the European Union. And unelected members of the House of Lords have vowed to fight us every step of the way."

She added: "If we do not hold a general election now, their political game playing will continue."

But her critics were quick to jump on the reversal.

"This announcement is one of the most extraordinary U-turns in recent political history, and it shows that Theresa May is once again putting the interests of her party ahead of those of the country," Nicola Sturgeon, the leader of the Scottish National Party, said in a statement. "She is clearly betting that the Tories can win a bigger majority in England given the utter disarray in the Labour Party. That makes it all the important that Scotland is protected from a Tory Party which now sees the chance of grabbing control of government for many years to come and moving the U.K. further to the right — forcing through a hard Brexit and imposing deeper cuts in the process."
Before today's announcement, the next General Election was not scheduled to occur until sometime in 2020 thanks to a law called the Fixed Terms Parliament Act which was passed in the wake of the 2010 General Election which sought to limit the frequency of elections in the United Kingdom. That law guarantees a new General Election every five years and sets specific circumstances under which an election can be called early than five years after the most recent election. The first, of course, would be if a majority of the House of Commons were to declare via majority vote that it had 'no confidence' in the government, in which case an election would automatically be scheduled unless the no-confidence vote were repealed by subsequent majority vote in favor of the government withing fourteen days. The other method allows the sitting government to call a snap election if it can garner a two-thirds majority in support of such an election from Parliament. Given the fact that the Labour Party's leader Jeremy Corbyn has announced that it will support the call for an early election, it seems likely that May will get her two-thirds majority. The Liberal Democrats have also announced that they support the call for new elections, although they will only be adding a handful of MPs to the majority given the drubbing that they took in the 2015 General Election. Once that resolution passes, the General Election date will be set, and the campaign will begin on May 8th. As noted, this will be the fourth major election in Great Britain since the Scottish Independence vote in September 2014.
In her speech, May said that she is calling the election in an effort to solidify support for Brexit and thus enhance the bargaining position that she will have heading into the negotiations with the European Union regarding the terms of Great Britain's exit from the union. While that' certainly part of it, it' also clear that she's taking advantage of the impending Brexit negotiations and her party's standing in the polls to both legitimize her status as Prime Minister and enhance her party's position in the House of Commons. Currently, polling indicates that the Tories stand to benefit strongly from a new General Election, with recent polling from both YouGov and The Guardian showing Conservatives with double-digit leads over Labour. If these polls are sustained through June, it would likely translate into strong gains in the House of Commons. This is especially true given the fact that Labour still appears to be in disarray over what has clearly been long-standing and widespread disapproval for Labour leader James Corbyn. While it's unlikely that Labour voters will all switch sides and vote for the Tories, that dissatisfaction does suggest that they will either stay home or vote for a member of the Liberal Democrats if such a candidate is standing in their constituency. The fact that the Liberal Democrats will apparently use the election to take a stand against a "hard" Brexit, they would seem to be the natural beneficiaries of any disaffected Labour voters, including those who believe that Corbyn has taken the party so far to the left that it can no longer appeal to the average voter in the United Kingdom. This is likely to mean that Labour will lose seats in many of its strongholds. Additionally, Labour is unlikely to gain back many, if any of the seats in lost in Scotland to the Scottish National Party in the 2015 election. Indeed, given the SNP's recent calls for another Scottish vote on independence, which May has dismissed, it's likely that Labour will suffer further losses in that region and that Nicola Sturgeon will strengthen her position as she continues to push for another independence vote due to the impending divorce between the United Kingdom and the European Union, which the SNP opposes.
Politically, then, this seems to be a very smart move on May's part all around. In addition to enhancing her bargaining position heading into the Brexit negotiations, a solid Tory victory in June would also solidify her own political position for the foreseeable future. If it works out, she will not only have a mandate in her own right, as opposed to having inherited one from David Cameron when she won a party leadership election last year, but she will also have made it easier for her to enact more of the government's agenda outside of Brexit itself. For example, instead of the next General Election being in 2020 a new election this year means that the next General Election would not have to occur until 2022. As Andrew Stuttaford notes, those extra two years could prove to be crucial not just for the Brexit negotiations, but also because it would give the Tories an extra two years after the Brexit process is set to end to set the terms for the post-E.U. United Kingdom. In any case, it's going to be an interesting two months in the United Kingdom.