"But My Emails"
There was some degree of humor in the Dept. of Justice's Inspector General's report.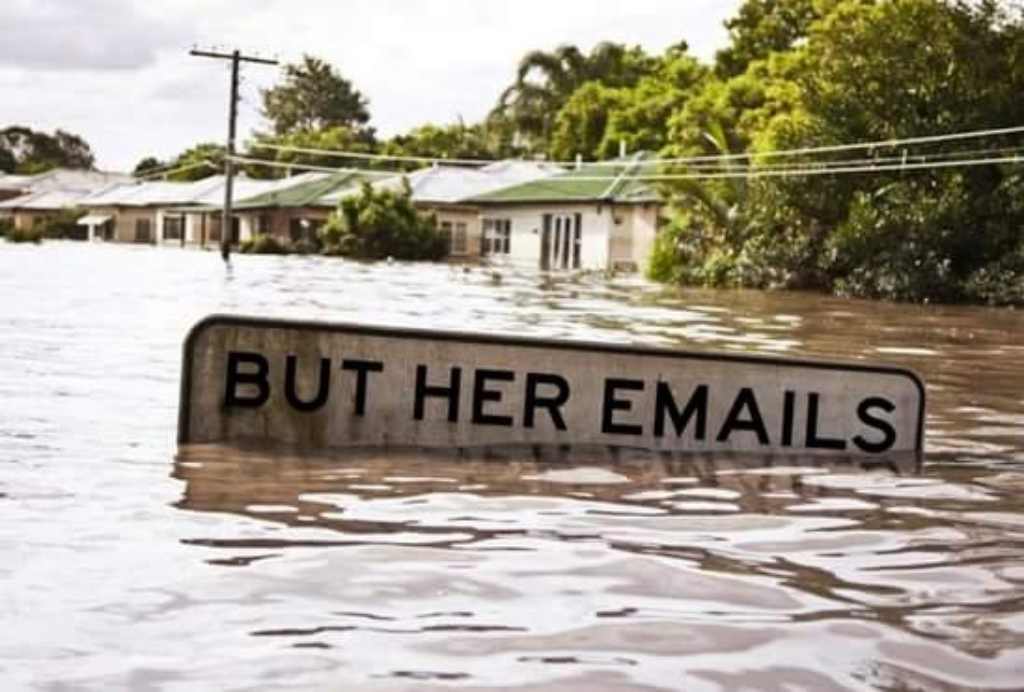 One of the smaller pieces of information to come out of the Inspector General's report on the Clinton email investigation that I wrote about yesterday is the revelation that some F.B.I. officials used personal email accounts for official business:
Former FBI Director James Comey used a personal email account to "conduct unclassified FBI business," the Justice Department's watchdog revealed in an explosive report on the bureau's conduct in the Hillary Clinton email investigation.

DOJ Inspector General Michael Horowitz wrote that he found Comey's use of personal email to be "inconsistent with Department policy," citing what he called "the absence of exigent circumstances and the frequency with which the use of personal email occurred."

Horowitz also revealed that FBI agent Peter Strzok used his personal email account for government business. Most notably, Horowitz wrote that Strzok forwarded an email to his personal account regarding a proposed search warrant for former Congressman Anthony Weiner's laptop computer. Horowitz wrote that the email on Strzok's personal account contained information "that appears to have been under seal at the time" in federal court.

Strzok was removed from Special Counsel Robert Mueller's Russia investigation last year after Horowitz's office discovered anti-Trump text messages between him and FBI lawyer Lisa Page.

Horowitz's revelations are an ironic footnote to the Clinton investigation, which began with the revelation that the 2016 Democratic presidential nominee had used a personal email address to conduct official correspondence while secretary of state. On July 5, 2016, Comey announced that no charges would be filed against Clinton but noted that Clinton and her aides had been "extremely careless in their handling of very sensitive, highly classified information."
That prompted this response from former Secretary Clinton on Twitter:
But my emails. https://t.co/G7TIWDEG0p

— Hillary Clinton (@HillaryClinton) June 14, 2018
On the off chance the Tweet is ever deleted, here's a screenshot: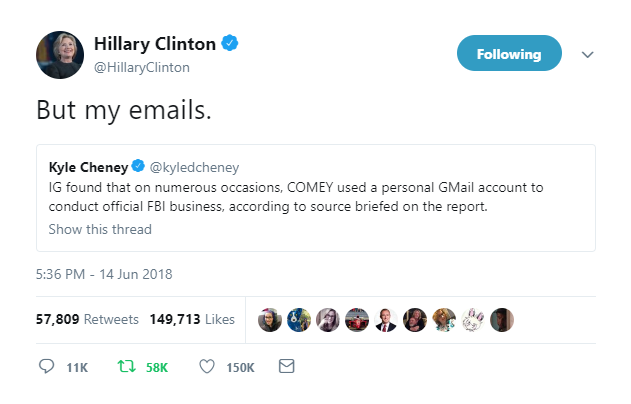 This is a play on a response that one often heard during the course of the 2016 campaign whenever an argument made about why Donald Trump should not be President. At least among Trump's hardline supporters, the response would inevitably refer back to Clinton and the email controversy.
I don't know if that Tweet was written by Clinton herself or an aide, but I will admit that I laughed.