Buttigieg vs Booker
Two youngish Rhodes Scholars turned mayors are getting covered differently.
Fans of Cory Booker are more than a wee bit upset at how much coverage Pete Buttigieg is getting early in the 2020 cycle.
One of the Democrats running for president is a youthful former Rhodes Scholar who speaks more than one language and cut his teeth as a two-term mayor. The other is Pete Buttigieg.


Buttigieg's sparkling résumé has been the subject of countless profiles, powering the South Bend mayor to the top tier of the 2020 field. Sen. Cory Booker, however, hasn't received nearly as much attention and remains mired in the middle of the pack in recent polls.

The similarities between their credentials — and the disparity between how their campaigns have been covered on the campaign trail — are frustrating Booker allies who question whether the media is giving the New Jersey senator a fair shot.


"He's at a disadvantage anytime he's not treated on the same playing level as all the other candidates," said South Carolina state Rep. John King, who has endorsed Booker. "There should be a campaign where people start to question the process when there's not fairness — and especially within the media."


Some see echoes of 2016, when Donald Trump's media dominance drowned out his Republican rivals en route to securing the GOP presidential nomination and later the White House.

In recent weeks, Buttigieg has been profiled, among other places, in Time magazine, New York magazine and Vogue, and his husband, Chasten, was the subject of a feature story in The Washington Post. Evenhis communications adviser was the focus of a POLITICO magazine story.


"I guess I'm a little gun-shy because I remember what happened four years ago when all of the attention was based on this guy from New York who happened to be a billionaire by the name of Donald Trump," said state Rep. Jerry Govan, a senior legislator who serves as chairman of the South Carolina Legislative Black Caucus.


"Nobody controls who the media covers but the media," he continued. "It's important for them to get it right this time. If folks got a good message, that message deserves to be covered. I think the American people deserve the opportunity to hear the truth, to have a clear understanding of where people stand on the issues that they care about, and the media's the only entity that can do that, and that's its job."

—POLITICO, "'The epitome of privilege': Booker supporters seethe over Buttigieg mania"
Now, the Trump comparison is absurd. He entered the race as a household name who had been in the national spotlight for three decades and continued to get coverage because he continually broke the norms of presidential politics. Buttigieg entered the race almost completely unknown outside Indiana and is getting continued attention because people are coming away impressed with his intellect.
Beyond that, so far as I can tell, Buttigieg isn't spreading lies and nonsense. To the extent he's getting coverage, it's about his message.
Still, the disparity in coverage with Booker is noteworthy and, as one might expect, some suspect the difference in skin tone has something to do with it.
Other Democrats see Buttigieg's rise as a reflection of entrenched racial and gender biases — that the Buttigieg bump would be impossible if he wasn't a white man.


"What I hear from people is that they see the epitome of privilege," said Antjuan Seawright, a South Carolina-based strategist, who also credits the South Bend mayor for being an excellent communicator.

The frustration is closer to the surface in South Carolina, where African Americans cast roughly 60 percent of Democratic primary votes in 2016 and where Booker has been a frequent presence.


"I think Cory is just as accomplished," said a senior Democrat in South Carolina, who requested anonymity to speak candidly about the subject. "And I've heard grumblings from a number of people [who have asked], 'Why hasn't he gotten that type of exposure?'"
Race and sex are always a factor when non-whites and women are running. But I don't think it explains the disparity in this case. Barack Obama was much more of a media phenom than Buttigieg when he launched his campaign in 2008. And Kamala Harris and Elizabeth Warren are both getting significant coverage—and treatment as serious candidates—this go-around.
Still, it's noteworthy that I knew about Buttigieg's Rhodes Scholar credentials almost immediately and didn't realize Booker had trod that path until someone pointed it out in the comments section here a while back.
My guess is that most of the disparity is simply a function of Buttigieg being the new kid on the block and Booker having been around awhile. When Buttigieg started testing the waters, people were naturally curious. Most reacted as I did: Who the hell is this guy and what makes him think he can be President?! Listening to him made many of us say, Hmm. Maybe he could.
As a mayor of a relatively modest-sized city, Buttigieg is something of a novelty in the race compared with Booker, who is one of seven sitting senators in the field. There's a sense among some within Booker's campaign that he'd generate more buzz if he were running for president as the mayor of Newark, his old job, rather than as a senator from New Jersey.


But it's not as though Booker is a boring, standard-issue politician. He's one of three African Americans in the Senate. He's a former Stanford college football player who is dating actress Rosario Dawson. The 2005 "Street Fight" documentary chronicling Booker's mayoral campaign against incumbent Sharpe James was nominated for an Academy Award, and news of his rescue of a neighbor from her burning home was picked up nationally when it happened in 2012.

Booker, in fact, has had a national profile for much longer than Buttigieg, who has run unsuccessful races for Indiana state treasurer and Democratic National Committee chairman.
But, again, that cuts both ways: Booker's story is old news and Buttigieg's is new to us. And, while they're both young compared to President Trump (72), Biden (76!), Sanders (77!), and even Warren (69), Booker is 50 and Buttigieg only 37. That adds to the sense that he represents a generational shift.
"Pete Buttigieg, despite his staff's good press work, doesn't have that remarkable a story," said Jess Morales Rocketto, a Democratic strategist who worked on Hillary Clinton's 2016 campaign.

She pointed to Booker and Julián Castro, the former Obama Cabinet secretary and San Antonio mayor, as better alternatives for voters who want a candidate with mayoral experience.

"Sen. Booker and Secretary Castro would both be historic presidents and have both presented clearer policy visions than Mayor Pete," Rocketto said.
That strikes me as sour grapes but isn't totally unfair.
A state legislator who declined to be identified because he's aligned with a different 2020 campaign speculated that Buttigieg's success in attracting media attention is more about the historic nature of his campaign than anything else.


"He would become the first openly gay person to become president of the United States. That's big, especially in this era," the lawmaker said. "Sen. Booker, we've seen that before. Even though he's got his qualifications, we've seen black men that have run for president. We've seen a black man that's already been elected as president. And so, it wouldn't be unsurprising that he wouldn't generate the same kind of momentum."
I do think the novelty factor is important at this early stage. Then again, it's more likely than not that his being gay will hurt him as the race goes on. Despite polling saying that a majority of Americans has no problem with a gay President, there's deep-seated prejudice on that front.
Also, it's worth noting that, despite the media boomlet over Buttigieg, the numbers here are small. As 538's tally* makes clear, Joe Biden is dominating coverage with Bernie Sanders, Elizabeth Warren, and Kamala Harris in the second tier. Booker and Buttigieg are getting mere crumbs by comparison: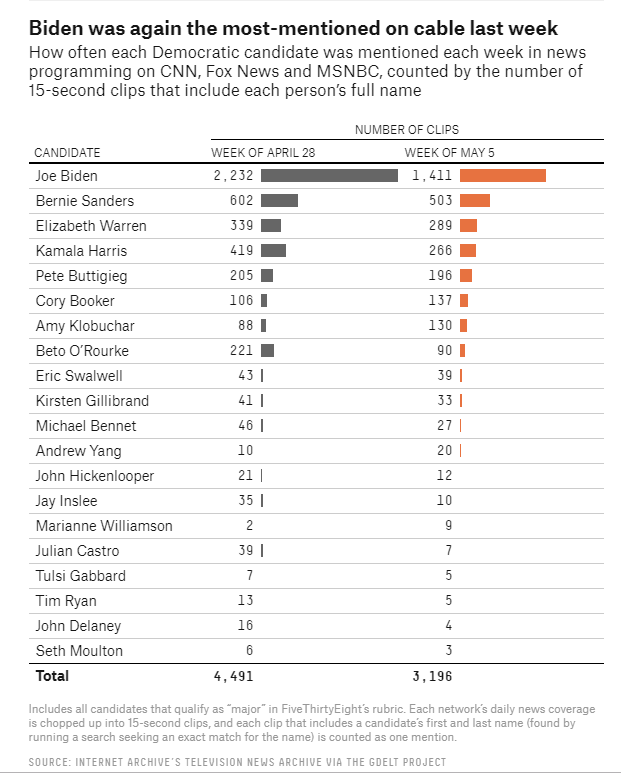 Biden is getting ten times and Sanders five times the coverage of Buttigieg. So, he and Booker are just fighting for relevance at this point. The bottom dozen candidates, including the aforementioned Castro, aren't even doing that so far.
*Hat tip: Chris Lawrence