Can We Please Stop Comparing Everyone We Disagree With To The Nazis?
Inevitably, the Nazis made an appearance during yesterday's debate over health care reform in the House. It's time for it to stop, or at least time for the rest of us to stop taking seriously anyone who resorts to such arguments.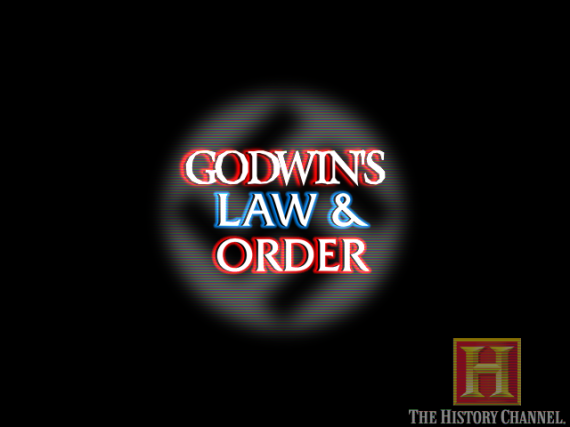 As I noted yesterday, Tennessee Congressman Steve Cohen made waves yesterday when he compared the GOP to Nazis during the debate over repeal of the Affordable Care Act. Despite being the subject of criticism from both sides, Cohen isn't backing down:
Uh oh. Dem Rep. Steve Cohen has no intention to apologize for insisting in a controversial broadside on the House floor that GOP lies on health reform are worthy of Nazi propagandist Joseph Goebbels. In a lively interview with me just now, he doubled down on the claim — hard.

"I don't think calling out liars is uncivil," Cohen told me. "No reason to apologize. You have a duty to respond. if they were telling the truth and I said they were lying, then I would apologize," Cohen continued, referring to Republicans.

(…)

"I said Goebbels lied about the Jews, and that led to the Holocaust," Cohen said. "Not in any way whatsoever was I comparing Republicans to Nazis. I was saying lies are wrong…I dont know who got everybody's panties in a wad over this statement."

Cohen insisted that the invocation of Goebbels was legit, given the larger context: He said that Repubicans had, in fact, repeatedly used a big-lie technique on health care.

(…)

Pressed on whether such rhetoric was appropriate, given that Dems and liberals are trying to get Republicans to condemn incendiary and "eliminationist" rhetoric on the right, Cohen didn't back down. He argued that "civility" was a matter of content as much as tone, and suggested that mendacity itself is uncivil and particularly immoral in the context of the health care debate.

"Lies are being spread, and it's wrong," Cohen said. "Goebbels was the master of political lies…to lie to take health care away from people is despicable."
Cohen also appeared on CNN last night, and, to put it mildly, Anderson Cooper was less than convinced:
None of this is a new to the health care debate, of course. During the Town Hall protests of 2009, Nancy Pelosi compared American citizens going to meet their representatives to Nazi, Washington Congressman Brian Baird compared them to the Brown Shirts that accompanied Hitler's rise to power, the "Dean of the House" John Dingell compared them to the KKK.
And, it happened on the right too.
Senator Jim DeMint compared America under Barack Obama to pre-World War II Germany, Rush Limbaugh equated the President with Hitler, Americans for Propserity compared the health care reform bill to the Holocaust, and we even got this from SNL alumnus Victoria Jackson:
Hitler did this. He killed the weak, the sick, the old, and babies and races/religions he didn't like. Hitler also controlled the media. (Where's the public debate between scientists on "Climate Change/Global Warming?") Hitler had the VW bug invented as the state car. What will O's nationalized car be? So… kill off the weak. That's the plan. Tax the workers to death. Erase the middle class. Sounds like the evil governments we studied in high school long ago. The evil governments were : kings, oligarchies, facist, socialist, and communist. Now it's called the Obama Administration. Sounds like candy or a rock band.
Let's leave aside for a second the question of just how it is that one of the least talented people to ever appear on Saturday Night Live has suddenly turned into a political analyst, I doubt there is a rational explanation for that.
The reductio ad Hitlerum seems to a required part of American politics these days. George Bush did it in the run up to the Iraq War, and then again last year when talking about the Middle East. Bill Clinton used analogies to the Third Reich to justify American intervention in Serbia. And then there's Al Gore.
As David Frum pointed out while all of this was going on, there's something about these constant analogies to one of the most evil regimes ever to exist that is just distasteful:
Contra Rush Limbaugh, history's actual fascists were not primarily known for their anti-smoking policies or generous social welfare programs. Fascism celebrated violence, anti-rationalism and hysterical devotion to an authoritarian leader. To date, the Obama administration has fallen rather short in these departments. Perhaps uncomfortably aware of the shortcoming, the hardliners have developed–okay, invented really–their own mythology about Obama "brownshirts." (The popular conservative website Red-State.org literally uses the term.) The complaint rests on a single case—that of conservative activist Kenneth Gladney, who got into a scuffle at a townhall in St. Louis, Missouri. The altercation was captured on video and you can watch it on YouTube. What you'll see is a man, already on the ground, and another man stepping back in order to avoid tripping over him. The man on the ground is Gladney. Gladney walked away from the confrontation and later went to hospital, where he was treated for light injuries and released the same day. Whatever happened and whoever started it, this happily bloodless encounter bears not even the most glancing resemblance to the brutality that made Hitler's brownshirts notorious. And yet, look up Gladney's name online and he's suddenly a poignant martyr.

Can we get a grip here? It is possible to express opposition to a president's policies without preposterous name-calling–without diminishing and disparaging the unique experiences of those who did actually suffer from actual persecution by actual Nazis. After all, you know who else trafficked in hysterical exaggeration? That's right: Hitler!

And what, exactly, has this constant invoking of the memory of a dictator and the man who, in the judgment of history, made most of the worst aspects of World War II possible, accomplished ? Nothing really, because it pretty much makes debate and disagreement impossible. Once you bring the Nazis — or the Communists, or Mao, or any number of bloodthirsty tyrants — into a political debate you really ought not to be taken seriously by anyone interested in rational discussion, regardless of which political party you belong to.