Charlie Rangel's Future Cloudy Amid Vote Count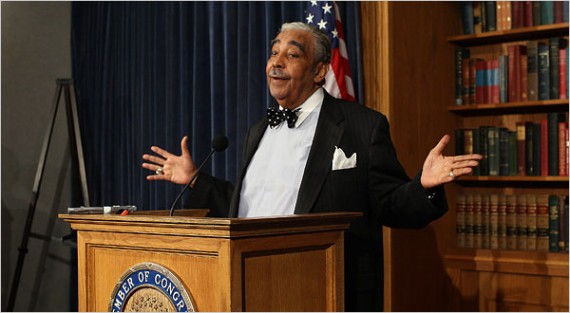 Last week, it seemed as though Charlie Rangel had won yet another bid for re-election to his Harlem House seat. (Actually, what we had was an early Democratic Primary but in this particular part of the world who ever wins the Democratic Primary will win the General Election.) As the days have gone by, though, the vote count between him and his Domincan-American opponent has become much closer, and Rangel's political future is in doubt:
Representative Charles B. Rangel, for decades the unchallenged political titan of northern Manhattan, is suddenly besieged.

A week ago, he was celebrating his victory in a five-way Democratic primary in which he sought the nomination for a 22nd term in Congress. But now that victory — particularly significant because it came after Mr. Rangel was censured by his colleagues for ethical violations — is being overshadowed as his margin of victory has been revised downward and his main challenger questioned whether he had won at all.

On Monday, acknowledging the increasingly contested results of the election, the congressman, 82, e-mailed his supporters, asking them to send him money to help him defend his victory in court. At the same time, the second-place finisher, State Senator Adriano Espaillat, for the first time publicly questioned the results, calling it a "phantom election."

"We cannot have a Florida type of situation in New York State," Mr. Espaillat said, referring to the much-disputed results of the 2000 presidential balloting in Florida. He spoke to reporters before visiting a senior center in Washington Heights, a predominantly Hispanic neighborhood where, he said, many voters were turned away last Tuesday by poll workers who said there was no record that they were on the voter rolls.

"I have received hundreds of complaints of voter suppression and voters' being turned away," Mr. Espaillat said. "We will go to court, and we will go to the final round. I am going to fight to ensure that every single vote is counted."

Some Espaillat supporters have gone even further in their assertions. His chief of staff, Aneiry Batista, vented on Facebook over the weekend, complaining about voters "turned away at their poll sites without explanation, poll watchers requesting ID to vote, B.O.E. officials hiding results," referring to the New York City Board of Elections.

A national advocacy organization, LatinoJustice PRLDEF, called on Monday for the Justice Department to investigate the board's handling of the race, saying it had received reports of Spanish-speaking voters' being unable to receive Spanish-language assistance at polling sites and being either turned away or forced to vote by affidavit ballots. The group also said there were reports that longtime bilingual polling workers at sites in Upper Manhattan and the Bronx had been reassigned at the last minute, leaving a shortage of such workers in those areas.

Political consultants generally believe that Mr. Rangel's victory in the 13th Congressional District is unlikely to be overturned. He is ahead by 802 votes, with about 2,000 absentee and affidavit ballots still uncounted, and there were five candidates in the race.

"I'll be surprised," said Jerry Skurnik, a longtime New York political consultant, adding, "I don't think he could get that big a margin based on the paper that's still out there."

A State Supreme Court judge, Donna M. Mills, held a brief hearing on the vote count on Monday afternoon. Mr. Espaillat's lawyer, Martin Connor, told the judge that the campaign was withdrawing a petition seeking court intervention, in order to file a new petition including a challenge under a different section of the election law. Mr. Espaillat's spokesman, Ibrahim Khan, said the purpose was to leave open the possibility of calling for a new election.

Also on Monday, Mayor Michael R. Bloomberg, long a critic of the city's elections process, weighed in. "It's about as corruptible a system as anybody could design," he told reporters. He called the Board of Elections "an incompetent organization."

But a spokeswoman for the board, Valerie Vazquez, defended the conduct of the election.

"The board has acted in accordance with the law and its duly adopted procedures throughout this process," she said, adding, "We believe that the withdrawal of this proceeding today indicates the baseless nature of the unsupported allegations contained in the papers that were filed in court."

Mr. Rangel's campaign manager, Moises Perez, said in a telephone interview that he was confident that the congressman would hold onto his victory and that he was not concerned about the shrinking margin.

"A win is a win," Mr. Perez said.
After Rangel was able to come back and win in 2010 notwithstanding his convictions by the House Ethics Committee, the idea that this would be the end for him seems unbelievable. In the end, I think the only way Charlie Rangel will leave office is feet first. But, stay tuned.