Thad Cochran and Charlie Rangel Survive Primary Challenges
Incumbency is a powerful advantage.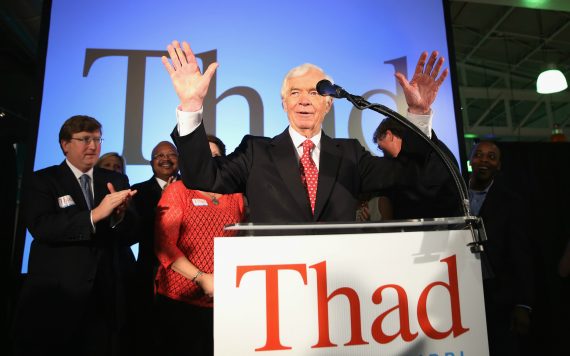 Thad Cochran became the latest sitting Republican to survive a Tea Party primary challenge.  AP reports,
In a remarkable political turnaround, six-term Sen. Thad Cochran of Mississippi edged out tea party-backed challenger Chris McDaniel Tuesday night in a bruising, costly Republican runoff that pitted Washington clout against insistence on conservative purity.

With 99 percent of precincts reporting, Cochran had 51 percent to McDaniel's 49 percent, three weeks after McDaniel had beaten the veteran lawmaker in the initial primary round but had fallen short of the majority needed for nomination. In the three-week dash to the runoff, Cochran and his allies had highlighted his seniority while McDaniel had argued that Cochran was part of a blight of federal overspending.

[…]

A defiant McDaniel offered no explicit concession, but instead complained of "dozens of irregularities" that he implied were due to Cochran courting Democrats and independents.

"We are not prone to surrender, we Mississippians," McDaniel told his backers. "Before this race is over we have to be absolutely certain the Republican primary was won by Republican voters."

The win for Cochran, a stalwart of the Senate Appropriations Committee, was a fresh blow to the tea party movement, which spent millions to cast aside a mainstream Republican who won a U.S. House seat in President Richard Nixon's GOP wave of 1972 and has served in the Senate for more than three decades.

In another setback for the tea party, two-term Rep. James Lankford of Oklahoma won the GOP nomination in the race to succeed Sen. Tom Coburn, who is stepping down with two years left in his term. In the solidly Republican state, Lankford is all but assured of becoming the next senator. Part of the House GOP leadership, Lankford defeated T.W. Shannon, a member of the Chickasaw Nation and the state's first black House speaker, backed by former vice presidential candidate Sarah Palin and Texas Sen. Ted Cruz, two stalwarts of the right.

Despite Congress' abysmal public approval ratings, incumbents have largely prevailed midway through the primary season — with two notable exceptions.

Little-known college professor Dave Brat knocked out House Majority Leader Eric Cantor in Virginia's Republican primary this month, and Republican Rep. Ralph Hall, 91, lost in a Texas runoff to a younger Republican.
While I'd like to take the wave of Tea Party defeats as a sign that the GOP nominating electorate has learned its lesson and is back to picking candidates who give them the best chance to win in November, I agree with the implicit analysis of AP reporters Donna Cassata and Emily Wagster Pettus: this is more about the incredible advantages of incumbency than any ideological shift.
How incredible are the advantages? Being censured by Congress for criminal abuse of power is not too big an obstacle. Reuters:
Congressman Charles Rangel of New York declared victory in his Democratic primary election on Tuesday, after facing one of the most serious challenges of a four-decade career as he tried to win a 23rd term in Congress in November.

Rangel's Democratic challenger, state Senator Adriano Espaillat, has not conceded defeat, and the New York Times and other news outlets said the race was too close to call.

With 99 percent of precincts reporting, Rangel was leading 47 percent to 44 percent, according to NY1, a local television station, which called Rangel the winner.

Rangel, 84, is among the longest-serving and best-known black lawmakers. Espaillat hopes to become the first Dominican-American elected to Congress.

In this liberal bastion of New York City, where blacks and Latinos form the majority, the winner of the Democratic primary is all but guaranteed to win the mid-term general election in November.
To be sure, Espaillat has come very close to knocking off the octogenarian criminal two elections in a row. But the main issue has been Rangel's age, not his graft.