China Will Continue Buying Iranian Oil
There's a big hole in the latest sanctions against Iran.
If economic sanctions against Iran are going to hurt the country sufficiently in order to cause the leaders in Tehran to consider backing away from their apparent plans to at least develop the technology to create nuclear weapons, then it's going to have to involve cutting off their ability to sell their oil on the world market. Not only is it their biggest export, it's also their biggest source of hard currency. The United States and many of our European allies have committed to a sanctions regime that may end up including this step at some point in the future, but it's not really going to matter, because the most oil-thirsty country on the planet plans to keep on buying as much Iranian oil as it needs:
BOAO, China -(MarketWatch)- China will import crude oil from Iran based on its demand and won't be influenced by the edicts of "some country," the former head of China's National Energy Administration said Sunday.

Speaking at the 2012 Boao Forum in China, Zhang Guobao said recent U.S. and European Union sanctions against importing crude from Iran don't include "halting normal trade."

A U.S. appeal earlier this year for countries to reduce crude imports from Iran has pushed up global crude prices, which has been harmful to the global economy, Zhang added. Higher oil prices combined with slower economic growth will also hurt oil demand, he said. Still, global oil prices probably won't rise much, he added.

Zhang said the release of strategic oil reserves by countries such as the U.S. wouldn't help keep crude prices in check because "releasing inventory only can affect prices for a short time."

Separately, Fu Chengyu, chairman of China Petroleum and Chemical Corp. SNP +1.11% , known as Sinopec Corp., said oil sanctions against Iran will push prices higher, which is bad for the global economic recovery
China isn't the only oil thirsty nation saying it will continue buying Iranian oil, India has said much the same thing, and in reality there isn't much that we can do about it. Theoretically, the West could impose a blockade on Iranian ports but that would be considered an act of war and, under present circumstances, an unjustifiable one at that. We could close the Straits of Hormuz, but that would also block oil from the rest of the Persian Gulf, and would also be an act of war in violation of International Law. This isn't a matter of a failure of diplomacy ether. China and India are both in the middle of incredible economic growth spurts that require tremendous amounts of energy. Given how tight the world oil markets are, it's hard to see what we could do to persuade either country to forgo purchasing Iranian oil. What possible incentive could we offer them to do that? Nothing that I can think of.
Here's a chart from The New York Times showing where Iran's oil was going as of January: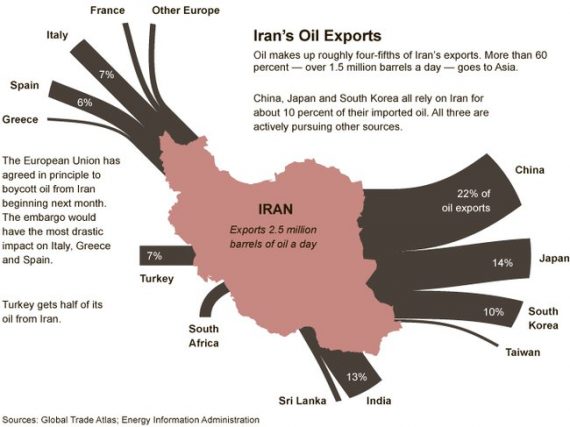 Japan, Turkey, and South Korea seem to be moving toward cutting back on their imports from Iran, as are the Europeans. However as long as China and India are out there buying Iranian oil, and likely buying more of it if other customers start buying less, then one wonders how much the Iranian economy will be hurt by sanctions, and whether that harm will have any impact on Iran's nuclear ambitions.
So this leads to a question. How can a sanctions regime work if two of Iran's biggest export customers aren't going to participate in it? And, if it doesn't work does that make a foolish and unnecessary war more likely?