Chinese G.D.P Growth Slows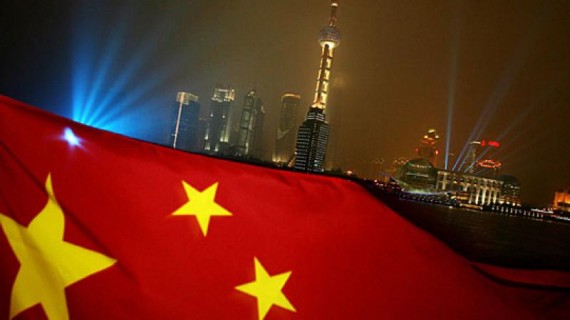 Chinese economic growth is still fairly high, but it has slowed significantly:
HONG KONG — China's new tough-love approach to overhauling its giant economy showed through in lackluster economic data released on Monday, underlining just how rapidly growth in the once-sizzling economy has cooled.

China's economy grew 7.5 percent in the second quarter of this year, compared with the same period a year earlier, the National Bureau of Statistics reported. The figure was in line with economists' expectations, but represented a progressive slowdown from 7.7 percent gross domestic product growth in the first quarter and 7.9 percent in the final three months of 2012.

Industrial output data for June, also released Monday, came in weaker than forecast, with an increase of 8.9 percent from a year earlier — down from 9.2 percent in May. The growth in fixed asset investment in urban areas, another key measure of economic activity, also slowed slightly during the first six months of the year.

On the upside, however, retail sales came in better than expected, rising 13.3 percent in June from a year earlier. The May reading was 12.9 percent.

The slowdown in the world's second-largest economy after the United States has left some analysts concerned that China could lose yet more steam in the coming quarters, denting the ravenous demand for goods that has been a key support to global growth at a time when Europe and the United States are struggling to grow.

Xianfang Ren, an economist at IHS Global Insight in Beijing, wrote in a research note on Monday that China's growth was "at risk of stalling," and that "the downside risk for growth has become much more elevated now than a few months ago."

Increasing signs that China is faltering have prompted a number of economists to downgrade their forecasts for the country. Zhang Zhiwei, China economist at Nomura, lowered his growth forecast for 2014 from 7.5 percent to 6.9 percent following Monday's data release (he continues to project 7.5 percent growth for this year).
There are obvious concerns for the world economy if things start to slow down significantly in what is now the second biggest economy in the world, however there are also risks in letting economic growth surge in the manner that it has in the recent past. Among those risks are an overheated, inflationary, economy that ends up crashing hard  and having widespread impact both in China and elsewhere. That's why what we're seeing now is largely a reflection of deliberate policy choices in Beijing:
Officials in Beijing, however, continued to signal on Monday that they were comfortable with the slowdown, which comes as the country is preparing for a major structural overhaul designed to put future expansion on a more sustainable and balanced footing albeit at the price of more moderate growth.

Sheng Laiyun, the spokesman for the statistics bureau, said on Monday that the latest data were within the bounds of official expectations, though he acknowledged headwinds were buffeting the economy.

"Viewed over all, national economic performance in the first half of the year was generally stable, and the main indicators remain within the reasonable bounds for the annual forecast," Mr. Sheng said during a news conference broadcast live on Chinese television. "But economic conditions are still complex and changeable."

To a large degree, China's recent cooling has been engineered by the authorities in Beijing, who are trying to steer the economy from an increasingly outdated growth model toward expansion that is more productive and sustainable.

While this slowdown has been happening for more than two years, a flood of comments from policy makers in recent months has made it increasingly clear that the new leadership that took the helm in March is serious about tolerating significantly slower growth for the foreseeable future in return for the longer-term gains of a more balanced economy.
This isn't dissimilar from policy choices that Western leaders have made several times in the past, and as in those cases there remains a risk that this strategy of  slowly "putting on the brakes," so to speak, will get out of hand and send the economy into more of a tailspin than policymakers intend. This transition that the leadership in China is talking about is something that cannot happen due to central planning and won't be easy to pull off.