Chris Christie And Other Weighty Issues
Chris Christie's weight has become a political concern, apparently.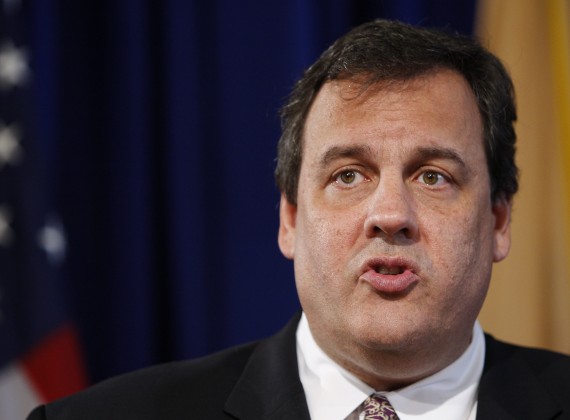 It would seem I was slightly ahead of the curve with my post yesterday asking whether Chris Christie was "too fat" to be President, because it's become quite the topic of discussion among the pundits today. Over at The Washington Post for example, Eugene Robinson was out this morning with a column that essentially said that Christie needs to put down the doughnut and go for a walk:
Whether or not he lets himself be persuaded to run for president, Chris Christie needs to find some way to lose weight. Like everyone else, elected officials perform best when they are in optimal health. Christie obviously is not.

You could argue that this is none of my business, but I disagree. Christie's problem with weight ceased being a private matter when he stepped into the public arena — and it's not something you can fail to notice. Obesity is a national epidemic whose costs are measured not just in dollars and cents but also in lives. Christie's weight is as legitimate an issue as the smoking habit hat President Obama says he has finally kicked.
Robinson was joined by Michael Kinsley, who if anything was even less civil in the manner in which he wrote about the issue:
Look, I'm sorry, but New Jersey Governor Chris Christie cannot be president: He is just too fat. Maybe, if he runs for president and we get to know him, we will overlook this awkward issue because we are so impressed with the way he stands up to teachers' unions. But we shouldn't overlook it — unless he goes on a diet and shows he can stick to it.

(…)

A presidential candidate should be judged on behavior and character, not just on policies — especially because the chance these days of any actual policies being enacted is slim. (Most of us, fortunately, aren't judged this way — at least not in this life. But presidents are.)

Controlling what you eat and how much is not easy, and it's harder for some people than for others. But it's not as difficult as curing a chemical addiction. With a determined, disciplined effort, Christie could thin down, and he should — because the obesity epidemic is real and dangerous. And the president inevitably sets an example.
As with most people, Robinson and Kinsley are under the assumption that obesity is purely caused by irresponsible behavior — over-eating, lack of exercise, etc — and that someone who is obese is guilty of some kind of moral failing. As Ezra Klein points out, though, the medical evidence for that just isn't there:
For decades now, we've known that obesity is linked to genetics. In one famous study attempting to separate behavior from biology, Danish researchers looked at a registry of adopted children to see whether their weight correlated with that of their biological parents or that of their adopted parents. Biology won out. "The two major findings of this study were that there was a clear relation between the body-mass index of biologic parents and the weight class of adoptees, suggesting that genetic influences are important determinants of body fatness; and that there was no relation between the body-mass index of adoptive parents and the weight class of adoptees, suggesting that childhood family environment alone has little or no effect."

To suggest that you can draw a straight line from obesity to discipline is, in light of this sort of evidence, absurd.
Moreover, as Megan McArdle notes, the idea that weight is somehow a proxy for self-discipline seems to be rebutted by the likes of Mike Huckabee, Oprah Winfrey, and even Christie himself. For that matter, I'd simply note that our 42nd President wasn't exactly a prime exponent of a healthy eating lifestyle for most of his eight years in office, and the American people seems just fine with it. (Of course, they also learned that Mr. Clinton had other appetite issues, but that's an issue for another day) By and large, I think it's fairly clear that Bill Clinton's weight really didn't impact his Presidency.
There's also little evidence, so far at least, that Christie's weight has been a serious health issue for him. In the 20 months he's been Governor, he's only been hospitalized once, for asthma. While it's arguably the case that the asthma may have been aggravated by his weight, it's hardly evidence of the kind of chronic health problems that Robinson suggests would be an issue should Christie run for, and potentially become President of the United States. As one doctor quoted in Klein's piece put it, the fact that Christie is fat is not, by itself, evidence of anything medically:
I called Zeke Emanuel, an oncologist and bioethicist at the National Institutes of Health. "I think the fact of the matter is that the guy is going to have to release his health records, and that will give us a much better picture," Emanuel says. "You need to know if he has high cholesterol, if he's had myocardial infarction. But just knowing if he's obese? That's worthless."

Ken Thorpe, a professor at the Rollins School of Publish Health at Emory University, was similarly unimpressed. "Excess weight probably shaves between zero years and a year-and-a-half from life expectancy," he says. Compare that to smoking, which rips 13 to 14 years off a person's life expectancy. "The problem with obesity is morbidity, not mortality. You have a higher rate of diabetes, bad cholesterol, back pain, that kind of thing. But if you're taking your blood sugar medications and the right statins and so on, you can control a lot of that."
As I noted yesterday, the one unknown question that a Christie candidacy would raise is whether personal appearance is really as relevant in politics as we tend to think it is. Since the dawn of the television era, we've tended to elect Presidents who either look like, or literally are, movie stars, the suggestion that Americans might be put-off by another William Howard Taft really isn't that far fetched. But, maybe we should let them decide that for themselves. As Jazz Shaw put it today maybe Americans are ready for a "Big Presidency."
I still don't think Christie will run, I also don't think he should run. Not because he's fat, though. The question is why people like Kinsley and Robinson seem to think it's such a big deal. Jonathan Chait, who I doubt can be considered an ideological ally of Christie's, has a theory:
Why does his weight matter at all? The only real reasoning I see here is that American elites view obesity with disgust, and they're repulsed at the notion that a very fat guy could rise to a position of symbolic leadership. It's not a very attractive sentiment.
Is that what this is really all about?