Chris Christie Is Still A Viable 2016 Candidate
The bloom is off the rose, but Chris Christie could still be a strong candidate in 2016.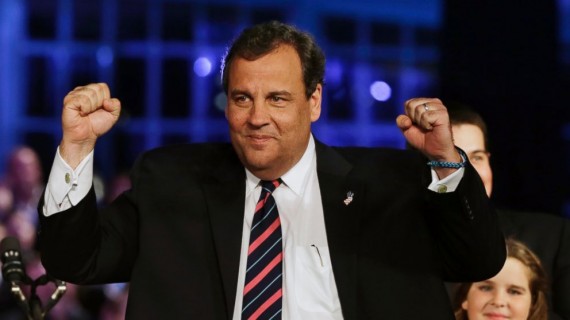 In the three months since the so-called "Bridgegate" scandal, in which New Jersey officials closed of lanes on the George Washington Bridge for reasons that nobody has been able to quite figure out yet, broke Chris Christie has seen his political stock plummet. Throughout 2013, thanks both to the national attention that he received in the wake of Hurricane Sandy and his historically impressive re-election victory, the New Jersey Governor's name was at the top of everyone's list of potential candidates for the 2016 Republican nomination for President. By wide margins, he out-polled all of his fellow potential 2016 candidates in nationwide polling, as well as in polling in first-in-the-nation primary state New Hampshire. He was also the only potential Republican candidate who was competitive with Hillary Clinton in head-to-head polling. While much of Christie's performance in the polls was likely due to name recognition, his high numbers, along with his record in a deeply blue state like New Jersey, made the Presidential talk inevitable.
All of that changed once the "Bridgegate" allegations cam  e out, though. Christie's poll numbers, both inside New Jersey and nationally, fell significantly. While the Governor remains a strong contender in polls of potential 2016 candidates, it's fairly obvious that Christie is not the "star" that he was just a few months ago. Partly in response to Christie's stumbles of late, we've seen the "establishment" wing of the GOP begin to look elsewhere for a candidate to rally around. Most prominently, that attention has turned former Florida Governor Jeb Bush, who seems to be more open about running for President than he ever has in the past.  At the same time, though, there's still a lot of time left before the race for the GOP nomination begins and, as Sean Trende notes, Chris Christie shouldn't be counted out of the fight by any means:
 What this scandal has done is remove the more or less bipartisan support for Christie that emerged in the wake of Hurricane Sandy.  But that's mostly inevitable.  We saw this happen to John McCain in 2008 once he became the face of the GOP, and we're seeing it happen to Hillary Clinton today.

The one danger to Christie is that some smoking gun will emerge implicating him in the scandal. This is where the much-disparaged review of the case by the law firm of Gibson Dunn & Crutcher actually has some relevance.  I think many analysts missed the point.  This wasn't a review to convince the public of Christie's innocence — they are far too tuned out and distrustful of lawyers to buy into it.

What this was about was the "invisible primary" going on among donors, politicians and party apparatchiks.  This primary exists to line up sufficient endorsements and fundraising to compete in the real primary. What the report is saying to these donors — all of whom know the firm — is "We're a top-tier law firm without a strong dog in this fight, and a lot to lose in terms of our reputation. Guys, there isn't a smoking gun."

This doesn't mean that such a document isn't hiding somewhere that the firm missed. But it really is of a fair degree of significance. The report means that we should be surprised if such a document emerges, but we should also bear in mind that surprising things happen all the time in document discovery — I once found a cache of documents in a coat closet at a client's office, and of course there's this. More importantly, that was certainly the message received by the donor class.  That matters.

At the end of the day, "Bridgegate" is a bad fact for Christie. It will certainly feature in 30-second ads.  It also effectively sucks up all of the governor's "free time," freezing his campaign in place and preventing him from laying the sort of groundwork that Rand Paul and Jeb Bush are putting in place.

But these are really just two of many problems, ranging from his relative liberalism on some key issues to his weight to his "Jersey" demeanor, which really will matter somewhat in the Midwest. But no candidate comes to an election with a perfect resume — certainly not Bill Clinton, certainly not George W. Bush, and certainly not Barack Obama (if I'd said in early 2006 that John McCain would be the GOP nominee and Obama the Democratic one, most analysts would have predicted a GOP win).
The "Bridgegate" investigation remains ongoing, but there has yet to be any evidence that the Governor had any direct knowledge of or involvement in the decision to close the lanes on the GW Bridge. Nonetheless, with a joint legislative committee still conducting an investigation and a U.S. Attorney still investigating the matter, it is far too soon to say that the scandal is behind him. As Trende says, there could be some document out there that could harm him legally. More importantly, as we've seen in the polls, the political damage has already been done. To a large degree, "Bridgegate" has ended one of the strongest selling points that a Christie campaign would have had, his ability to appeal to voters across party lines and within demographic groups that Republicans have had difficulty with for some time, such as women, African-Americans, and Latinos. As Allahpundit notes, the scandal, or whatever you want to call it, also pretty much put an end to the idea of Christie as a different kind of politician. It also undercuts the image of competence that Christie had come to have in his first term as Governor. Assuming that the Govenror's version of events is correct, then one of his chief aides conspired with the head of the Port Authority of New York and New Jersey (again, for reasons that remain unexplained) and the Governor didn't know anything about it. That's going to raise questions about his governing style and his management style, something that even Christie admitted in the marathon press conference he held on this matter back on January 9th. If he does end up running in 2016, then Governor Christie is going to need to find a way to reinvent his public image in the wake of what is, in the end, an inexplicably dumb scandal.
Notwithstanding all of this, of course, it is way too early to count Christie out of the 2016 race. As noted, there has yet to be any evidence developed that indicates that Christie was aware of any pre-existing plan to close bridge lanes, or that this was part of some kind of retribution for political slights that he set in motion. Unless something like that does surface, Christie will emerge from this "scandal" bruised but not defeated. Indeed, it's worth remembering, as Trende points out, that Christie's leads in the polls prior to January weren't exactly overwhelming. For the most part, he lead candidates like Rand Paul and Ted Cruz by a handful of percentage points in the preference polls. Given that the fall of 2013 was far too soon to be declaring anyone a presumptive nominee, it was inevitable that he was going take a hit in the polls at some point. In that sense, "Bridgegate" may actually end up helping Christie in  a way because he got that big fall from grace out of the way early on in the process and, notwithstanding that fall, he still remains politically strong. More importantly, while the scandal has arguably undercut many of Christie's biggest selling points, he still remains the same politician he always was and, as recent media appearances have shown, he remains the same politician he always was. Given that, he's likely to be considered a top contender if he does enter the race.
Even before "Bridgegate" came to light, there were never any guarantees about Chris Christie's political future. There are no guarantees today either. However, it would be mistaken to count Chris Christie out just yet.