Chris Rock and Political Reform
Having the topic of political reform start to seep into pop culture is a good thing.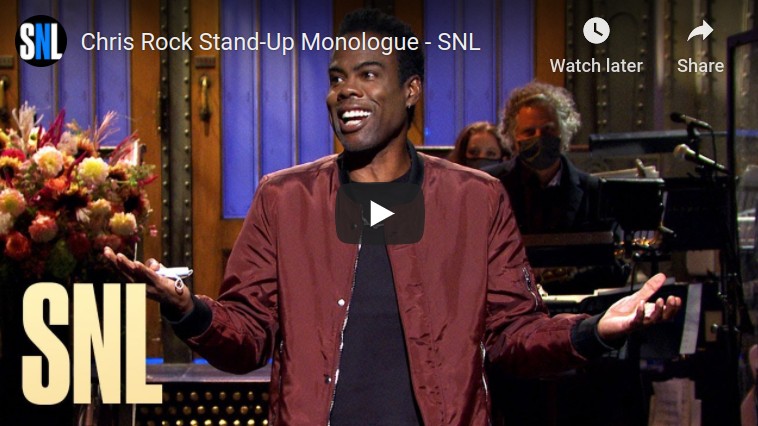 Something interesting happened last night on SNL, which is Chris Rock's monolog had some riffs on structural political reform. At around the three-minute mark, Rock made a few criticisms of the US government and actually made some passing reform arguments:
First, he sideways suggested a parliamentary system. Specifically, he mocked the fact that the president gets to serve four years no matter what. A system that allows for the early removal of the head of government based on performance, is parliamentarism. In such a system the parliament can express no confidence in the Prime Minister and call for early elections or the party itself can decide to replace the PM (there are variations depending on the country).
Unlike impeachment, which basically is for malfeasance, removing a PM is done usually over policy disagreements or the inability of the PM to govern adequately. This type of removal can also sometimes spark a new election, which is more democratic in the full sense of the concept as it allows the voters a say in which party continues to govern.
In situations in which a party replaces its leader without an election, this allows for the majority party to have an incentive to handle a bad leader, as they can replace that leader internally without the stain of an impeachment trial and conviction.
There are, of course, various complexities, depending on the specifics of a given system. At a minimum, there is a lot to be said (and that could be said) for having non-fixed terms for the head of government.
Second, Rock called for term limits. Indeed, the main reason that I know that Rock mentioned politics at all is because PoliSci Twitter erupted last night about what a bad idea this is.
Term limits sound great, because we want to "vote the bums out" and yet we know that the re-election rate of congress is quite high. The problem with term limits, which has been extensively studies in political science, both in terms of local US politics but also in a comparative context (Mexico being a prime example) is that they tend to lead to poorer representation and less democratic responsiveness.
To put it as simply as possible: term limits lead to the empowerment of lobbyists and staffers, as they become the more permanent actors with knowledge of how the system works.
We should want politicians to be beholden to voters for their jobs. It is a key way in which representative democracy is supposed to work. In many ways that is why I go on and on and on (and on and on?) about representativeness and the problems with our flawed electoral processes.
Part of our problem is that office-holders are not anywhere near as beholden to voters as we should want them to be. For example:
If members of Congress are elected from a safe district, what do they have to do to please voters?
If they are nominated by a clear numerical minority both of their districts and their co-partisans in that district, to whom are they going to be loyal. In other words, candidates are nominated by primaries that have low turnout and are often dominated by the more ideologically-oriented voters within a given party.
Non-competitive districts and primaries show the problems that can emerge when office-holders are not directly accountable to democratic majorities. Although, at least they still face some accountability at the ballot box.
Terms limits would mean that an office-holder, once elected to their final term, would face zero electoral accountability in that term. Do we want Senators in office for six years with no accountability whatsoever?
If a major pillar of representative democratic theory is that elected officials have to constantly seek the reaffirmation of voters, then terms limits short-circuit that notion. It is my informed position that terms limits, rather than fixing problems, would just exacerbate existing problems with democratic feedback in the US system and, further, would create new problems.
Also: if we, as a country, are going to burn reform energy, this is not the place to do it, even if it sounds nice to oust some people who have been in office forever.
Rock also raised the notion that the US is an oligarchy, i.e., rule by the rich. And he has a point, which is the fact that the US government doesn't do a very good job of representing the various interests across the land, which, spoiler alert, could be made better with a more representative electoral system.
At any rate, jokes about politics and politicians aren't new, although jokes that identity structural reform, both vaguely and specifically, are by no means common. As I have written here for years, and in print, a specific oddity of the US is that its citizens rarely talk about political reform, especially given our extreme reverence of The Founders. There have been some signs, usually in elite news publications, that this is changing, Having it start to filter into popular culture is a positive sign.