Democracy and Institutional Design III: Towards a More Complex Discussion of Democracy
Part III is here (a lot sooner than Part II was).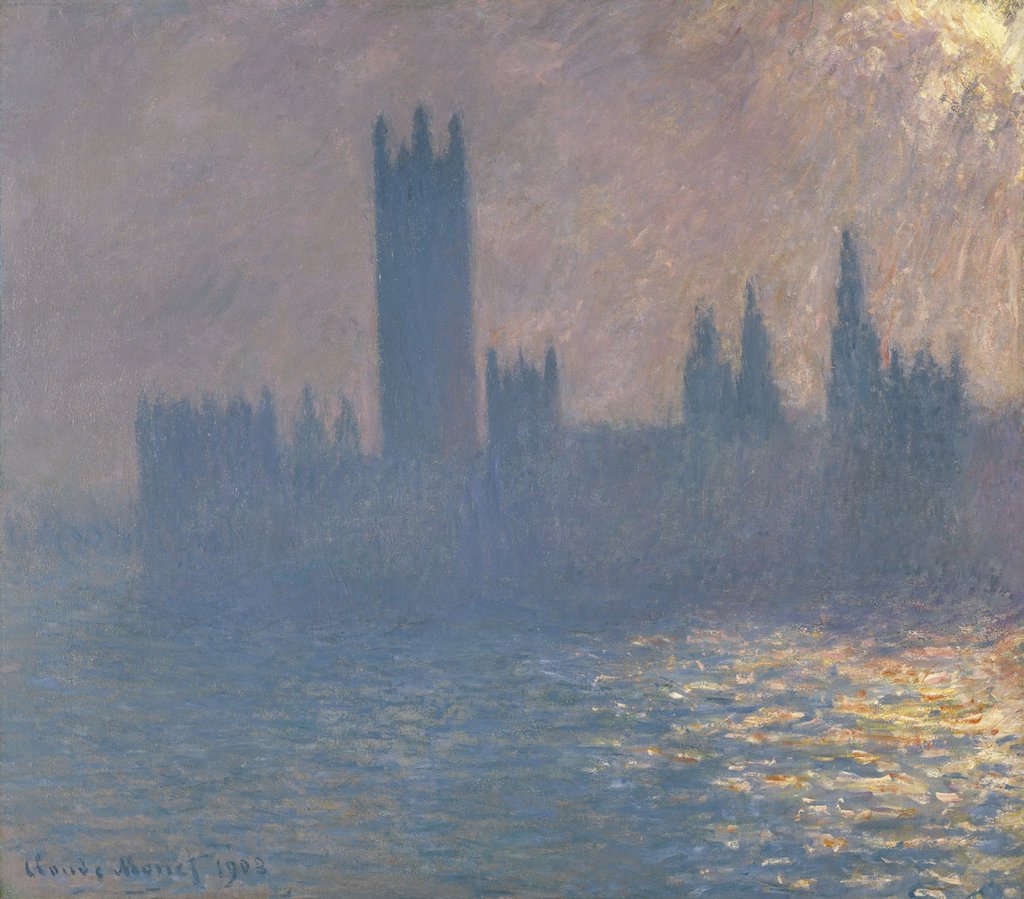 The series so far:
A preface to part III:  please recognize what is probably obvious, that this is a general discussion of topics that could certainly be dealt with in a book-length fashion and that any number of digression are possible (and, likely necessary).  My goal here is to provide a better foundation for conversation as well as a basic explanation of where I am coming in my writings on this topic.
Another important caveat is that I am more than aware of the shortcomings of democratic governance.  When I quoted Churchill in the previous part of this series, or when I noted the aspirational nature of democratic governance, I was sincerely noting imperfections.  Government is necessary and some forms of government are better for the governed than are others, however. I am, to return to a another quotation, profoundly aware that people are a problem.
As I noted as more or less a "PS" at the end of Part II, I will put up front here in Part III.  If you are going to pull any version of the "republic v. democracy" bit in the comments, please see here first.  One could also consult A "Republic v. Democracy" Lexicon.
III.  Complex Democracy.
"Complex democracy" is not a term of art so much as simply my attempt in these posts to create a level of distinction within the conversation.  In the previous post I defined "simple democracy" in terms of co-equality of the participants (at least in the sense that each voter's vote is equal) and that decisions would have to be made by majority rule at least.  In short, a simple system is one wherein co-sovereigns could exercise their share of power. I also wanted to introduce the notion of "simple" (if not simplistic) definitions of democracy because a lot of criticisms of democratic governance (or defenses of anti-democratic practices) usually use a simple definition (majority rule voting) as a straw man.
The reason for using the modifier "complex" is pretty straight-forward:  the actual functioning of a democratic polity is complicated.  The title of this series is "Democracy and Institutional Design" and the bottom line is that while "democracy" may simply mean power by the people, the mechanism ("institutional design") that would allow this to take place is not simple in the least.
Of course, any discussion of more complex democratic governance assumes not direct democracy (where the people literally directly govern) but rather representative democracy wherein the voters, as the principals who hold sovereign power, would elect a government to serve as the agents of the people for a set amount of time.  This distinction between direct and representative democracy is, by the way, as I have stressed for years, the distinction Madison was making in the Federalist when he contrasted democracies with republics.
A basic model of representative democracy looks like this (from Taylor, et al. 2014):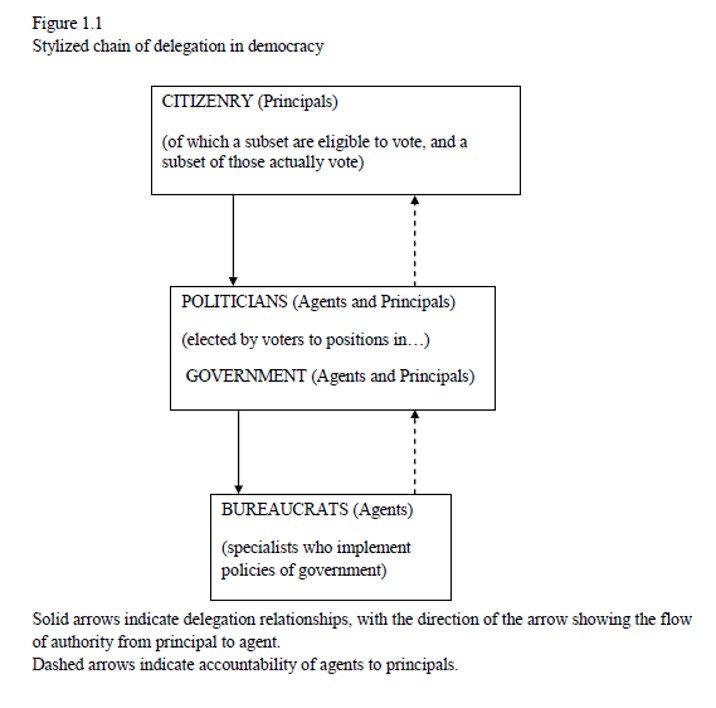 The idea being that the elected government should serve as a the agent of voters-as-principals who hold the ultimate power.  Of course, any principle-agent relationship has problems because it is impossible for the agent to perfectly represent the principle (more on that later when we talk about electoral rules).  And when both the principle and the agent is collective, with various and varied interests, this gets all the more complicated with any number of possible distortions that can occur in terms of delegation and authority.  Note that the government, as chosen by the voters, runs the bureaucracy. Direct democracy would merge the first two boxes into one.
In the simple democracy of part II of this series, one might conceive of a situation in which the bare majority (maybe even a plurality) could control the totality of the second box above, which could be problematic if that plurality abused its position.  This is a classic "tyranny of the majority" situation that is often discussed (see, e.g., Mill, among others, about this problem).  However, when we start talking about the complex democracy I am describing this portion, such a simplistic majoritarianism (or pluralitarianism) is not really possible.
As I often stress when I write about this topic, no democracy in the world is governed by a system of simple majority rule.  One could make a partial argument that the closest one can find to such a system is the Westminster Model of democracy (so named because the British Parliament is housed in the Palace of Westminster).  In such a system there is two-party competition for control of a unicameral parliament which, in turn, selects the executive (the PM and cabinet).  An unwritten constitution means that whatever the majority of parliament wants is, by definition, constitutional.  Under such conditions the party that can win the plurality of the popular vote (for reasons that will just have to be accepted for the moment for the sake of conservation) can capture a majority of seats in parliament, and therefore total control of government for a set amount of time (a max of five years between elections in the UK with early elections being possible).  It should also be noted that the UK has a unitary state insofar as local governments do not have policy independence from the central government which enhances the power of the party that control the House of Commons. This is a quick and simplified version of what one can find in Chapter Two of Lijphart 2o12 (references below). And, of course, my simplified description does not address things like the fact that UK doesn't have a pure two-party system, the ability of the House of Lords to delay legislation, nor the devolution of power to Scotland, Wales, and Northern Ireland (which clearly blunts the unitary nature of the state).  There is also a tradition of protection of certain civil liberties in the UK that protects against government action in those areas.  In short, even the Westminster model is more complex that the simple, straw man version of democracy that many deploy.
Beyond that, however, the prevalence of the Westminster model in the world is quite limited.  If we look (as my co-authors and I did in A Different Democracy) at the largest democracies with some amount of longevity (31 cases), we find that really only the UK comes close to fitting the Westminster model in that sample.  Even if we expand to smaller examples in Lijphart 2012, we find only places like former British colonies such as Barbados (and it existed in New Zealand until they reformed their electoral system in 1993).
Once we add in any of the following to the Westminster model it breaks down: federalism, bicameralism, a separately elected executive, constitutional review by the courts, and/or a multi-party system (among other possible institutional variations).  Each of these affects the degree to which the plurality can directly control the state.
And this is where things get truly complex.  "Democracy" in the modern sense does not mean simplistic majority rule.  It means attempting to translate the collective will of the populace into control of government and it requires a suite of institutional choices.  The ability of that government to act, in general is frequently curtailed by the fact that power is shared by various actors and institutions.
So, democracy becomes increasingly complex as an institutional form when power is distributed among various institutions (e.g., bicameralism, presidentialism, and/or federalism).  It is also important to note that all definitions of representative democracy assume that there are a number of key protections for individual rights.  You cannot, for example, have democracy without things like freedom of speech and press, the right to assemble, and freedom of conscience.  There rights cannot (or, at least should not) be abridged by majority rule.  We should acknowledge that abuses on power do exist, however.
For example, let's consider the ten variable from Larry Diamond's (1999) definition of "liberal democracy" (as I summarized them in Taylor 2016):
Institutional Design and Function
1. Control of the state lies in the hands of elected officials.

 
2. Executive power is constrained.

 
3. Electoral outcomes are uncertain, with a presumption that some alteration of the party in power will take place over time.

 
Civil Liberties
4. Minority groups are not prohibited from expressing their interests.

 
5. Associative groups beyond political parties exist as channels of representation.

 
6. There is free access to alternative sources of information.

 
7. Individuals have substantive democratic freedoms (speech, press, association, assembly, etc.)

 
Judicial/Legal System
8. Citizens are politically equal under the law.

 
9. Liberties are protected by an independent, nondiscriminatory judiciary, whose decisions are respected by other institutions within the state.

 
10. Rule of law is sufficiently strong to prevent "unjustified detention, exile, terror, torture, and undue interfere in their personal lives not only by the state but also by organized nonstate or antistate forces" (1999:12). 
One will notice that most of these elements have nothing to do with majority rule, but rather are protections of citizens from governmental power/the arbitrary abuse of power by others in the society.  See, also, Dahl 1971 and 1998 for further reading.
The bottom line is that whenever I talk about democracy in the modern world, I am speaking in the realm of the kinds of complexities noted in this post.  Real democracy is complex, has to deal with multiple actors and processes (which will eventually address when I talk about veto gates and veto actors), and takes individual/minority rights very seriously.
I would also note that this about defining the regime type itself, and is focused on how the popular sovereignty is translated into governing.  The quality of such government, especially in terms of things like reprentativeness is its own discussion.  For example, majority rules has to be an element of things like legislating but in the context of the other protections noted above.
To be continued (tentatively line-up for now):
Part IV: A Digression on a (the?) Problem with Popular Will.
Part V: Talking about Electoral Rules.:  Seats and Votes.
Part VI: Veto Gates and Veto Actors
Part VII: The Pathologies of American Democracy,
Works cited
Dahl, Robert A. 1971. Polyarchy: Participation and Opposition. New Haven: Yale University Press.
Dahl, Robert A. 1998.  On Democracy.  New Haven:  Yale University Press.
Diamond, Larry. 1999.  Developing Democracy:  Toward Consolidation.  Baltimore:  Johns Hopkins University Press.
Lijphart, Arend. 2012. Patterns of Democracy: Government Forms and Performance in Thirty-Six Countries., 2nd edition. New Haven: Yale Univ. Press.
Mill, John Stuart.  On Liberty.
Taylor, Steven L. 2016. "The State of Democracy in Colombia: More Voting, Less Violence?" The Latin Americanist. (June): 169-190.
Taylor, Steven L., Matthew S. Shugart, Arend Lijphart, and Bernard Grofman. 2014. A Different Democracy: American Government in a 31-Country Perspective. New Haven: Yale University Press.