Clinton Campaign Looking Beyond Sanders, Looking At Potential Running Mates
Hillary Clinton's campaign is beginning to look beyond Bernie Sanders and talk about running mates.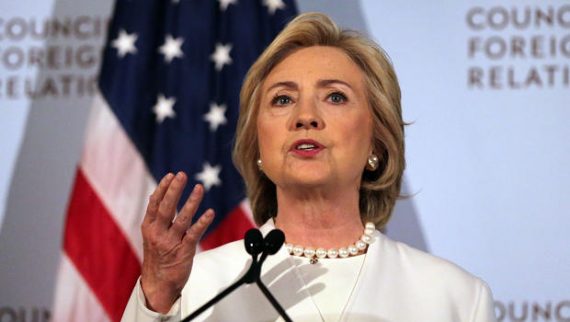 Bernie Sanders may not be giving up his increasingly quixotic quest for the Democratic nomination for President, but Hillary Clinton is apparently already thinking about running mates:
NEW YORK — Hillary Clinton's short list of vice presidential options will include a woman, a top campaign official said in an interview — creating the possibility of an all-female ticket emerging from the Democratic convention in Philadelphia.

Clinton wants "the best person to make the case to the American people," her campaign chairman, John Podesta, told the Globe. "We'll start with a broad list and then begin to narrow it. But there is no question that there will be women on that list," he said, adding that staffers are still focused on clinching the primary.

The development immediately injects liberal darling Senator Elizabeth Warren's name into the growing speculation about who Clinton will choose as her running mate now that she is almost certainly on track to become the nominee.

Any female pairing would double down on the historic nature of Clinton's candidacy, and Warren adds the obvious benefit of providing a bridge to supporters of Senator Bernie Sanders who are wary of Clinton's ties to Wall Street.

Though the idea of a two-woman ticket seems far-fetched to many, the conventional wisdom has been upended multiple times so far in 2016. Washington insiders more typically focus on an exclusively male-centric VP list that includes names like Housing Secretary Julian Castro, Labor Secretary Tom Perez, New Jersey Senator Cory Booker, and Virginia Senator Tim Kaine.

Attention is turning to Clinton's deliberations over a running mate after her overwhelming victory in New York on Tuesday made it all but certain that she'll clinch the nomination. Sanders would have to win 73 percent of the delegates in remaining primary states to overtake her lead, according to a tally by the Associated Press. Then he'd face the uphill task of persuading the superdelegates — the party leaders who vote in the nomination contest and are overwhelmingly backing Clinton — to support him instead.

That makes the Democratic veepstakes question more pressing and perhaps the second most interesting Washington parlor game after the drama over who the Republicans will place at the top of their ticket.

Lacey Rose, a spokeswoman for Warren, declined to comment for this story.

Podesta didn't offer names on Clinton's list of possible women running mates, but after Clinton herself, Warren is one of the few Democratic women with national name recognition and a big following among progressives, a voting bloc Sanders has energized. Having Warren on the ticket could help Clinton stitch the party back together after a divisive primary.

Warren is a prodigious online fund-raiser who could help Clinton attract the tens of millions of grass-roots donations that have filled Sanders' treasury. She raised $45 million for her 2012 Senate race, with 47 percent of the funds coming from small donors, according to the Center for Responsive Politics, which tracks political spending.

Warren has been wading more deeply into 2016 presidential politics in recent weeks. On Tuesday she unleashed a 12-part tweetstorm aimed at Texas Senator Ted Cruz that some perceived as an audition for the attack-dog role that traditionally falls to vice presidential nominees.

In it, she accused Cruz of whining about the sacrifices that a president would need to make. "We're supposed to pity you because trying to be the leader of the free world is hard?!" Warren wrote. "2 words: Boo hoo."

She's also trained fire at Republican front-runner Donald Trump, typing a Facebook post that called him "a bigger, uglier threat every day that goes by." (He replied by mocking the flap over her claims to Native American ancestry, and referring to her as "the Indian.")

There are multiple hurdles for Warren, first among them: It's not at all clear that she even supports Clinton. She's assiduously hugged the sidelines of the Democratic race even after repeatedly saying she would endorse a candidate and has sparred with Clinton in the past over her corporate ties.

And as with any senator whom Clinton might consider, there's the balance of the chamber to consider.

Democrats are fighting hard to pick up the net gain of five seats they need to be in the majority.

That could pose a short-term problem in Massachusetts, where Republican Governor Charlie Baker would almost certainly appoint a member of his own party to fill Warren's seat. Massachusetts law stipulates that a special election must be called between 145 and 160 days after a vacancy occurs — so the blue Massachusetts Democrats would have another crack at the seat.

Warren's supporters questioned whether she'd want the post. In interviews with about a dozen people who attended a Sanders event in Queens Monday night, nearly all said they would be disappointed in Warren if she endorsed Clinton, let alone got on the ticket with her. They found the whole concept unimaginable.

"I don't think Elizabeth Warren would accept it," said Ben Johnson, a 27-year-old from Atlanta who traveled to New York to attend the rally, an experience he compared to attending a rock concert. "I think she feels she's more effective in the Senate."
The fact that Clinton's campaign is talking about running mates at this point in the race is perhaps the best sign yet that they are fairly confident that, notwithstanding whatever bumps may lie in the road ahead, the Clinton campaign is making the shift to General Election mode even as Sanders himself continues to insist that he is taking the first for the nomination all the way to the convention. You can also detect this shift in focus in the fact that Clinton's speeches are increasingly directed at Donald Trump and Ted Cruz rather than Sanders, while her campaign surrogates begin to emphasize in their media appearances that Sanders needs to begin considering the future of his campaign in light of what is best for the Democratic Party and avoid rhetoric that could damage party unity and Clinton's own chances against the eventual Republican nominee. There's no indication as of yet that Sanders is listening to these calls, but at some point one assumes that someone close to Sanders will have the proverbial "come to Jesus" meeting with him and try to persuade him to see the light. In any case, the Clinton campaign is moving forward notwithstanding Bernie Sanders' refusal to accept reality. This discussion about potential running mates is just one indication of that,
As for the Vice-Presidential short list, the way these things are traditionally done would seem to suggest that Clinton will likely follow one of two strategies in selecting a running mate. Under one strategy, the nominee uses the Vice-Presidential slot in an effort to unite disparate wings of the party, especially after a long and contentious primary battle. In Clinton's case, that would mean to reach out to the more progressive wing of the Democratic Party in an effort to heal some of the bad blood created by the long campaign battle with Senator Sanders. As a preliminary matter, it seems unlikely that Clinton would select Bernie Sanders. For one thing, it doesn't seem as though Sanders would accept the position, and that he'd prefer to stay in the Senate. Indeed, Sanders has already filed paperwork to run for re-election in Vermont. Additionally, the fact that Sanders is actually older than Clinton makes selecting him problematic since it raises questions about selecting someone who would both be able to take over in the even of tragedy and represent the future of the party. The age issue also argues against selecting Elizabeth Warren given the fact that she is only two years younger than Clinton herself. From the campaign's point of view, it would seem to make sense to select someone younger, but the desire to mend fences with the progressive wing of the party may end up overwhelming age concerns, and in that case Senator Warren would at least seem to be someone that the campaign would consider as a potential running mate.
In addition to healing party wounds, Presidential nominees often attempt to use the selection of a running mate to fill in gaps in their own resume. In Clinton's case, there are few such gaps, of course, but this is where the selection of someone younger who represents a specific demographic comes into play. In this regard, names that have been mentioned in the past include Secretary of Housing and Urban Development Julian Casto, Labor Secretary Tom Perez, and New Jersey Senator Cory Booker, all of whom would arguably appeal to younger and ethnic voters, both of which are quite important to the Democratic Party in national elections. More conventional Vice-Presidential choices would include people such as a Virginia Senator Tim Kaine and Minnesota Senator Al Franken, both of whom have been mentioned in recent discussions, although it seems as though Kaine would be a more likely choice than Franken given Virginia's importance to the Electoral College battle.
Whichever way the choice goes, the fact that the campaign is talking openly about running mates is perhaps the best indication yet that they are reay to move beyond Bernie Sanders.