CNN Announces Criteria For Next Republican Debate
Different criteria than in the past, but there may not be much of a change in the participants.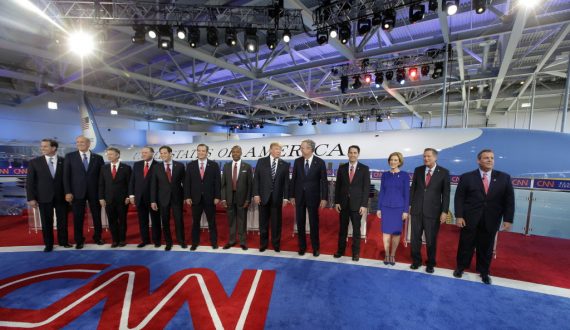 CNN has announced the criteria for the next Republican debate on December 15th, which will be the final debate of 2015:
Republicans have three ways to make the cut for the main stage of their fifth presidential primary debate, sponsor CNN announced Thursday.

Candidates must meet one of three criteria in polls conducted between October 29 and December 13 and recognized by CNN: An average of at least 3.5% nationally; at least 4% in Iowa; or at least 4% in New Hampshire.

The debate is Tuesday, December 15 in Las Vegas, Nevada.

Right now, nine candidates would make cut for the Republican National Committee sanctioned debate at The Venetian in Las Vegas: Donald Trump, Ben Carson, Florida Sen. Marco Rubio, Texas Sen. Ted Cruz, former Florida Gov. Jeb Bush, Ohio Gov. John Kasich, Kentucky Sen. Rand Paul, Carly Fiorina and New Jersey Gov. Chris Christie.

Paul is on the bubble for the debate. He clears the national hurdle of 3.5%, but doesn't average 4% in either of the first two states to vote in the 2016 nominating process.

Christie would make the main debate stage as of Friday — but he did not qualify in the last GOP debate, hosted by Fox Business Network.

CNN also announced that it, along with Facebook and Salem Media, will hold a second debate for Republican candidates who don't make the cut for the main stage.

To qualify for the earlier debate, candidates must reach at least 1% in four separate national, Iowa or New Hampshire polls that are recognized by CNN.

(…)

Polls that will be considered are live interviewer national and state surveys by: ABC News, Bloomberg News, CBS News, CNN, Fox News, Gallup, Marist University, McClatchy News Service, Monmouth News Service, NBC News, The New York Times, Pew Research Center, Quinnipiac University, Time, USA Today, The Wall Street Journal, The Washington Post, The Des Moines Register, the University of New Hampshire, WBUR and WMUR.
The polls that will be considered are those taken between October 29th and December and December 13th. While it's likely going to be an inexact match for how CNN considers the polls, Pollster's customization tools allow for the creation of charts that will roughly track how the candidates are performing under this criteria nationally, and in Iowa and New Hampshire. Things are slightly different if you look at the RealClearPolitics averages nationally and in Iowa and New Hampshire, where As noted, the only prominent candidate who is in danger of being sent to the Kid's Table Debate this time is Kentucky Senator Rand Paul. Whether that changes over the coming three weeks is something we'll just have to wait to see.
These criteria are as likely to prove to be as controversial as those that have been set for other debates, especially among the supporters of any candidates who might be in danger of being excluded from the main stage or even the undercard debate. The truth, though, is that these may well be the most generous criteria that we've seen from any of the debates so far. While the 3.5% cutoff for national polling and 4% cutoff for state-level polls is higher than we've seen in the past, the fact that they will be considering state-level polls in addition to national polls for main stage eligibility may actually help a candidate who is doing well in either Iowa or New Hampshire but not so well nationally. Had similar criteria been in place for the Fox Business Network Debate, for example, then New Jersey Governor Chris Christie might have ended up qualifying for the main stage due to the fact that he had been seeing a surge in New Hampshire in the weeks before the debate that had not reflected itself in the national polling at that point.
My only criticism of the criteria at this point is the fact that it could end up with a main stage debate of nine, and possibly even ten, people at a point in the process where we really ought to be looking at winnowing the field down to the candidates who actually have a realistic chance of winning. The fact that there's also an undercard debate is somewhat disappointing given the fact that those events have proven to be largely pointless ever since the first one in August. To some extent, this is a natural consequence of the fact that, notwithstanding the withdrawal of candidates such as Rick Perry, Scott Walker, and most recently Bobby Jindal, the Republican field remains unusually large. As long as that's the case, there's still likely to be a large number of people that meet the criteria. Once people start voting, that's likely to change and perhaps these debates will take place on a smaller stage where a more discrete group of contenders will have a better chance of being able to discuss issues in more depth. Until then, I suppose, we'll just have to accept the situation for what it is.