Scott Walker Dropping Out Of Presidential Race
Once a candidate that many believed could become the Republican nominee, Wisconsin Governor Scott Walker is dropping out of the race for President.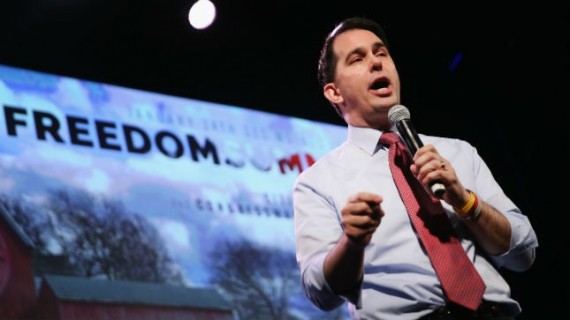 Wisconsin Governor Scott Walker, who was once seen as one of the top prospects for the Republican Presidential nomination, is dropping out of the race in the wake of a summer that saw his campaign collapse:
Scott Walker plans to suspend his campaign for the Republican presidential nomination on Monday night, according to several sources.

The announcement, scheduled for 5 p.m. Central Time in Madison, comes on the heels of a new CNN poll that showed him registering as an asterisk in the latest national poll after a second straight lackluster performance in the GOP debate last week.

It's a sudden and surprising fall for the Wisconsin governor, who led polls in Iowa for several months earlier this year after a well-received speech there in January that inspired both the party's grassroots and its donor class. For months, he was viewed as a frontrunner for the GOP's nomination, but he failed to consolidate support and did not live up to the early hype he inspired.
These reports have been independently confirmed by CNN, The New York Times, and The Washington Post, and Walker's campaign scheduled the press conference this afternoon at the last minute, which seems to be a fairly clear indication that these reports are true that we've reached the end of the line for the Wisconsin Governor's bid for the White House. In may ways, the expected announcement today is both surprising and not surprising at all. It's surprising simply because it has come so early in the process. Even with Walker's campaign woes over the past several weeks, he still seemed to have a relatively stable campaign organization and a sizable campaign war chest. Additionally, since Walker was concentrating most of his campaign in neighboring Iowa, the travel costs for his campaign were likely relatively lower than they are for other candidates. Notwithstanding the fact that his performance in Wednesday's debate was roundly criticized, just as his performance in the August 6th debate had been, it's probable that he could have continued with at least some measure of a campaign for a little while longer. The fact that he's ending his quest so abruptly is an indication that his recent bad performance in the polls, combined with his debate performance, had likely completely undermined the logic for his campaign to continue.
The collapse of Walker's campaign is arguably the biggest story to come out of the Republican Presidential race so far other than the rise of Donald Trump and the other "non-political" candidates in the race, Ben Carson and Carly Fiorina. Unlike former Texas Governor Rick Perry, who dropped out earlier this month, Walker was once a serious contender for the nomination and someone that was near the top of the polls for several months even before he actually entered the race. As late as mid-June, Walker was in the lead in Iowa, with more than a double digit lead over Jeb Bush and the other candidates, today he leaves the race with a 4.3% average in the Iowa polls. In New Hampshire, he was leading in the polls through much of the spring and competitive against Jeb Bush through most of the time until Trump entered the race in mid-June, with the latest polls he leaves the race with a 2.5% average. In the national polls, Walker was competitive with Bush right up through mid-June when his numbers started to collapse. In the post-debate polls released yesterday he came in at 3% and 0% respectively and leaves the race with a 1.8% average.  For a candidate who had been a hero on the right ever since he entered office in Wisconsin and started taking on the public employee unions in that state, it has been a tremendous fall, but one that was apparent for some time now.
In the end, it seems clear that Walker was not nearly as strong a candidate as his press clippings and the media coverage made him out to be. That became apparent even before he started his Presidential campaign when a press aide who had been critical of the Iowa Caucuses and made comments favorable toward immigration reform was forced to resign due to political pressure on Walker. The Governor also got in trouble when past comments he had made favorable toward immigration reform appeared to conflict with positions he was taking in the campaign. More recently, he took four different positions on the issue of birthright citizenship over the course of seven days in the wake of Donald Trump's introduction of his immigration plan. All of this, along with his debate performances, was very different from the image that Walker had created since becoming Governor, and it quickly became obvious that the image of Scott Walker was nowhere near being the reality of Scott Walker. As Daniel Larison puts it, a bad candidate who was never able to live up the myth that had been created about him:
Walker's decline isn't really all that puzzling. He was treated as a "top tier" candidate months before he announced his campaign, and during that time expectations continued to be raised despite Walker's obvious lack of preparation on national and international issues. Once he started campaigning in earnest, the actual candidate did not compare well with the imagined version of Walker that so many of his fans had created from what little they knew about him from his tenure in Madison. He failed to live up to a version of himself that never existed, and the reality of Walker turned out not to be very interesting.

In other words, nothing "happened" to Walker. His weaknesses as a national candidate were there for all to see, but most Republicans preferred not to see them until Walker made them impossible to ignore.
I have been saying  for quite awhile that Walker was 2016's version of former Minnesota Govenror Tim Pawlenty, a Midwestern Governor who was successful at home but who didn't play well on the stump and did not live up to the image that had been created for him. While I am surprised at how quickly the entire Potemkin Village collapse, I'm not surprised it happened.