College Bars Going Out of Style?
A wonderfully descriptive story in the New York Times Style section that's almost surely mere anecdote being touted as trend.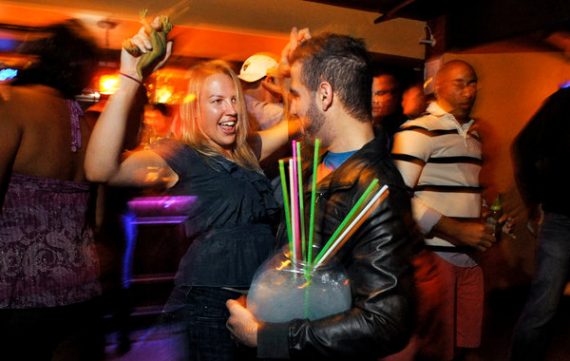 In "Last Call for College Bars," the NYT Style section has another of those stories that simultaneously seem plausible and yet which is almost surely mere anecdote being touted as trend.
These days text messaging, Facebook and Foursquare make it possible to see if a bar is worth the trip (translation: who is there) without leaving the dorm. Meanwhile, location-based mobile apps like Grindr, which point to the nearest available candidates looking for sex or not-quite-sex, are helping dethrone college bars from their place as meat markets.

Students have spent so many hours pregaming (as in, getting as cost-efficiently drunk as possible, usually on hard liquor at a private party) that there is little need to waste money even on cut-price drinks, and they often don't arrive at the bars until midnight or so, before the bars in Ithaca close at 1 a.m.

"Students don't need bars to create a community the way they used to," said Stephani Robson, a senior lecturer in the School of Hotel Administration at Cornell who specializes in restaurant psychology.

And it's not just at Ivy League Cornell, where the libraries are open later than the bars, but in college towns across America like Iowa City, where at least four bars have closed since 2011.

Bars near Gettysburg College in Pennsylvania are so peripheral to Lanie Parr's social life that she doesn't know what time they close. That is not because she doesn't drink. "We sometimes pregame even the pregame," she said.

Pregames often are single sex, with men playing beer pong or video games, and women drinking vodka sodas or a peach-flavored Champagne called André and refusing to head out until they have captured the perfect photo, which they promptly post to Instagram and Facebook.

"You could have this really amazing night, but if you didn't get a picture, it's like it didn't happen," said Ms. Parr, 22, a senior at Gettysburg, whose friends often order designer outfits from the Rent the Runway Web site because incessant documenting makes wearing anything more than twice taboo. "It's crazy how much pictures consume our lives. Everyone knows how to pose and how to hold your arm and which way is most flattering, and everyone wants the picture taken with their phone."

That preamble tends to delay arrival time at bars, another factor in their decline. At Cornell, three Collegetown bars have closed in the last year, including the 71-year-old Royal Palm Tavern, a storied dive where students convened at "Palms o'clock," meaning in time for one last drink.

"These kids today won't pay even $2 for a drink," said the former owner, Lenny Leonardo, as he cruised down a highway in Florida, where he retired in August. "They buy a bottle of Southern Comfort and show up in time to try to get laid. But they just end up throwing up in my men's room, and I get reprimanded because it looks like I'm the one who let them get this drunk."
This is wonderfully descriptive and enticing. At my age, these kids today stories are an easy sell. But this one is a little too cute.
Facebook and its ilk didn't exist when I was an undergraduate; hell, the Internet didn't exist when I was an undergraduate. So, I wouldn't be surprised if the convenience of being able to asynchronously communicate with one's friends and acquaintances is having ripple effects in other parts of the social lives of today's college students and it's plausible that the bar scene is being impacted.
On the other hand, were college students really spending every night in the bar drinking expensive drinks in halcyon days of 2003 before Facebook changed everything? Color me doubtful. For one thing, most undergrads are under 21. For another, most are broke. Nor, incidentally, has Facebook changed the economics. A bottle of Southern Comfort or a case of beer were cheaper than going to the bar—even if they were having specials—during the Reagan administration, too.
And, please, who are these girls who are renting designer outfits because they wouldn't be caught dead Instagramming themselves in the same outfit twice? I encounter undergraduates often enough to know that they still dress like crap.
(As an aside, "Pregames often are single sex" is an excellent example of why the demise of hyphenation is a bad thing; I was well into that sentence before I realized it was about people of the same gender hanging out together rather that about students getting busy with the opposite sex.)