College Campus 9/11 Commemorations
Are colleges teaching the right lessons about the 9/11 attacks?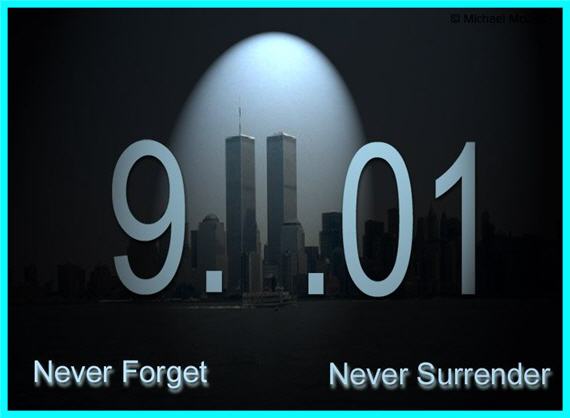 Manhattan Institute's Charlotte Allen charges that colleges are doing 9/11 commemorations wrong.
Unlike the commemorations in most of the rest of America, however, the academic commemorations for the most part won't focus on, say, the 403 New York firefighters, paramedics, and police officers who died in rescue efforts at the World Trade Center towers hit by hijacked planes. Nor upon the numerous acts of courage and selflessness that marked that day, not least those of the passengers of United Airlines Flight 93, the flight that crashed in Pennsylvania, whose rallying cry "Let's roll!" led by 32-year-old passenger Todd Beamer accompanied an effort to fight back against the terrorists. Nor upon the approximately 3,000 children who lost parents in the massacre, including dozens of babies born after their fathers perished. Least of all will there be much emphasis on what America did or should have done by way of reprisal for a brazen act of war that killed more people in the collapse of the World Trade towers alone (2,753) than perished in the Japanese attack on Pearl Harbor on December 7, 1941 (2,402).

Instead, the campus commemorations, many of which will be spaced out for days and even weeks this fall, will focus on, well, understanding it all, in the ponderous, ambiguity-laden, complexity-generating way that seems to be the hallmark of college professors faced with grim events about which they would rather not think in terms of morality: "Historical and political representations," whatever those are (Harvard), "How do we determine truth and reality?" (more Harvard), and "Imaging Atrocity: The Function of Pictures in Literary Narratives about 9/11" (St. John's University in New York).

And the topic that seems to demand the most understanding, at least in terms of the obsessive amounts of time and resources that college professors and administrators will be devoting to it, is Islam. There will be so many campus lectures, panel discussions, teach-ins, and photo exhibits devoted to the Muslim faith, Muslim communities in America, and the real or imagined violent acts against Muslims in the wake of 9/11 (there has actually been only one revenge-slaying since that date—of a man who turned out not to be a Muslim—and the perpetrator was convicted and executed) that if you had just rocketed in from Venus, you might think that Muslims had been the chief victims, not the sole perpetrators, of the massacre that day—as well as an estimated 67 alleged terrorism incidents or attempts in the United States during the decade that followed.
Even those these examples are certainly cherry picked, ignoring more "traditional" commemorations, none of this strikes me as problematic.
First off, I'm not sure that colleges really need to be commemorating 9/11 at all, at least in the classroom. We don't generally spend a lot of lecture time remembering anniversaries. Pearl Harbor Day, the most obvious analogue, was never commemorated in any meaningful way during all the years I spent attending or teaching college. And that was on campuses in Real America, not the Communist Ivy League or at schools named after Catholic saints.
One could argue that 9/11 is different because it's a contemporaneous event whose impact is still being felt directly. But the typical college student was somewhere between 7 and 12 years old at the time of 9/11. For many of them, it's a pretty fuzzy memory.
Second, to the extent that the attacks are an important subject for academic analysis and discussion, it's not about the acts of heroism of the first responders or the derring-do of Todd Beamer. Their valor should of course be recorded in history and passed down as shining examples of humanity at its best; it's just not the sort of thing that college is about.  Alvin York and Audie Murphie don't get much coverage in  lectures on the world wars, either.
No, professors will teach about the impact of the attacks in areas interesting to their fields of study. For security studies types like myself, the impact on counterterrorism, asymmetrical warfare, relations with Pakistan and the larger region, the transatlantic relationship, and all manner of related impacts of the attacks and their aftermath would be appropriate topics. There will indeed be humanities courses where the impact on public perceptions of Islam will be relevant topics.
For example, a freshman might well come to campus with half-baked thoughts like "Muslims were the perpetrators of the attacks." It would be a disservice for them to graduate without understanding that the attacks were actually perpetrated by 19 particular Muslims who were part of a terrorist organization motivated by a mixture of radical theology and a set of policy goals and that the world has some 2.25 billion Muslims, very few of whom are interested in blowing them up.
Via Allen McDuffee