Congress Certifies Biden Win
It's finally officially official.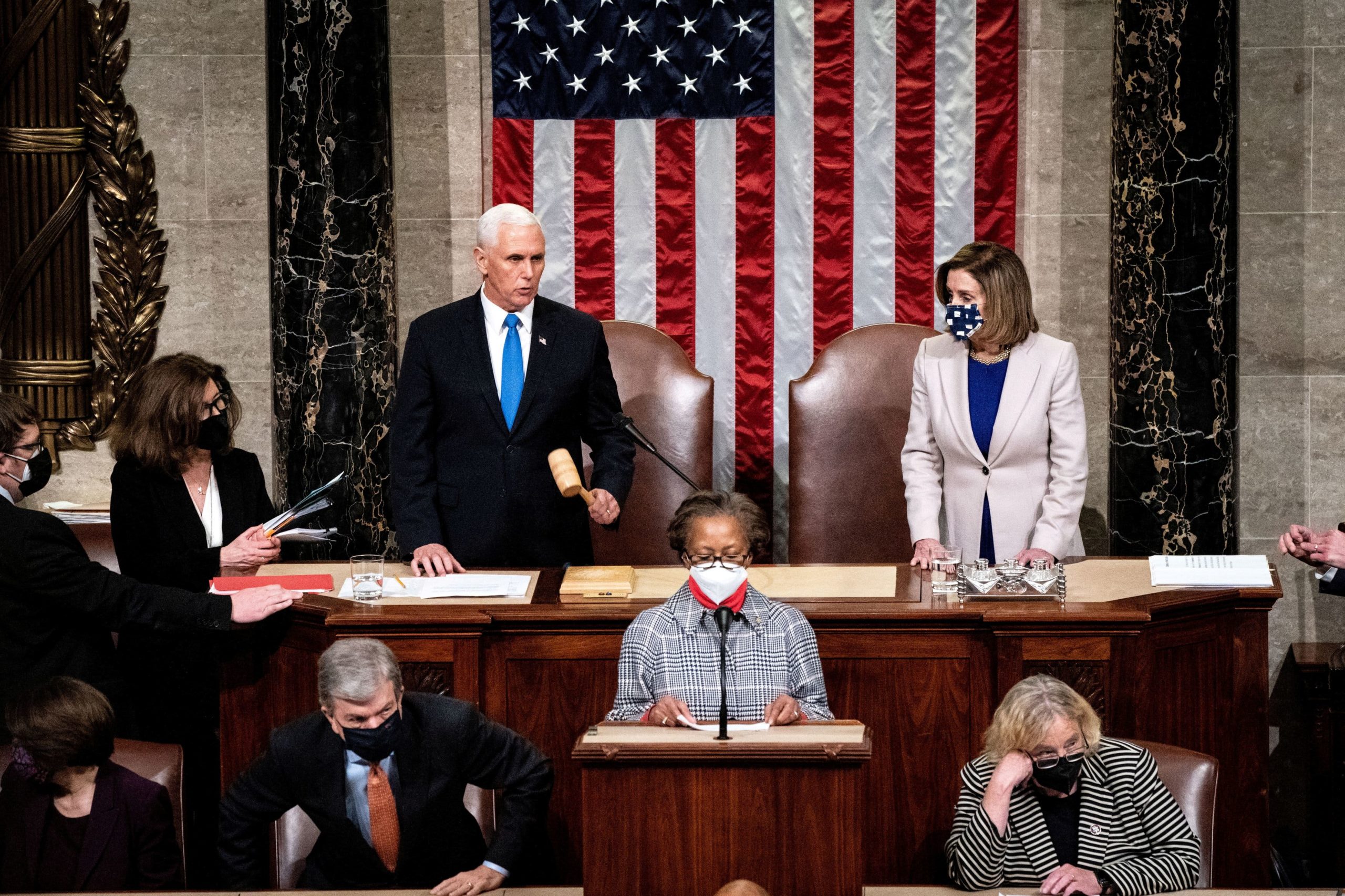 Almost two months after the election itself, a month after every state certified their results, and more than three weeks after the Electoral College officially cast their ballots, Congress—interrupted by a riot and some feckless Members—has finally certified Joe Biden as the next President of the United States.
Washington Post ("Congress affirms Biden's presidential win following riot at U.S. Capitol"):
Members of Congress, shaken and angry following a violent assault on the U.S. Capitol by a mob of President Trump's supporters, put a final stamp on President-elect Joe Biden's victory early Thursday morning and brought an end to a historically turbulent post-election period.

Republicans had at one point planned to object to the electoral college votes in a series of states won by Biden, but after the storming of the Capitol, several GOP senators changed course, disputing only Arizona and Pennsylvania. Both challenges failed.

Shortly after Congress affirmed Biden's win, Trump pledged an "an orderly transition." The statement, tweeted by White House social media director Dan Scavino as Trump remained locked out of his own Twitter account, stops short of conceding or congratulating Biden.

"Even though I totally disagree with the outcome of the election, and the facts bear me out, nevertheless there will be an orderly transition on January 20th," Trump said, noting that Congress's action "represents the end of the greatest first term in presidential history."
More on Trump later.
The lawmakers convened Wednesday evening, after hours of delay, in a show of defiance. House Speaker Nancy Pelosi said she had consulted with fellow congressional leaders, the Pentagon, the Justice Department and Vice President Pence before concluding that Congress should move ahead with the ceremony interrupted earlier in the day by rioters provoked to action by Trump at a morning rally.

"Today, a shameful assault was made on our democracy. It was anointed at the highest level of government. It cannot, however, deter us from our responsibility to validate the election of Joe Biden," wrote Pelosi (D-Calif.).

As lawmakers returned to work following the riot, the tone of the debate turned more somber and impassioned than before the interruption, with a number of Republicans who had planned to slow the proceedings with objections announcing they would stand aside.

"To those who wreaked havoc in our Capitol today, you did not win. Violence never wins. Freedom wins. This is still the people's house," Pence said as he formally reopened the Senate.

Senate Majority Leader Mitch McConnell (R-Ky.) said the rioters had tried to disrupt democracy. "They failed," he said.

Sen. Mitt Romney (R-Utah) earned sustained applause from his colleagues for a thundering speech in which he said elected leaders should show respect for voters by telling them the truth, not fueling groundless doubts about the election.

"We gather due to a selfish man's injured pride and the outrage of supporters who he has deliberately misinformed for the past two months and stirred to action this very morning," Romney said. "What happened here today was an insurrection incited by the president of the United States."

At one point early Thursday morning, the raw emotions nearly sparked a physical confrontation after Rep. Conor Lamb (D-Pa.) accused Republicans of peddling falsehoods about election fraud.

"That that attack today, it didn't materialize out of nowhere," Lamb said. "It was inspired by lies — the same lies that you're hearing in this room tonight."

That sparked an exchange of words between Republicans and Democrats sitting behind Lamb that nearly led to blows before aides intervened.
As to the actual voting:
Both chambers picked up Wednesday night where they had left off before the evacuation, considering a challenge to Biden's 11 electoral votes in Arizona. The Senate rejected the challenge by 93 to 6 and the House by 303 to 121.

House members also objected when Pence read the tallies from Georgia, Michigan and Nevada, but those challenges died when no senators joined them.

After midnight, however, a challenge to Pennsylvania's count, joined by Sen. Josh Hawley (R-Mo.), prompted the two chambers to consider that state's electoral vote. The Senate did not even debate before voting 92 to 7 to reject the challenge, while the House debated the full two hours ahead of a 282 to 138 vote of rejection.
The good news, such as it is, is that 7 and 138 are far smaller numbers than the number of Republicans in those bodies. But people should be shunned from polite society and hounded from office.