Coronavirus Has Been Politicized to Dangerous Effect II
These decisions should be made by professionals.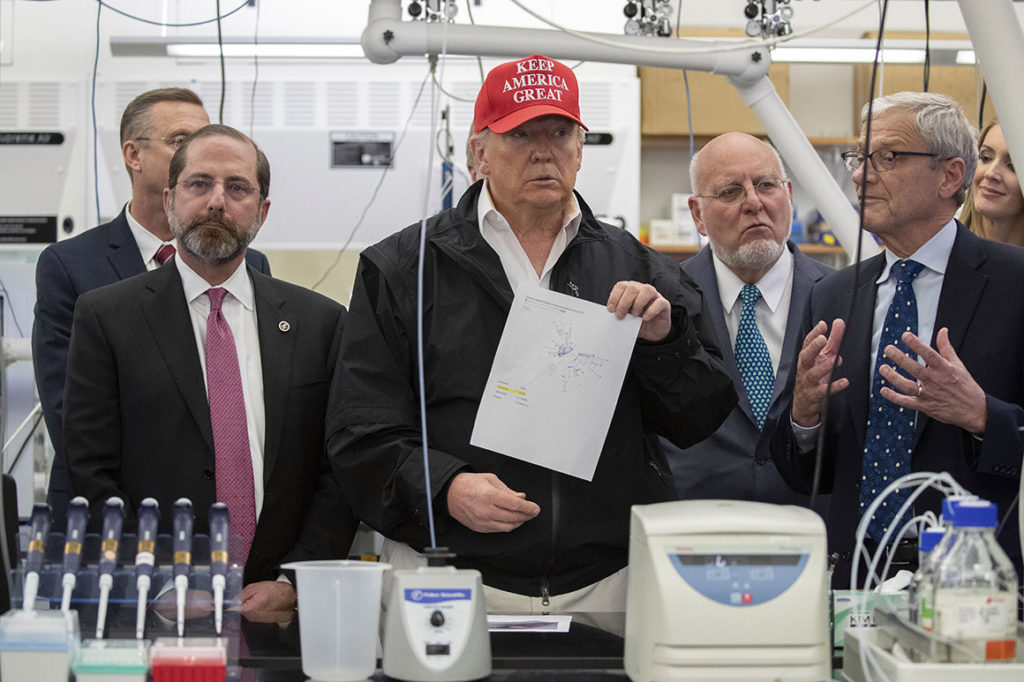 Yet more evidence that political considerations are trumping medical assessments in our nation's handling of COVID-19.
AP ("Official: White House didn't want to tell seniors not to fly"):
The White House overruled health officials who wanted to recommend that elderly and physically fragile Americans be advised not to fly on commercial airlines because of the new coronavirus, a federal official told The Associated Press.

The Centers for Disease Control and Prevention submitted the plan this week as a way of trying to control the virus, but White House officials ordered the air travel recommendation be removed, said the official who had direct knowledge of the plan. Trump administration officials have since suggested certain people should consider not traveling, but they have stopped short of the stronger guidance sought by the CDC.

The person who spoke to the AP on condition of anonymity did not have authorization to talk about the matter. The person did not have direct knowledge about why the decision to kill the language was made.
In a tweet, the press secretary for Vice President Mike Pence, Katie Miller, said that "it was never a recommendation to the Task Force" and called the AP story "complete fiction."

On Friday, the CDC quietly updated its website to tell older adults and people with severe medical conditions such as heart, lung or kidney disease to "stay home as much as possible" and avoid crowds. It urges those people to "take actions to reduce your risk of exposure," but it doesn't specifically address flying.

Pence, speaking Saturday after meeting with cruise ship industry leaders in Florida, targeted his travel advice to a narrower group: older people with serious health problems.

"If you're a senior citizen with a serious underlying health condition, this would be a good time to practice common sense and to avoid activities including traveling on a cruise line," Pence said, adding they were looking to cruise line officials for action, guidance and flexibility with those passengers.

Health and Human Services Secretary Alex Azar suggested older Americans and those with health problems should avoid crowds "especially in poorly ventilated spaces."

For most people, the flu-like viral illness causes only mild or moderate symptoms, such as fever and cough. But — like the flu — it can cause pneumonia and be much more lethal to people made frail by old age and by conditions that make it harder for their bodies to fight infections.

Dr. Peter Hotez, dean of tropical medicine at Baylor College of Medicine, this week warned U.S. lawmakers against minimizing the viruses risk for vulnerable people. During a Congressional hearing, he said the coronavirus "is like the angel of death for older individuals."

Some experts this week said clearer and louder guidance should be made to vulnerable people, so they take every possible step to avoid settings where they might more easily become infected.

"The clear message to people who fit into those categories is; 'You ought to become a semi-hermit. You've got to really get serious in your personal life about social distancing, and in particular avoiding crowds of any kind,'" said Dr. William Schaffner, a Vanderbilt University expert on infectious diseases.

That can include not only avoiding essential commercial travel but also large church services and crowded restaurants, he added.

Dr. Tom Frieden, a former CDC director, said whether to recommend the frail and elderly avoid air travel is "a difficult question," but clearly this is a time when such conversations should be taking place.
POLITICO ("Trump's mismanagement helped fuel coronavirus crisis") :
On Friday, as coronavirus infections rapidly multiplied aboard a cruise ship marooned off the coast of California, health department officials and Vice President Mike Pence came up with a plan to evacuate thousands of passengers, avoiding the fate of a similar cruise ship, the Diamond Princess, which became a petri dish of coronavirus infections. Quickly removing passengers was the safest outcome, health officials and Pence reasoned.

But President Donald Trump had a different idea: Leave the infected passengers on board — which would help keep the number of U.S. coronavirus cases as low as possible.

"Do I want to bring all those people off? People would like me to do it," Trump admitted at a press conference at the CDC later on Friday. "I would rather have them stay on, personally."

"I don't need to have the numbers double because of one ship that wasn't our fault," Trump added, saying that he ultimately empowered Pence to decide whether to evacuate the passengers.

For six weeks behind the scenes, and now increasingly in public, Trump has undermined his administration's own efforts to fight the coronavirus outbreak — resisting attempts to plan for worst-case scenarios, overturning a public-health plan upon request from political allies and repeating only the warnings that he chose to hear. Members of Congress have grilled top officials like Health and Human Services Secretary Alex Azar and Centers for Disease Control Director Robert Redfield over the government's biggest mistake: failing to secure enough testing to head off a coronavirus outbreak in the United States. But many current and former Trump administration officials say the true management failure was Trump's.

[…]

Azar had concluded that the new coronavirus posed a public health risk and tried to share an urgent message with the president: The potential outbreak could leave tens of thousands of Americans sickened and many dead.

But Trump's aides mocked and belittled Azar as alarmist, as he warned the president of a major threat to public health and his own economic agenda, said three people briefed on the conversations. Some officials argued that the virus would be no worse than the flu.

Azar, meanwhile, had his own worries: A clash with Medicare chief Seema Verma had weakened his standing in the White House, which in December had considered replacements for both Azar and Verma.
"Because he feels pretty insecure, about the feuds within his department and the desire to please the president, I don't know if he was in the position to deliver the message that the president didn't want to hear," said one former official who's worked with Azar.

The jockeying for Trump's favor was part of the cause of Azar's destructive feud with Verma, as the two tried to box each other out of events touting Trump initiatives. Now, officials including Azar, Verma and other senior leaders are forced to spend time shoring up their positions with the president and his deputies at a moment when they should be focused on a shared goal: stopping a potential pandemic.

"The boss has made it clear, he likes to see his people fight, and he wants the news to be good," said one adviser to a senior health official involved in the coronavirus response. "This is the world he's made."
There's a whole lot more at the link.
At this point, I guess, we shouldn't be shocked about this bizarre and toxic management style. That it's particularly unsuited for an unfolding public health crisis is obvious.
But here's the thing: why are these decisions going through the White House at all?
There are big decisions related to this sort of crisis that can only be made by elected officials. Presidents, governors, and mayors—not regulators—should decide, for example, whether to order conventions canceled, flights canceled, cruise ships suspended, and the like. They're simply too impactful on the national and local economies that the calculations require political judgment and high-level authority.
But it's not—or at least, it shouldn't be—up to the President to approve recommendations for best practices from the FDA, CDC, and the like. Whether people should wash their hands for 30 seconds or 20 isn't a political calculation but a scientific one.
Obviously, it would be preferable to have a more stable President at a time like this. Amplifying particular recommendations from the bully pulpit of the White House could help save lives and provide reassurance.