Cory Booker: No, I Won't Run For President In 2016
Cory Booker puts the kibosh on a persistent political rumor.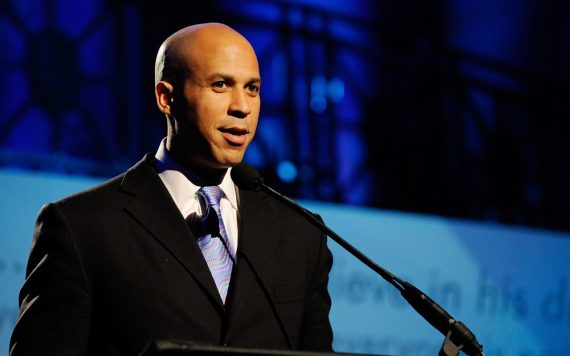 Cory Booker, who seems headed for an easy win in the Special Election to fill Frank Lautenberg's Senate seat, says he isn't running for President in 2016:
The Newark mayor and runaway frontrunner in the special election for the seat of late Sen. Frank Lautenberg's ruled out a presidential run or serving on the ticket of another candidate in the next national campaign.

"Absolutely yes, unequivocally," Booker told POLITICO as he left a senior center in Paterson, NJ, when asked if he would rule out running himself or being the vice presidential nominee.

He added his focus is winning the seat and serving "six years", which is a full Senate term.

The question arose after a Booker appearance in Iowa this month was scuttled over timing because of the special election primary, which is on Aug. 13.

The campaign canceled the trip.
Booker's name has been mentioned quite frequently of late as a potential Democratic candidate in 2016, especially if Hillary Clinton decides not to run for office again. While the entire idea has an air of implausibility to it, Matt Lewis pointed out in a post earlier this week, it wasn't necessarily as crazy an idea as it seemed like. Personally, I doubted the story from the beginning largely because it would mean that Booker would be running for President after less than two years in the Senate, and that he'd essentially have to run three elections back to back, starting with this year's Special Election, immediately followed by next year's General Election for a full term to the same seat, and then a Presidential run in 2016 that would have to start some time  in 2015. Compare Booker to Barack Obama as much as you'd like, but that's a lot to ask out of any politician, especially one like Booker who is only 44 years old and could run for higher office many years from now after building up more of a Senate resume.
Some people on Twitter this afternoon are pointing out that Booker also said several years ago that he would serve out the full balance of his second term as Mayor of Newark but is now abandoning that promise for a likely Senate win. Also being mentioned is the fact that Barack Obama initially denied any Presidential ambitions when he entered the Senate in 2005. So, perhaps, the logic goes, this denial of interest in a Presidential run isn't really the end of the issue. It's true that one can never say what will happen to a politician once the siren song of political success starts whispering in their ear when they get to Washington. However, it strikes me that Booker means what he says here, especially given the absolutely grueling electoral schedule at 2016 Presidential run would require of him. Additionally, the Obama analogy isn't quite apt since he was elected in 2004 and had at least two years of Senate service under his belt before declaring himself a candidate for President in 2007. Booker would have far less tenure when he started out his run and, in a field without Hillary Clinton in it, he'd be facing Senators and Governor's with far more experience. When he says he's not going to run in 2016, I think he means it. The Booker for President idea always seemed premature to me and this would seem to close the door on the idea. Ask the same question in 2020 or 2024, though, and the answer is likely to be very different.