Could Biden Win Texas and Lose Ohio?
The state polling is not lining up along usual patterns.
Philip Bump observes that "The electoral map is very weird right now." He's not wrong. Joe Biden has big leads in what are ordinarily swing states while the margins are tight in states that are usually runaways.
He uses FiveThirtyEight aggregate polling data to rank states in order of closeness: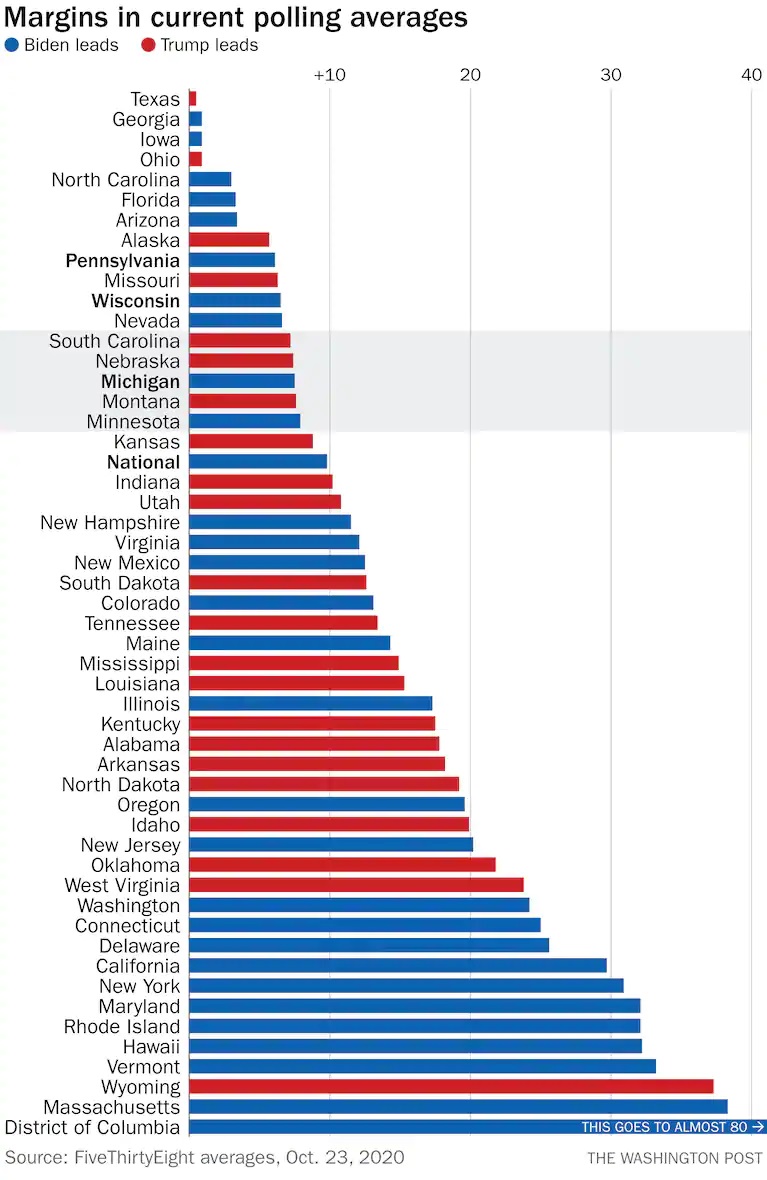 The state that's closest at the moment is — Texas. If Joe Biden wins Texas, it's over.

But it doesn't get less weird. Georgia, Iowa and Ohio — which Trump won in 2016 by five, nine and eight points, respectively — are the next three closest states. What's more, Biden leads in the first two.

Notice where Pennsylvania, Michigan and Wisconsin land. In 2016, Trump's narrow wins in those three states earned him the presidency. Now, Biden leads by at least six points in each. Arizona is closer than any of those three states. Alaska is closer.

We highlighted a particularly odd stretch of margins. South Carolina is closer than Michigan? Michigan is closer than Montana? Nebraska is closer than Minnesota? What is happening here?

We must of course note that polling a bit over a week before the 2016 election also showed Trump trailing in key states by fairly wide margins. All of those states that are narrower than Arizona are within about three points — a margin that could be within a normal polling error range.
Well, no. The whole point of using aggregates rather than single polls is to smooth out sampling error and house effects.
Weirdness is one state wouldn't be that hard to explain. Maybe there's a major demographic shift or some issue (like, say, fracking) idiosyncratically important there.
But, yes, one would expect that, if Biden is leading in Georgia and within striking distance in Texas that he would be running away with the swing states in the Rust Belt.
Regardless of the weirdness, Bump concurs with the conventional wisdom that Biden is in the driver's seat and that Trump pulling out a surprise win again is next to impossible.
As of writing, the average shift across the swing states in the past week (setting aside Nebraska) was about a quarter of a percentage point toward Trump. During the same period in 2016, the polls had shifted an average of a point toward Trump. The problem for Trump is that he trails now by an average of 4.3 points in these states, while he was down only 2.5 points then.

A lot can change, in theory — but it hasn't so far. This race has been remarkably static. Trump was able to gain ground four years ago in part because many voters still hadn't made up their minds. That's less the case now: Most Americans have very strong opinions about Trump and whether he deserves a second term. There's less room for Trump to pick up support without Biden losing any, and so far that hasn't been happening.

So, who knows. Maybe Montana will be closer than Michigan. If it is, it's easy to guess who will be president next January.
Of course, this is all "weird" and "unusual" because we have a really odd way of selecting the President of the United States. If we simply tallied up who received the most votes from American citizens, it would be interesting only to political scientists and demographers where people happened to live. But, in our system, it matters very much indeed.