Biden Leads Every Swing State Poll
Joementum.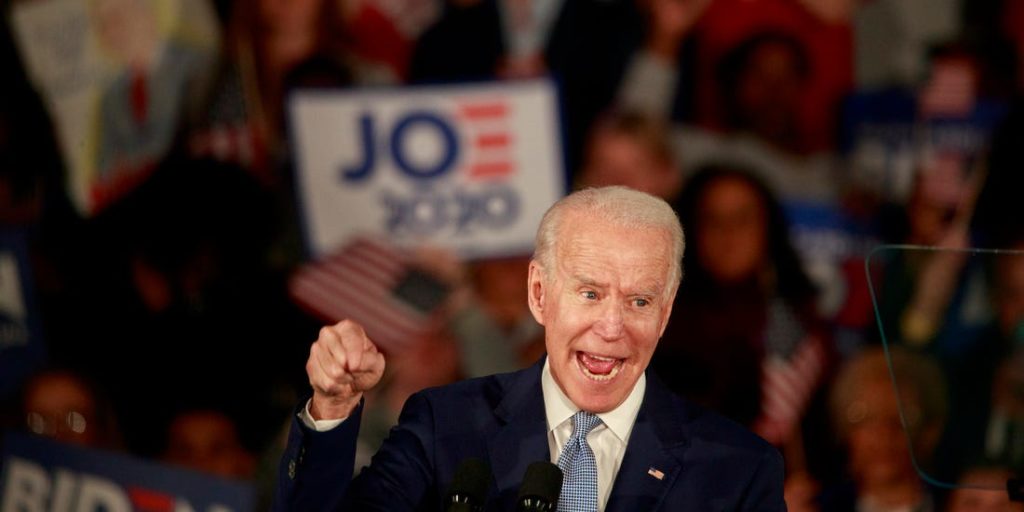 A flurry of polls in the swing states this week are pointing in the same direction, with former Vice President Joe Biden leading 19 of 19.
Forbes ("Nearly 20 Swing State Polls Were Released Today-Biden Leads In All Of Them"):
A total of 19 polls of voters in swing states from four different pollsters were released Thursday, with former Vice President Joe Biden leading President Trump in every single one, including in historically Republican states like Arizona, Georgia and Texas.

Biden leads by as much as 18 points in Michigan in a poll from Republican firm Hodas & Associates, which also put him up 16 points in Wisconsin and 12 points in Pennsylvania.

Polls released by the New York Times and Siena College put Biden up by double digits in those states, with 11-point leads in Michigan and Wisconsin and a 10-point lead in Pennsylvania, as well as a 9-point lead in North Carolina, an 8-point lead in Florida and a 7-point lead in Arizona, all states that voted for Trump in 2016.

Redfield & Wilton polls showed almost identical results, with Biden leading by 11 points in Michigan, 10 points in Pennsylvania, 9 points in Wisconsin, 6 points in North Carolina and 4 points in Arizona and Wisconsin, with third-party candidates Jo Jorgensen and Howie Hawkins never polling above the margin of error.

But polls of typically Republican-leaning swing states from Fox News yielded the most shocking results, with Biden ahead by 9 points in Florida, 2 points in North Carolina and Georgia and 1 point in Texas, which voted for Trump by 8 points in 2016.

Overall, Trump trails Biden by 10 points nationally in the RealClearPolitics polling average, with the New York Times/Siena poll putting him down 14 points.
The country is too polarized to have a 1984– (or even 1988-) style electoral landslide but we could be in for the biggest blowout since those days. Arkansan Bill Clinton carried several traditional red states in 1996 but still managed only 379 Electoral votes. Barring an epic collapse, Biden should exceed 400.
The FiveThirtyEight gang, who weight the polls based on their historic track records, see Trump's Electoral College advantage slipping and has Biden up at least marginally in all the battlegrounds: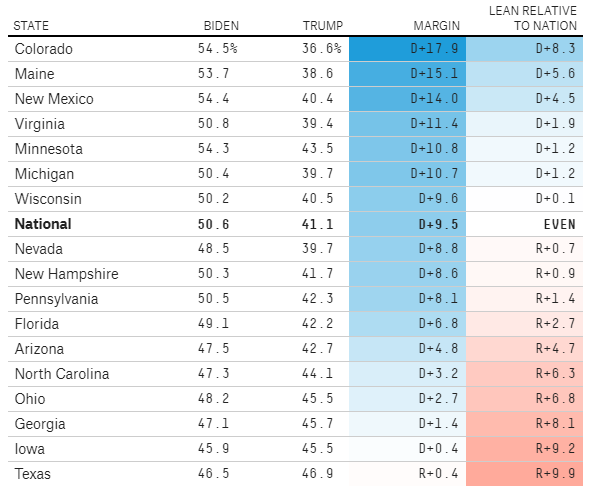 Obviously, these are some very thin numbers. And the difference between winning and losing Texas and Ohio, in particular, is massive.
Yes, candidates have seen big early-summer leads collapse in the past.
. . . Biden's average support and margin over Trump are historically large — the largest of any contender since Bill Clinton in 1996.

Of course, there are still four months to go until Election Day, but the fact that Biden has such a sizable lead — already bigger than Hillary Clinton's largest lead over Trump, which peaked at 7.5 points in 2016 — is notable. Heck, even Barack Obama never led by more than 8 points in our 2008 national average, and that wound up being a blowout.

It's not just Biden's margin that stands out, either; he's also only one of three candidates to crack the 50 percent mark at this point in the cycle. (The other two were Richard Nixon in 1972 and Ronald Reagan in 1984, both of whom were incumbents who went on to win landslide victories by 23 and 18 points, respectively.) It's unlikely that Biden wins by that sort of margin, given our increasingly polarized politics, but it is a sign that there are fewer undecided or third-party voters for Trump to pick up to help improve his position. It also doesn't bode well for Trump that he is in the worst position of any incumbent since Jimmy Carter in 1980.

But before you declare Biden the winner, remember his lead is not insurmountable. Polls closer to November could very well show a race that is tightening. At this point in the 1988 cycle, Michael Dukakis led nationally by almost 5 points, and in 2000, George W. Bush was up by nearly 8 points. But Dukakis ended up losing by nearly 8 points in November while Bush narrowly lost the popular vote. (He still won the Electoral College, thanks to Florida.)
But two things are different. Both 1988 and 2000 were elections in which there was no incumbent, as two-term Presidents Reagan and Clinton were ineligible for re-election. They were only indirectly referenda on the sitting President and thus more volatile. And Biden's lead is considerably larger than that held by Dukakis and Bush.
And, while there is understandably some magical thinking about Trump because his 2016 win was so shocking, Biden's position is far different from Clinton's.
. . . Clinton's lead was much smaller. Applying our current polling-average methodology to 2016 polls, Clinton led national polls by an average of about 4.0 points four months before the 2016 election, and 3.8 points on Election Day itself. So while a normal-sized polling error was enough to throw the 2016 election to Trump, it would take a much bigger — and much unlikelier — polling error for Trump to be ahead right now.
Still, there's a silver lining in all of this for Trump. Using the chart above, we see that, even though all of the states toward the bottom are current leaning toward Biden, some heavily, the overall polling in the states show them to the right of the country as a whole.
That means that, if the overall race tightens, those states could slide into Trump's column, allowing him to once again win a majority of electoral votes even if Biden wins the national popular vote.

Right now, according to our polling averages, Florida would be the "tipping point" state of the election — the state that will give a candidate his 270th electoral vote. (In other words, if Biden wins every state above Florida in the table, and Trump wins every state below Florida, both would still be short of 270 electoral votes. So whoever won Florida would win the election.) Biden currently leads by 7.4 points in Florida, according to our polling average there, which is 2.3 points less than his national lead. That means Trump could win the state — and therefore, the way things are set up right now, the Electoral College — even if Biden still leads the national average by up to 2.3 points on Election Day. That said, it's still early in the campaign, and the tipping point state will likely continue to shuffle around (for example, Minnesota was the tipping-point state last week).

For now, though, it's notable that the Midwestern swing states — namely, Michigan, Pennsylvania and Wisconsin — are still a bit more Democratic-leaning than the emerging swing states in the Sun Belt, like Arizona, Georgia, North Carolina and Texas. That's a similar story to 2016, when the election was decided in the Midwest. But based on these early polling averages, a few states seem to have gotten a bit more Democratic since the last election (even accounting for the bluer national environment). For example, Michigan's polling average almost exactly mirrors the national polling average right now, despite Michigan voting 2.3 points to the right of the nation in 2016. It's especially surprising to see Michigan so far away from Pennsylvania and Wisconsin in the table above, considering how similarly those three states voted in 2016.
Another thing that's different than four years ago is that the 2016 elections already happened, and pollsters are thus chastened about making bold predictions.
We're still light on polls in many states; for instance, we've seen a grand total of one Pennsylvania poll conducted this month. So be sure to check back to see how the polling averages shift. For now, though, things look pretty good for Biden.
The only poll that matters, of course, is the one on Election Day. (Although that's less true than it used to be, given the increase in early voting.) Still, if I had to bet, I'd bet on Biden. And I'd bet a lot.