Democrats Outperform Expectations
The Needle is Broken

The infamous New York Times election "Needle" stopped updating at 4 a.m. Eastern and this note has been added:
The "red wave" did not materialize, and election night ended with many close races that will be decided by mail-in ballots. We expect the remaining vote that will decide control of Congress will take days, if not weeks, to count.
While this isn't shocking—we had been saying for a while that this was the most likely outcome—there were late signs that the race was shifting in the Republican direction, which would be more in line with traditional midterm contests in which the sitting President is underwater in his approval ratings. It did not.
Democrats scored the first flip of the night, with John Fetterman besting Mehmet Oz to take the seat vacated by Republican Pat Toomey's retirement. It was a sweep in the Keystone State, with Josh Shaprio easily beating Doug Mastriano for governor.
Alas, NeverTrumper turned Trumper JD Vance beat Tim Ryan in Ohio. But that was just a hold of Rob Portman's seat.
Similarly, in New Hampshire Democrat Maggie Hassan beat Don Boluc to retain her Senate seat much more comfortably than polls had suggested.
Here's the snapshot of the closest races: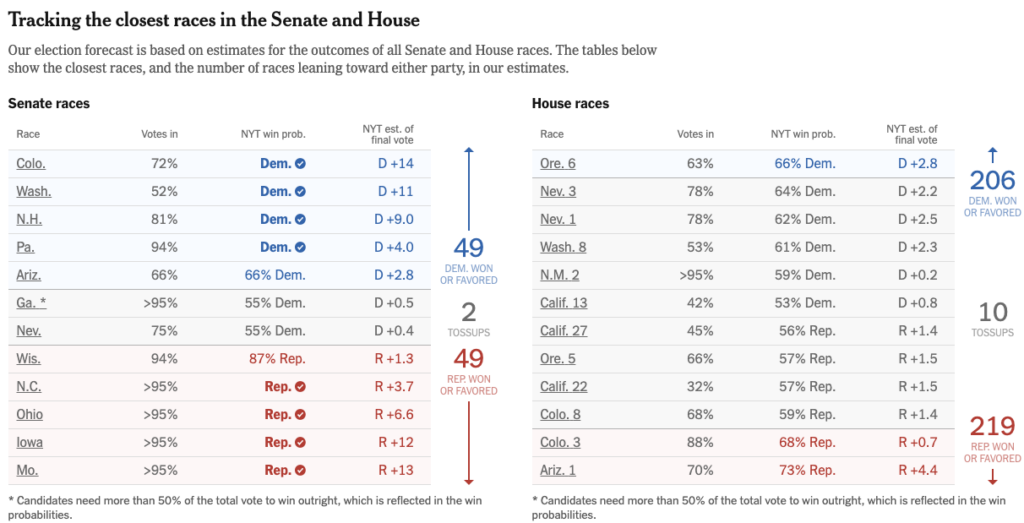 FiveThirtyEight's Nathaniel Rakich has these results, now a couple hours old, in races still hanging in the balance:
Senate
Governor
WaPo's Aaron Blake offers "6 early takeaways from the 2022 election."
1. The 'red wave' is off

Republicans are still favorites to flip the House, and they've got a shot to take the Senate as well. But the big red wave that some on the right had predicted — and that GOP-aligned polls were increasingly indicating — did not materialize at all. And both takeovers are in some jeopardy.

That's especially the case for the Senate. Democrats won the first big toss-up race early Wednesday morning, with Pennsylvania Lt. Gov. John Fetterman (D) defeating Republican Mehmet Oz. After other races went in the expected directions, that left three toss-ups to decide the majority — Arizona, Georgia and Nevada — with each side needing to win two of them. As of this writing, Democrats also appear to be in reasonably good shape in Arizona.

Republicans also lost the New Hampshire Senate race, where Sen. Maggie Hassan (D-N.H.) was considered a slight favorite but in the campaign's final stretch was seen as increasingly endangered. The GOP did hold on to Ohio, where J.D. Vance won, and in North Carolina, where Rep. Ted Budd did.

It also became clear as the night progressed that the House is less than a guarantee for the GOP. Democrats were winning most of the toss-up races, which is the opposite of what usually happens in a wave election. And for a time it appeared the GOP might not win the majority at all, though their taking the House is still the likeliest outcome.

Should Republicans fail to pick up one seat in the Senate (the gain they need to flip it), it would be just the seventh time the opposition party has failed to do so in the past 100 years. And the average gain for the opposition party in House races over the past 100 years is 29 seats, which Republicans appear unlikely to match.
If "Democrats were winning most of the toss-up races," it's arguably a blue wave. But it's too soon to know.
2. DeSantis's landslide — and what it portends for 2024

In elections, it's not just about which party wins, but which specific candidates win, and — in some cases — by how much. And one of the biggest winners Tuesday night was Florida Gov. Ron DeSantis (R), because he won … by a lot.

Let us count the ways:

He was beating Rep. Charlie Crist (D-Fla.) by nearly 20 points with 93 percent of votes counted — a larger margin than virtually any poll showed at any point in the race.

He won a clear majority of the Latino vote — 57 percent — lapping his 44 percent share in 2018 and Donald Trump's 46 percent in 2020.

Indeed, DeSantis's massive win in what was, until relatively recently, a swing state is perhaps the biggest signal to date that he will be a force to be reckoned with if he runs for the Republican presidential nomination in 2024. Donald Trump clearly sees the threat building, having dubbed DeSantis "DeSanctimonious" at a rally this past weekend and then, on Tuesday, apparently threatening DeSantis with opposition research.
That he beat a former governor by 20 points is huge. That he did so under heavy fire from Trump is interesting, although I don't know quite what to make of it. I'm hoping it means Trump's influence is waning.
3. Trump's night could get worse

But that might not be the end of it for Trump. After his 2020 loss, he set about throwing his weight around in GOP primaries, in part to reinforce that he was still in charge. He wound up getting some flawed candidates through their primaries. As of now, each of the four Senate toss-up races feature candidates Trump backed in the primaries. And with the potential exception of Nevada's Adam Laxalt, each has had image problems.

If Republicans don't take the Senate, there will be (or at least should be) a reckoning over how that happened. Oz's loss is the biggest blow because he probably wouldn't have won his close primary without Trump. Herschel Walker was simply not a good candidate, but Trump put him on a glide path to the nomination. And in Arizona, Blake Masters was also someone voters were reluctant to cast ballots for.

In each case, it's abundantly clear that Republicans would've had a better shot if they had put forward a better — or even just a generic — candidate. Swing states should tilt Republican in a GOP-leaning year — and it's possible Republicans still might gain a seat.

But it probably shouldn't have been this close. And it seems quite possible — as it did after the Georgia runoffs in 2020 — that Trump might've cost his party a very winnable Senate majority.

Trump-backed candidates also were headed for defeat in some key toss-up races that were prime pickup opportunities, including against Rep. Chris Pappas (D-N.H.) and Marcy Kaptur (D-Ohio) and in North Carolina's open 13th district.

The party gave Trump a pass after the 2020 Georgia runoffs, in part because nobody wants to run afoul of him and in part because Jan. 6 upended everything. But what happens if they truly think he jeopardized, or even cost them, a Senate majority — potentially for the second time?
Trump has seemed immune from such normal analysis in the past. He singlehandedly turned Georgia into a competitive state. Were it not for the Big Lie that radically depressed turnout in the runoffs, the state would quite likely have sent two Republicans, not two Democrats, to the Senate in 2021. But he escaped almost all of the blame.
5. How Democrats did it

So how did Democrats beat expectations on Tuesday? Surely Roe v. Wade being overturned played a role, delivering the Democrats turnout fuel in an election in which they had been lacking it — and an election whose fundamentals favored the opposition party. The court decision's effect showed up almost immediately after it came down, with Democrats suddenly overperforming in every special election.

But this election wasn't just about the relative strengths of the parties' bases — it was also about independents. Exit polls currently show that independent voters favored Democrats 49 percent to 47 percent. That's not a big victory, but it is highly unusual for a midterm election. The opposition party has won independents by double digits in each of the last four midterm elections, but the GOP might lose this group when all is said and done in this one. (Exit polls get readjusted as results roll in.)
Exit polls are all but useless since they're almost surely not a representative sample of contests where increasingly large numbers of people mail in their ballots or otherwise vote other than on Election Day. But this has always been my hope: that the combination of extremism and truly shitty candidates would turn off the relatively small subset of those who vote who lack a strong party allegiance.
6. Voters shun election-denier secretary of state candidates

Many election-deniers won elections Tuesday, according to The Post's tracker of these candidates.

But the most hard-line election deniers vying to oversee elections? Voters were apparently more reluctant to put them into positions of power.

The America First Secretary of State Coalition is a group featuring a half-dozen candidates who have gone the furthest in rejecting the 2020 election results. And there was pronounced fear that, if they won, they could use positions of power to actually thwart democratic elections — particularly in swing states.

But in virtually every state they were on the ballot, their margins ran behind the other Republicans on the ticket. It happened with New Mexico's Audrey Trujillo, who lost, and with Michigan's Kristina Karamo, who appears likely to lose. It also happened with Pennsylvania governor candidate Doug Mastriano (who was in the coalition because he would get to appoint the secretary of state). In Arizona and Indiana, coalition members were running behind their ticket-mates in races that haven't been called. And it happened to Minnesota's Kim Crockett (who has denied the results of the 2020 election, but is not a member of the coalition).

Diego Morales could still win in Indiana, but it's not a swing state. About the only swing state in which a member appears to have a good shot is Nevada, where coalition leader Jim Marchant is on the ballot — but we don't have any results yet. Pre-election polling shows he too lagged other Republicans.
Interestingly, in a night that went far better for Democrats than they feared, two star candidates went down to defeat again. In Georgia, Stacey Abrams lost her rematch for governor to Brian Kemp by a margin so big she actually conceded defeat. In Texas, Beto O'Rourke lost his third bid in a row for high office, getting trounced by incumbent governor Greg Abbot.
In Colorado, incumbent crazy Lauren Boebert is trailing slightly with 88% of votes in. Alas, she's still predicted to prevail.
Inside Elections' Jacob Rubashkin, writing at 1:15 a.m., captured the weirdness of the election with this nugget:
It is, quite frankly, mind boggling that we are seriously contemplating scenarios in which Democrats maintain control of the House and also Marco Rubio and Ron DeSantis are winning by 17 and 20-point margins in Florida.
Ironically, the control of the Senate could well come down once again to a run-off in Georgia. If it does, I fully expect Raphael Warnock to retain his seat and Democrats to thus keep a slim majority. That Warnock outperformed Abrams and Walker underperformed Kemp by 4 points is an indication that candidate quality matters—but only at the margins. (Bonus: Republican Secretary of State Brad Raffensperger, who received death threats after refusing to steal the state's Electoral College votes for Trump, easily won re-election, getting essentially the same number of votes as Kemp.)
One small sign of hope: It's early, of course, but thus far I'm seeing no sign that Republicans who have lost key races are making accusations of fraud or otherwise indicating that they've really won. If that holds, it's a hopeful sign.