Could Rick Perry Come Back?
The odds of a come back by the Texas Governor do not look good.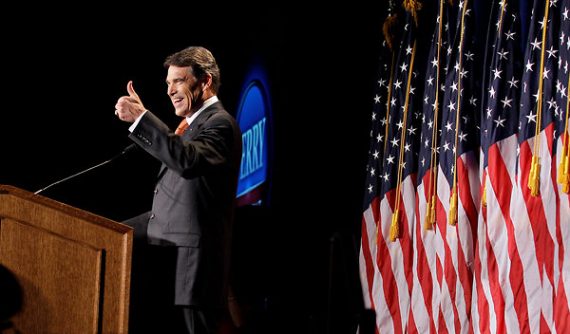 Speaking only a few days before Herman Cain dropped out of the race, Louisiana Governor Bobby Jindal, who became one of the first high profile Republican politicians to endorse Rick Perry this summer, said that there's still time for the Governor of Texas to recover from the disasters that befell him in September:
Louisiana Governor Bobby Jindal, a top Rick Perry backer, warned not to underestimate the Texas governor from making a comeback in the in the GOP presidential primary race despite new poll numbers that show him lagging behind.

" Rick is a fighter, " Jindal said in an interview with FOX News Thursday. " There is plenty of time left in the primary campaign season."

Jindal pointed to this year's mercurial political cycle— that has seen several GOP front-runners come and go–as the reason why Perry's current trajectory could improve.

" This has probably been one of the most unpredictable primary seasons on the Republican side. Lots of up and downs and there will probably be a lot more changes between now and when the first votes are cast in Iowa and New Hampshire, so there is a lot of time left," Jindal said of the former front-runner.
Jindal is being a little optimistic here, I think, which can be expected from a supporter. If we're just talking about the January primaries, then the idea that "there is a lot of time left" doesn't really strike me as being all that true. Practically speaking, there are two nationally televised debates left before the holidays, one this Saturday and one on December 15th. There's also the Trump Debate, but so far only Newt Gingrich has accepted an invitation to that event and conservatives pundits are reacting very negatively to the entire idea (See e.g. today's post by Michelle Malkin, National Review, and Ed Morrissey). Even if that debate goes forward and Perry participates, though, it's hard to see how anyone is going to come out looking positively after that affair. Moreover, the debate is only being broadcast on something called the ION Network, which I learned only yesterday does indeed appear in my own cable lineup, and it happens two days after Christmas. Realistically, then, Perry's chances for a comeback between now and the beginning of 2012 begins and ends over the next two weeks.
It's also worth looking at where Perry stands in the early primary states right now. He's in sixth place in Iowa with an RCP Average of 6.6%, in sixth place in New Hampshire with an RCP Average of 2.8%,  in fourth place in South Carolina with an RCP Average of 6.3%, and in fourth place in Florida with an RCP Average of 4.3%. Nationally, Perry is in fifth place with an RCP Average of 7.2%. In all of these polls, Perry's numbers have been essentially flat ever since they crashed beginning in early October, and there's been little to no sign that an up tick is on the way.
I would submit that Perry needs to either win, or perform exceedingly well (double digits and at least second place), in at least two of these four states that hold primaries/caucuses between January 3rd and January 31st for his campaign to remain viable. Yes, it's true that the vast majority of delegates for the Republican National Convention will be chosen after January 31st but if Perry isn't able to demonstrate viability in these early states he's going to have a problem convincing donors, pundits, and voters in states further down the line that he has a realistic shot at the nomination. If, as many suspect at the moment, the GOP race on January 31st ends up looking like a battle between Mitt Romney and Newt Gingrich, with Ron Paul sticking around as a guy who can consistently pull 10-15% from his dedicated supporters, then it's going to be hard for a candidate like Perry, or Santorum, or Bachmann to make their argument that they deserve serious attention from voters.
Many Perry supporters will, no doubt, repeat the argument that Jindal makes above about how John McCain was far behind in 2007 and ended up coming back and winning, starting in New Hampshire. They could also point to Mike Huckabee, who trailed Mitt Romney in Iowa for months but ended up surging and winning the caucuses. Both of these are valid examples. However, it's worth noting two important facts. First, the 2008 primary calendar is largely similar to the 2012 calendar. Second, by this time four years ago, there were already signs that McCain and Huckabee would do well in New Hampshire and Iowa respectively.
For example, here's the RCP Iowa poll chart for this day in December 2007: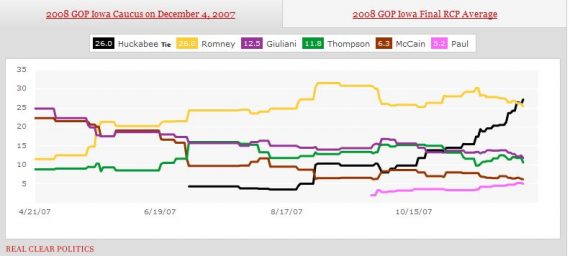 As you can see, by this time four years ago, Huckabee (represented by the black line) had already passed Romney (represented by the yellow line). In fact, much like Gingrich this time around, Huckabee's rise in Iowa had actually started in November and just grew as time went on.
As for New Hampshire, here's the RCP chart for this day in December 2007: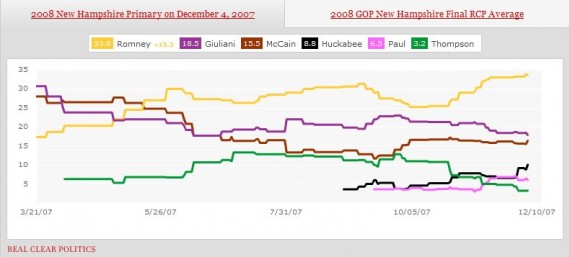 It's a little less clear here, but you can see that John McCain (represented by the maroon line) had already started ticking up in the Granite State weeks before 12/5/2007 and was just about to pass the doomed Rudy Giuliani by December 5th. As it turned out, in the end, McCain ended up beating Romney by a three point margin, mostly not because Romney's numbers declined precipitously but that McCain's rose. You also see Huckabee ticking up. The final result in New Hampshire in 2008 was McCain 37%, Romney 31% (roughly where he was at in this chart), and Huckabee 11%.
The point of looking at these charts is this. Four years ago, the eventual winners of the Iowa and New Hampshire caucuses had already started rising in the polls. McCain's win in New Hampshire was enough momentum to propel him to a narrow win over Huckabee in South Carolina, and a more substantial win over Romney in Florida at the end of the month that essentially ended the race. That might not happen this time, but what it does tell us is that success in Iowa and New Hampshire is likely to have a substantial impact on the outcome in South Carolina and Florida.
Rick Perry has a lot of money left to spend, apparently, and plenty of conservative boosters left out there, so I wouldn't necessarily say a "second look" is unlikely for him. It's possible that Newt Gingrich could implode sooner than some people think and give him the opening he needs. However, recent polling in Iowa and New Hampshire seems to show that the second choice of most Gingrich supporters right now is Mitt Romney, indicating that we may be at the end of the GOP's search for the "Not Romney." Nonetheless it's possible for Perry to come back, in theory His problem is that he's staring at dismal poll numbers in all four states, no sign that they're about to move upward, and little time to turn things around.
My personal guess is we're looking at a less that 20% chance that Perry is able to stay in the race after January 31st, but we'll see what happens.