Counting the Right Votes
White Christian nationalism and the fight for control of America.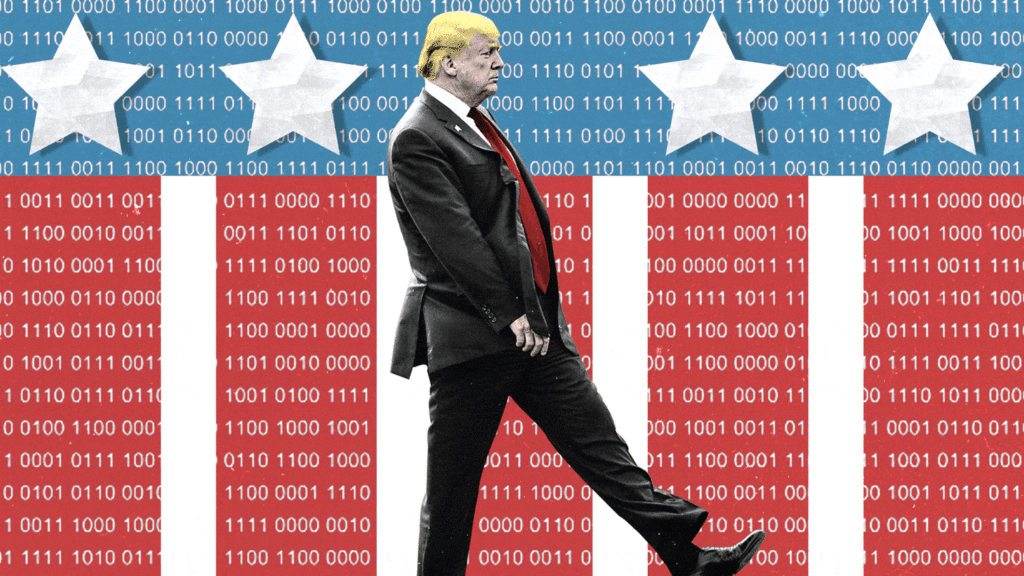 This morning, memeorandum highlights a piece from Salon's Chauncey DeVega titled "'Apocalypticism': Polling expert reveals the root of 'panic among conservative White Christians.'" While I started to address it as part of my earlier post on Trump's frustratingly strong polling, as it certainly explains part of his appeal, it's complicated enough to deserve separate treatment.
The setup:
This year's American Values Survey, conducted by the Public Religion Research Institute (PRRI) with the Brookings Institution, shows that the American people are very conflicted and increasingly do not possess a shared set of beliefs or values across a wide range of political issues. Key findings include a growingly disproportionate amount of support for political violence, a willingness to ignore the rule of law to win political power, and a belief in untrue conspiracy theories amongst Republicans as compared to Democrats. Antidemocratic beliefs are even more acute, the survey found, among white evangelical Protestants who yearn for a return to "traditional American values" in a country they believe "is moving in the wrong direction."

How can the American people and their leaders solve the many problems facing the country if they cannot even agree on what they are – or on basic facts and the nature of reality and the truth more generally?

I asked Robert P. Jones, founder and president of PRRI, to help make sense of the survey results that show a divided American public, the enduring power and growing dangers of Trumpism and the role of White Christian nationalism in House Speaker Mike Johnson's swift ascendence. Jones is the author of the New York Times bestseller "The Hidden Roots of White Supremacy and the Path to a Shared American Future."
The interview is worth a read in full, but I'll highlight a few points:
The American people feel that the stakes are high and there is deep worry about the future of the country and its democracy. Three-quarters of Americans believe that the future of democracy is at stake in the 2024 presidential election. It's one of the few things that Republicans and Democrats agree on, 84% of Democrats and 77% of Republicans. Now, of course, they mean very different things in terms of their concerns about "democracy." There is also great pessimism about the country. More Americans than not say that America's best days are now behind us, which is overwhelmingly coming from Republicans. There is widespread economic anxiety. But the deeper disagreement, coupled with deep divides about the country's identity. Who are we? Who is the country for? Who counts as a "real American"? These deeper disagreements, rather than policy differences, are driving our partisan divisions.

[…]

Among those who believe that America was intended by God to be a promised land for European Christians, nearly four in ten believe they may have to resort to violence to save the country.

[…]

There is a real belief in Apocalypticism among conservative white Christians, specifically, and white conservatives and the right, more broadly. That is very much tied to changing demographics: we are no longer a majority white Christian country, and we were just 20 years ago. That has set off a visceral reaction, and a kind of panic among conservative White Christians in particular. As I document in The Hidden Roots of White Supremacy, most white evangelicals sincerely believe that God designated America to be a promised land for white European Christians. That is not a joke to them. If a person sincerely believes such a thing and the country is changing and is not in agreement with that vision, it opens the door to political extremism and violence to secure that outcome. Many conservative White Christians truly believe that they have a divine mandate and entitlement to the country.

[…]

PRRI's American Values Survey asked respondents to say which of 20 issues are the most important. The single shared concerns among Democrats and Republicans were about the rising costs of everyday expenses and housing. Among Democrats, there was a very broad range of additional critical concerns. Among Republicans, there were only four. Republicans believe that crime, immigration, what children are learning in public schools, and human trafficking are the most critical issues facing the country. All of these Republican concerns center around a racially tinged sense of fear about a loss of power in an increasingly diverse and changing country.

[…]

It's also worth remembering that it wasn't just white evangelicals who strongly supported Trump in the last two elections. Trump was supported by mainline white Protestants, the non-evangelicals. They voted six in 10 for Trump in both elections. White Catholics did too by the same percentage. While these white Christian nationalist tendencies are more pronounced among white evangelicals, this is more broadly a white Christian problem. These views sound extreme and crazy for people who are not of that world. But for members of this white conservative Christian community, they really believe it.

I think the deepest vein that they're mining is a belief and feeling that America was supposed to belong to European Christians, and they're desperately afraid that it no longer does. As they understand it, they were given the responsibility by God to create this Christian country, and it's slipping away from them. That core belief explains so much of the extremism and the proclivity toward violence on the political right today. 
While I think Jones' analysis of the polling data is right, I see "White Christian nationalism" somewhat more benignly than he does. While there is clearly some significant overlap, I don't see it as synonymous with White supremacy, racism, and antisemitism. Rather, it's a more vague sense that the United States was founded with a set of values and political and social culture that should remain at the core of what the country is.
Further, I would push back at least somewhat on this:
For many of these leaders, be it Tony Perkins of the Family Research Council, or Mike Johnson, when they use the word "Christian", it is racially coded. When they say "Bible-believing Christians" they are not talking about Black folks and the AME Church. They're not talking about Latino Catholics. They are specifically talking about white evangelical Protestant Christians.
While I've been aware of Perkins much longer than I have of Johnson, I don't know either's mind well enough to know the degree to which this is true. I do suspect that Jones is right at least in the narrowest sense: when they say those words, they have in mind White Protestants. But, as Jones himself acknowledges, their messaging resonates with those in mainline churches, not just Evangelicals. Indeed, I would go further and argue that parts of it, at least, seem to in fact be resonating with Black AME adherents and Hispanic Catholics—particularly the men.
The notion that Trump is doing so well because he's more openly bigoted than recent Republican presidential nominees, essentially running the Southern Strategy on steroids and saying the quiet part of loud, is comforting because it shows that his supporters are bad people. But it's a weak explanation for the votes of 46-47% of a country that's radically more liberal on race, gender, and sexuality than it was in 1968, 1988, or 2012.
At the same time, there clearly seems to be a greater-than-normal yearning to return to some imagined golden age. Again, I think it's too easy to attribute this mostly to the fact that White men are now in a less powerful position vis-a-vis women and racial minorities than they used to be—although, again, that's clearly part of it.
But it's much broader. The sense that rural America is the real America, populated by the "salt of the earth," has been with us for as long as I can remember. Those of us of a certain age remember the Pace Picante sauce ads of yesteryear with the punchline "New York City?!"*
I remember my bemusement in Republicans defending Trump's 2016 win, dismissing Hillary Clinton's 3 million vote surplus as coming entirely from California. In one sense, it was true: her margin in that state was 4.3 million votes, so Trump actually got more votes nationwide if we exclude California. On the other hand: why the hell would you exclude far and away the most populous state in the country?
And, no, I don't think it's mostly about California's racial demographics. (Whites comprise 71% of the population, but that drops to 35% if you exclude those of Hispanic origin.) Rather, it's viewed by many in Trump country as some caricature of hippy culture and thus not authentically American. Thus, despite being the home of Ronald Reagan and Richard Nixon and, indeed, a reliably Republican state in my memory.
Jones hits on a longstanding theme here:
If you listen carefully to Johnson and others on the right, they use the word "republic" and not "democracy." That is not just something pedantic. They believe in the rule of the virtuous, not in a "we the people" democracy where everyone is equally represented. What they're actually committed to is a particular outcome where America's laws and government and society correspond to God's laws as they see it. That's the only legitimate outcome for Johnson and other white Christian nationalists. Everything else is illegitimate. They will use the language of democracy and voting if it achieves their ends and goals, but Johnson and the other white Christian nationalists and many other conservatives at present are not committed to those principles and values if they come out on the losing side of a democratic election.
I don't think evangelical Christians are unique in being more concerned about outcomes than process. But it has been apparent going back to at least the 1992 election—and there's an argument to be made for 1972—that the other side winning wasn't just a catastrophe but simply illegitimate. Nixon cronies like G. Gordon Liddy saw the McGovernites as enemies of the country, justifying extreme measures to safeguard the Republic. We didn't see anything like Watergate in 1992 but there was no doubt that huge swaths of the GOP—and particularly the Falwell wing—saw him as morally unfit and spent his entire presidency trying to find scandals to remove him from office.
It should not surprise us that, as White Christians become and ever-shrinking part of the population, some of them have adopted a bunker mentality. The fact that their view of the world has been increasingly manipulated within an information bubble (Limbaugh-Fox News-Newsmax-Twitter-Facebook) that stokes fears of a great replacement surely contributes to that.
_______________
*Somewhat tangentially, I wonder if the Yellowstone phenomenon isn't partly a reflection of this impulse. While I have mixed feelings about the show, there's something viscerally appealing about strong, violent men protecting their family and property. The Western and its variants seem to rise and fall and I suspect the rises come in times when Americans feel less good about the current state of affairs.