COVID Schadenfreude Journalism
A new story archetype is all too common.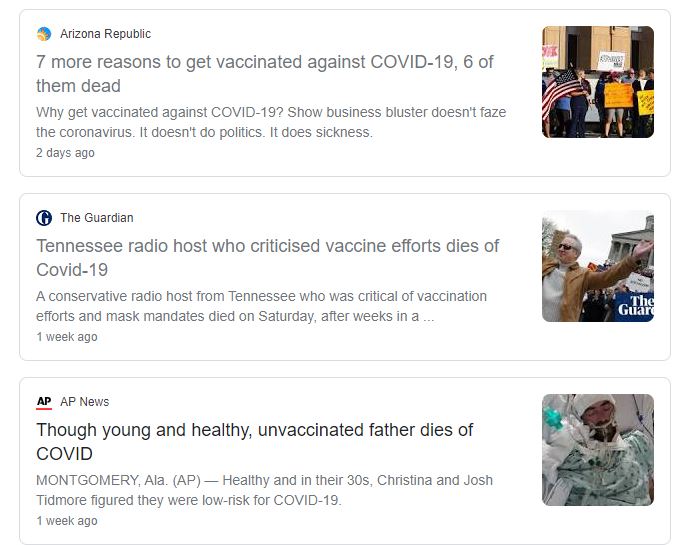 Variations of the person with X belief/action/attitude regarding COVID suffers horrible calamity Y story, sometimes with an "and they regretted it"/"their family is using the tragedy to warn others" kicker, has proliferated in recent months. Just a quick sampling from a simple Google search:
Guardian ("Rightwing radio host and anti-vaxxer dies of Covid"):
A rightwing TV and radio host who was a vociferous critic of Dr Anthony Fauci and who urged his listeners not to get vaccinated against Covid-19 has died after contracting the virus.

Dick Farrel, who had described Fauci as a "power-tripping, lying freak" who conspired with "power trip lib loons", had urged people not to get vaccinated as recently as June.

He reportedly changed his opinion about vaccines after falling ill and later being admitted to hospital before passing away on 4 August aged 65. "He texted me and told me to 'Get it!' He told me this virus is no joke and he said, "I wish I had gotten [the vaccine]!" close friend Amy Leigh Hair wrote on Facebook.
Business Insider ("Healthy nightclub manager who rejected the vaccine because it was too 'experimental' died from COVID-19 weeks later"):
A man who dismissed the COVID-19 vaccine as "experimental" and warned of the reach of "big pharma" has died from COVID-19.

The nightclub manager, David Parker, 56, from County Durham in Northern England, had no underlying health conditions.

Parker's family is using their sad loss to beg anti-vaxx people to rethink their ideologies and get the jab.
WaPo ("A Texas GOP leader railed against vaccines and masks. Then he died of covid."):
A leader of the Texas Republican Party hopped on Facebook in May to post about a "mask burning" party 900 miles away in Cincinnati.

"I wished I lived in the area!" wrote H Scott Apley.

The month before, Apley had responded to what Baltimore's former health commissioner was heralding as "great news" — clinical trials showed that the Pfizer vaccine was effective at fighting the coronavirus, including one of the recent variants, for at least six months.

"You are an absolute enemy of a free people," Apley wrote in a Twitter reply.

And on Friday, the 45-year-old Dickinson City Council member republished a Facebook post implying that vaccines don't work.

Two days later, Apley was admitted to a Galveston hospital with "pneumonia-like symptoms" and tested positive for coronavirus, according to an online fundraising campaign. He was sedated and put on a ventilator.

On Wednesday, he died, members of his county's party announced on social media.

Patrick McGinnis, chairman of the Galveston County Republican Party, said in a statement that Apley's death was a "tragedy … magnified by his youth, his young family especially his very young son."
WaPo ("Wife hospitalized for covid gets home to find husband dead from the same virus: 'It was like walking into a horror movie'"):
Lisa Steadman could not wait to go home to her husband.

The nail technician had spent more than a week in a Central Florida hospital recovering from a serious case of covid-19 while Ronald Steadman, who had also contracted the coronavirus, battled a milder case from home.

During many of their check-in phone calls, she relayed to him how scared she was of dying alone in the hospital. Her health was improving and so was his, he reassured her. Soon, they'd be back together at the Winter Haven, Fla., home they were in the middle of renovating.

But Ronald, 55, did not appear to be home when Lisa returned Aug. 11.

"Ron? Ron?" Lisa, 58, yelled while searching for him throughout the house.

Eventually, the barking of their three dogs led her to their bedroom.

When Lisa cracked open the door, she found Ron unresponsive on his side of the bed and their three dogs in distress. By then, his body had already begun decomposing, she told The Washington Post. The dogs looked as if they had not been fed or given water for at least two days, she said.

"I just went hysterical," Lisa said. "It was like walking into a horror movie. That's what I see now when I think of him."

Neither Ron, who died of covid-19 complications, nor Lisa had been vaccinated, Lisa said. Both had agreed they would wait longer to schedule their shots. Lisa rarely got sick and left her house only for work, and Ron, who was in charge of running the couple's errands during the pandemic, always wore his mask and stayed away from large crowds, Lisa said.

"Both of us thought that [the vaccine] came out so fast. How could they have done so much testing on it? I was just cautious about it," she said. "It's not that I was against vaccines."
Independent UK ("Anti-vaxxer dies of Covid nine days after saying virus is 'nothing to be afraid of'"):
A healthy man who died of Covid after refusing to get the vaccine made a "terrible mistake", his partner has said.

Leslie Lawrenson, 58, died at his home in Bournemouth on 2 July, after downplaying his symptoms and declining to go to the hospital.

His long-term partner Amanda Mitchell, 56, who was severely ill with the virus at the time, said he believed the vaccines were too "experimental."
BBC ("LA man who mocked Covid-19 vaccines dies of virus"):
A California man who mocked Covid-19 vaccines on social media has died after a month-long battle with the virus.

Stephen Harmon, a member of the Hillsong megachurch, had been a vocal opponent of vaccines, making a series of jokes about not having the vaccine.

"Got 99 problems but a vax ain't one," the 34-year-old tweeted to his 7,000 followers in June.

He was treated for pneumonia and Covid-19 in a hospital outside Los Angeles, where he died on Wednesday.

In the days leading up to his death, Mr Harmon documented his fight to stay alive, posting pictures of himself in his hospital bed.

"Please pray y'all, they really want to intubate me and put me on a ventilator," he said.

In his final tweet on Wednesday, Mr Harmon said he had decided to go under intubation.

"Don't know when I'll wake up, please pray," he wrote.

Despite his struggle with the virus, Mr Harmon still said he would reject being jabbed, saying his religious faith would protect him.
Newscenter Maine ("State lawmaker responds to criticism for attending anti-vax rally after wife reportedly died of COVID-19"):
A lawmaker, under fire for attending an anti-vax mandate rally after his wife reportedly died from COVID-19, has a message for his "haters."

Republican State Representative Chris Johansen took to Facebook over the weekend to say he has "a hard time understanding these haters" and even called on them to confront him at his home.

A spokesperson for House Republicans confirmed last week his wife, Cindy, died, but would not share specifics.

According to the website for Downeast Direct Cremation Cindy Johansen died on Aug. 11.

A reporter for the alternative news site Mainer tweeted a photo of Rep. Johansen at a Republican-led rally opposing Gov. Mills' new vaccine mandate for health care workers on Aug. 17.
There is a seemingly inexhaustable supply of such stories. I literally crashed my browser by opening all of them on the first page of my Google News search. And I'm not sure what to make of them.
On the one hand, they're cautionary tales that may help persuade some people that the virus needs to be taken seriously. But, mostly, they seem gleeful in their presentation. Why, after all, these fools deserve what they got! Yet, as frustrated as I am by the refusal of so many of my fellow citizens to get vaccinated or wear masks when they're asked to, publicly mocking them for their stupidity—in the mass media, no less—is positively meanspirited.
It's one thing, I suppose, to enjoy the schadenfreude in the cases of politicians and media celebrities who use their megaphones to persuade others to avoid the vaccine, reject masking, and the like. Not only are they doing real harm but, frankly, they should know better. But some of these stories are about ordinary folks—many of them poorly educated and not unreasonably confused by the messaging coming from their national, state, and community leaders.
One of the links I found was to a story titled "They're Anti-Vaccine and Dead From Coronavirus" for search optimization but "The Empathy Wars" on the page itself. It's by Choire Sicha for The Intelligencer. He notes that a lot of folks are simply done with these people.
One home for the most furious of those types is a Reddit board called HermanCainAward, which bestows its titular award … posthumously. The forum is named for the former presidential candidate Herman Cain, a cancer survivor who was opposed to wearing masks to prevent transmission of coronavirus. Cain announced he had COVID about a week after some extensive traveling, which included attending Donald Trump's infamous and absurd Tulsa, Oklahoma, rally in June 2020. He died about a month later — and, by the way, Tulsa shortly thereafter saw a large surge in cases.

HermanCainAward has some rules. Nominees for the award must have made public anti-vaccine or anti-mask statements and must be very ill or have died from complications of coronavirus. . . .

[…]

Much of what you will learn from HermanCainAward winners, thanks to many screenshots from the accounts of people who have died, is just how awful Facebook is. Crappy low-res memes, misinformation, general jackassery, nastiness — it's bad out there. This is misinformation that kills whole pews of churches. It's unreal to witness the information filth-pit the anti-vaxxers live in, even if, like some of us, you are regularly exposed to and/or are related to them.

The screenshots that tend to get posted emerge mostly from a similar place — a tea-party/crueler stripes of Evangelical/white-supremacist salad. Comb through enough of them and maybe it's easy to think there's not much reason the vaccinated should feel bad for the tens of millions who don't want to be part of our grand international science experiment.
Urges toward empathy are not going well.
It's just not that comprehendible to those of us with community norms that say vaccines are good for our neighborhood and school and workplace to comprehend the community norms that say, for instance, that a vaccine is tantamount to government control — where "those who get the shot can legitimately fear losing their job or incurring the wrath of their families and other reference groups," as sociologist Brooke Harrington wrote earlier this month. Must feel pretty weird when your family puts on yellow stars and goes out to protest other people's wearing masks!

Attempts to comprehend aren't going great. The Washington Post covered "regretters" over the weekend; the New York Times did something related a few weeks back about folks who wish they'd gotten vaccinated sooner. Response was mixed! But going further, a few folks have taken a firm stand on a standard of universal empathy. It has not gone well for them.

"Stop sneering at unvaccinated people getting sick," wrote Will Leitch last week, and pretty much everyone hated it. Reader comments included "I feel no pity for them" and "I'm tired of always having to be the bigger man."

"Agreed" is how tech-newsletter writer Charlie Warzel tweeted about that column; then he got roasted. "I don't want to celebrate people dying even if they are reckless & irresponsible," he wrote.
That seems like a reasonable standard. Again, I at least get the impulse in the cases of politicians and other major activists who are contributing to the problem. But most of this is just punching down.