Craziness, Disconnectedness, and a Toxic Political Climate Equals Violence
The attack at the Pelosi house should surprise no one.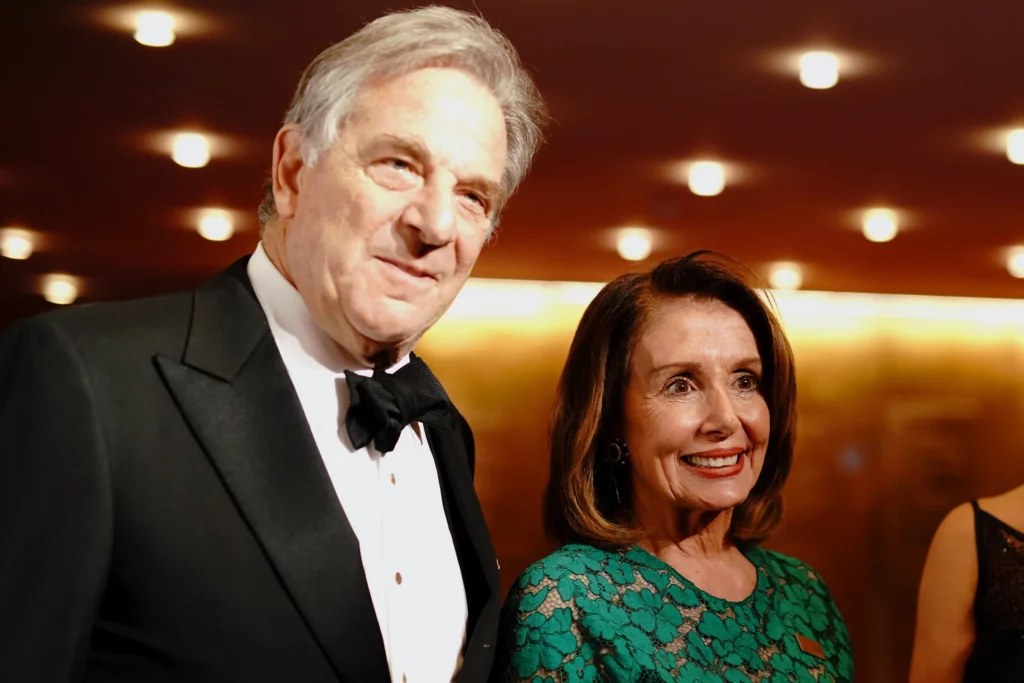 House Speaker Nancy Pelosi's 82-year-old husband, Paul, was attacked in their home by a QAnon incel nut with a hammer, suffering severe injuries to the head and apparently saved only by a fast-acting 9-1-1 dispatcher and the arrival of police to the scene so quickly that they caught the assailant in the act. Thankfully, Mr. Pelosi is expected to make a full recovery.
CNN ("Alleged Paul Pelosi attacker posted multiple conspiracy theories"):
The man who allegedly attacked House Speaker Nancy Pelosi's husband early Friday posted memes and conspiracy theories on Facebook about Covid vaccines, the 2020 election and the January 6, 2021, attack on the Capitol, and an acquaintance told CNN that he seemed "out of touch with reality."

David DePape, 42, was identified by police Friday as the suspect in the assault on Paul Pelosi at the speaker's San Francisco home.

Three of DePape's relatives told CNN that DePape has been estranged from his family for years, and confirmed that the Facebook account – which was taken down by the social media company on Friday – belonged to him.
Several paragraphs of detail follow but it's all quite familiar: a man universally considered weird and incredibly socially awkward spiraled into something much worse.
But [acquaintance Linda] Schneider later received "really disturbing" emails from DePape in which he sounded like a "megalomaniac and so out of touch with reality," she said. She said she stopped communicating with him "because it seemed so dangerous," adding that she recalled him "using Biblical justification to do harm."

DePape's social media presence similarly paints a picture of someone on a worrying trajectory, falling into conspiracy theories in recent years.

Last year, David DePape posted links on his Facebook page to multiple videos produced by My Pillow CEO Mike Lindell falsely alleging that the 2020 election was stolen. Other posts included transphobic images and linked to websites claiming Covid vaccines were deadly. "The death rates being promoted are what ever 'THEY' want to be promoted as the death rate," one post read.

DePape also posted links to YouTube videos with titles like "Democrat FARCE Commission to Investigate January 6th Capitol Riot COLLAPSES in Congress!!!" and "Global Elites Plan To Take Control Of YOUR Money! (Revealed)"

Two days after former Minneapolis Police Officer Derek Chauvin was found guilty of killing George Floyd, DePape wrote that the trial was "a modern lynching," falsely indicating that Floyd died of a drug overdose.

He also posted content about the "Great Reset"- the sprawling conspiracy theory that global elites are using coronavirus to usher in a new world order in which they gain more power and oppress the masses. And he complained that politicians making promises to try to win votes "are offering you bribes in exchange for your further enslavement."

Most of the public posts on DePape's Facebook page were from 2021. In earlier years, DePape also posted long screeds about religion, including claims that "Jesus is the anti christ." None of the public posts appeared to mention Pelosi.

More recently, two other blogs written by someone with the username "daviddepape" have posted content similar to that on DePape's Facebook page.

In a string of posts on a WordPress.com blog over the course of several days in August 2022, the author complained about big tech censorship and posted statements like "Hitlery did nothing wrong." The site has since been taken offline.

And another blog, also attributed to "daviddepape," featured antisemitic screeds and content linked to the QAnon conspiracy theory. One video posted on the site includes a shot of Pelosi swinging a gavel during one of former President Donald Trump's impeachments, and another video includes an image of Pelosi and other politicians. A third video includes a clip of Pelosi speaking on the House floor.

Other posts from the last few weeks featured videos accusing LGBTQ people of "grooming" children, and declared that "any journalist saying" there is no evidence of election fraud "should be dragged straight out into the street and shot." The most recent post – linking to a YouTube video comparing colleges to cults – went up the day before the Pelosi attack.

CNN was not able to confirm that the two blogs were written by DePape.
Spoiler alert: they were.
Rolling Stone ("Paul Pelosi's Alleged Attacker Raged About 'Pedos,' Shared QAnon Beliefs") adds:
At the time of his arrest on Friday, DePape, 42, maintained a subscription-model blog where he vented rage over Covid-19 precautions and espoused beliefs shared by the conspiracist QAnon movement. The page also includes dedicated sections for Holocaust denial, climate change denial, transphobia, racism, misogyny, voter fraud conspiracy theories, Second Amendment absolutism, screeds against groomers and "pedos," and trashing actress Amber Heard, the ex-wife of Johnny Depp.

DePape posted similar hard-right and conspiratorial content on his Facebook page, which the platform deleted on Friday.

In an Aug. 23 post on his personal blog, DePape wrote, "How did I get into all this. Gamer gate it was gamer gate." Gamergate was an online misogynist harassment campaign that stretched across 2014 and 2015. It originated as a backlash to feminism and women in the video game industry but morphed into a strain of alt-right ideology that many argue radicalized legions of disaffected men.

San Francisco Police say that DePape entered the Pelosis' home around 2:30 a.m. this morning. Multiple reports confirmed that he confronted Paul Pelosi, asking, "Where is Nancy? Where is Nancy?" Speaker Pelosi was not at home during the attack. Police further said that they witnessed the two men holding hammers, and that DePape took Pelosi's hammer and assaulted him with it before officers tackled the suspect. Pelosi, who suffered blunt-force injuries to his head and body, is reportedly undergoing emergency head surgery as a result.

"He wasn't a bad kid," Teresa DePape, who is married to his stepfather, told Rolling Stone by phone on Friday. "But life will do weird things to everybody."

DePape's digital trail extends beyond Gamergate. In 2007 and 2008, he was spamming Reddit with links to an earlier blog, "The Loving God." The last link he shared on Reddit directed to a post on the subject of "Human Sacrifice," which he wrote is "more common than you think."

"Other than Satanism I know of at least one Major religion with millions of devout followers around the world. That believes in the power of human sacrifice," he claimed, going on to allude to the Christian rite of the Eucharist, or Holy Communion. "This evil religion is so common you probably have heard of it. You may even practice it," he concluded. Speaker Pelosi, a devout Catholic, received Communion during a papal Mass at the Vatican this summer.

During the late '00s, DePape was also active on Indybay, "a non-commercial, democratic collective of Bay Area independent media makers and media outlets." In a 2008 thread, he can be seen railing against the prospective loss of San Francisco's public access cable station alongside a woman named Gypsy Taub, who wanted to produce a nude TV show for the station called My Naked Truth.
The guy is clearly mentally ill. But none of the behavior, individually, is wildly unusual let alone anything the authorities could have done anything about. It's been a subject of dark humor going back four decades.
MSNBC Opinion Columnist Ruth Ben-Ghiat argues "The attack on Paul Pelosi was shocking — and yet also predictable."
"We fight like hell," then-President Donald Trump told supporters Jan. 6, 2021. "And if you don't fight like hell, you're not going to have a country anymore."

Recent warnings of political violence during the upcoming midterm elections look more prescient by the day. On Friday, House Speaker Nancy Pelosi's husband, Paul Pelosi, was assaulted in a targeted attack. (The suspect reportedly shouted, "Where's Nancy?" before striking Paul Pelosi with a hammer.) Meanwhile, armed men watch ballot drop boxes, election offices install bulletproof glass and poll workers undergo active-shooter trainings. To face this peril, it is essential to understand how people can be moved from partisan hostility to outright violence.

Trump's fateful speech — which directly preceded the breach of the U.S. Capitol — shows how demagogues can get people into this different state of mind. Much ink has been spilled in recent years worrying whether increasing polarization in the United States is to blame for increased likelihood of political violence. But that view misses the mark. Trump and his followers engage in something wholly different from polarization: survivalism.
This is followed by several paragraphs about a "strongman strategy" shared by autocrats like Trump, Russia's Vladimir Putin, Turkey's Recep Tayyip Erdogan, and Hungary's Viktor Orbán of whipping supporters up into a sense of existential fear that justifies violence against a threatening Other.
She's not wrong in general but I'm skeptical on the particular. DePape has been writing crazy conspiracy stuff online since at least 2007, well before Trump. He clearly glommed onto QAnon and some right-wing politics but he seemed to be of the crazy left in the early days—a weird Green Party-registered nudist, hemp jewelry making, 9-11 Truther worried about the disappearance of public access television.
A San Francisco Chronicle report ("Paul Pelosi attack: From nudist activism to online hate, suspect David DePape's strange descent") offers this insight:
Professor Brian Levin, director of the Center for the Study of Hate and Extremism at California State University San Bernardino, said DePape's political trajectory, while striking, was not uncommon among people who gravitate to anti-authority messages.

"The more you are untethered from the communal institutions that hold us together, the easier it is to do a dance step to the other side, because they share a distrust of institutions and processes," Levin said.

Oscillations from one political extreme to the other became more frequent during COVID lockdowns, when people retreated to online communities and spent less time socializing in the real world, Levin said. Use of invective also heightened on the internet during this period, as did hate crimes and plots against politicians.
He was an unbalanced, socially isolated individual who was going to latch onto something and likely go over the edge at some point. Commenting on my May post "Mass Shootings, Ideology, and Mental Illness," OTB regular Michael Reynolds observed, "I suspect the role of ideology in this case was to define the target. Madness first, enabled by guns, target picked by belief system." That's my instinct here as well, albeit the assailant used a hammer, of all things, rather than a gun.
That said, while I think the stochastic terrorism concept is overblown,* there's no denying that poisonous rhetoric has become a standard part of the American political climate or that one side is overwhelmingly responsible for that. To some extent, a separation of "real Americans" from a decadent other has been a conservative messaging device as long as I can remember. It ratcheted up considerably with the focus-group-tested rhetoric of Newt Gingrich and company and then into another stratosphere with Donald Trump, who seems to simply have a "gift" for painting opponents as traitors and losers. And I still don't know what to make of Pizzagate, QAon, and the related craziness going on on the various "chan" sites.
Whether this particular attacker was primarily motivated by ideology almost doesn't matter. We'll almost see more of this sort of violence given the sheer number of crazies out there and the poisonous atmosphere.
____________________
*See my Oct. 2018 post "Memetic Warfare and Stochaistic Terrorism" and my Nov. 2021 post "Trump, the GOP, and Stochastic Terrorism" for detailed discussions. And, no, I don't just apply this reasoning to the American right. As noted in the first of those posts, it's absurd to blame Bernie Sanders for one of his supporters shooting up a Republican Congressional softball team. For that matter, I've made the same argument for the better part of two decades with respect to "lone wolf" Islamist violence.