Crunch Time For The Supreme Court
With two weeks left in June, the Supreme Court is likely to be in the news quite a lot.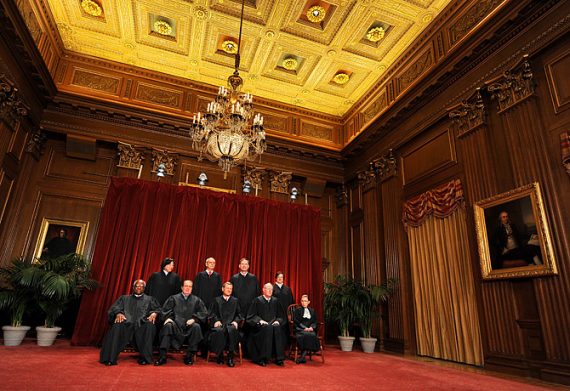 As we head into the last two weeks of June, it is once again time for the Supreme Court to start handing down the most controversial, monumental, and significant opinions of the October 2011 Term. It's an annual exercise, of course, or at least it has become one over the past couple decades. Whether it's abortion or gun control, or any other number of issues, the Court has, perhaps tactically, waited until the final days of its term before handing down the decisions that area likely to generate the most public interest. Partly, this is a function of the fact that the cases that generate the most public attention are also the cases that involve complicated legal issues that require the Justices and their clerks to spend significant amounts of time involved in research, writing, debate, and discussion. If it's a case where the final resolution is closely divided, then it's likely that there are a number of dissenting and concurring opinions that are also being drafted and, until all of those are done, the decision isn't ready to be handed down. And, of course, there's also the perhaps not insignificant possibility that the Justices themselves find the idea of dropping the controversial opinions on the same day they're leaving town for summer vacation to be, well, convenient.
Whatever the reason, it's become the common practice for the Court for the past 25 years or so at least, and this year isn't any different. In fact, as of this evening there are 14 cases that have been argued before the Supreme Court that have yet to be decided. Many of them are cases that the average American isn't going to have much interest in, although they will no doubt have their own impact on the law at some point down the road. However, there are a small handful of cases still sitting out there undecided each of which is going to generate major headlines, and at least two of which are likely to have an impact on the 2012 elections.
Those are the four big cases, but SCOTUS blog highlights two more worthy of attention:
Miller v. Alabama and Jackson v. Hobbs

Argued separately on March 20, 2012

Plain English Issue: Whether a sentence of life without parole for someone who was convicted of murder when he was fourteen violates the Constitution's prohibition on cruel and unusual punishment.
The Supreme Court convenes tomorrow at ten for its next decision day and is likely to announce several more such days over the coming two weeks. Stay tuned, because it's going to be an interesting two weeks in the legal world.