Supreme Court Appears Sympathetic To Some Parts Of Arizona Immigration Law
The Solicitor General had another bad day in Court yesterday.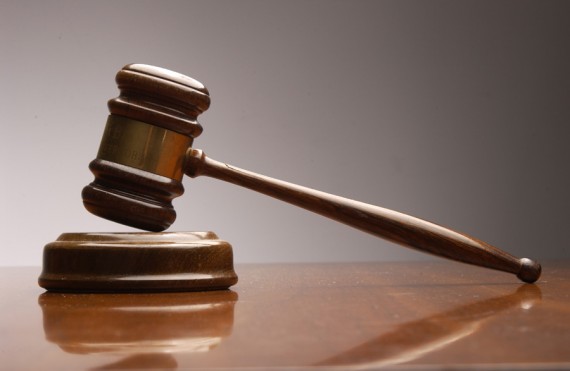 Keeping in mind the caveats about basing predictions about the outcome of a case that I noted prior to the Supreme Court's hearings on the Affordable Care Act, yesterday's oral argument on the Constitutionality of Arizona's controversial immigration law would appears to indicate that there's at least some sympathy on the Court for the state's position, and skepticism about the argument the Federal Government is making:
WASHINGTON — Justices across the ideological spectrum appeared inclined on Wednesday to uphold a controversial part of Arizona's aggressive 2010 immigration law, based on their questions at a Supreme Court argument.

"You can see it's not selling very well," Justice Sonia Sotomayor, a member of the court's liberal wing and its first Hispanic justice, told Solicitor General Donald B. Verrilli Jr., referring to a central part of his argument against the measure.

Mr. Verrilli, representing the federal government, had urged the court to strike down a provision requiring state law enforcement officials to determine the immigration status of people they stop and suspect are not in the United States legally.

It was harder to read the court's attitude toward three other provisions of the law at issue in the case, including one that makes it a crime for illegal immigrants to work. The court's ruling, expected by June, may thus be a split decision that upholds parts of the law and strikes down others.

A ruling to uphold the law would be a victory for conservatives who have pressed for tough measures to stem illegal immigration, including ones patterned after the Arizona law, in Alabama, Georgia, Indiana, South Carolina and Utah. President Obama has criticized the Arizona law, calling it a threat to "basic notions of fairness."

Should the court uphold any part of the law, immigration groups are likely to challenge it based on an argument that the court was not considering on Wednesday: that the law discriminates on the basis of race and ethnic background.

Indeed, Chief Justice John G. Roberts Jr. signaled that the court was not closing the door on such a challenge, making clear that the case, like last month's arguments over Mr. Obama's health care law, was about the allocation of state and federal power. "No part of your argument has to do with racial or ethnic profiling, does it?" he asked Mr. Verrilli, who agreed.

Wednesday's argument, the last of the term, was a rematch between the main lawyers in the health care case. Paul D. Clement, who argued for the 26 states challenging the health care law, represented Arizona. Mr. Verrilli again represented the federal government. In an unusual move, Chief Justice Roberts allowed the argument to go 20 minutes longer than the usual hour.

The two lawyers presented sharply contrasting accounts of what the Arizona law meant to achieve.

Mr. Clement said the state was making an effort to address a crisis by passing a law that complemented federal immigration policy. "Arizona borrowed the federal standards as its own," he said, adding that the state was simply being more assertive in enforcing federal law than the federal government. Mr. Verrilli countered that Arizona's approach was in conflict with the federal efforts. "The Constitution vests exclusive authority over immigration matters with the national government," he said.

Mr. Verrilli, whose performance in the health care case was sometimes halting and unfocused, seemed on Wednesday occasionally to frustrate justices who might have seemed likely allies. At one point Justice Sotomayor, addressing Mr. Verrilli by his title, said: "General, I'm terribly confused by your answer. O.K.? And I don't know that you're focusing in on what I believe my colleagues are trying to get to."

The Arizona law advances what it calls a policy of "attrition through enforcement." The Obama administration sued to block the law, saying it could not be reconciled with federal laws and policies. In legal terms, the case is about whether federal law "pre-empts," or displaces, the challenged state law.

As a general matter, federal laws trump conflicting state laws under the Constitution's supremacy clause. But no federal law bars the challenged provisions of the Arizona in so many words, and the question for the justices is whether federal and state laws are in such conflict that the state law must yield.
Lyle Denniston, as usual, has a great summary of yesterday's argument:
In an oral argument that ran 20 minutes beyond the scheduled hour, the Justices focused tightly on the actual operation of the four specific provisions of the law at issue, and most of the Court seemed prepared to accept that Arizona police would act in measured ways as they arrest and detain individuals they think might be in the U.S. illegally.  And most of the Justices seemed somewhat skeptical that the federal government would have to change its own immigration priorities just because states were becoming more active.

At the end of the argument in Arizona v. United States (11-182), though, the question remained how a final opinion might be written to enlarge states' power to deal with some 12 million foreign nationals without basing that authority upon the Scalia view that states have a free hand under the Constitution to craft their own immigration policies.   The other Justices who spoke up obviously did not want to turn states entirely loose in this field.  So perhaps not all of the four clauses would survive — especially vulnerable may be sections that created new state crimes as a way to enforce federal immigration restrictions.

If the Court is to permit Arizona to put into effect at least some of the challenged parts of S.B. 1070, there would have to be five votes to do so because only eight Justices are taking part (Justice Elena Kagan is out of the case), and a 4-4 split would mean that a lower court's bar to enforcing those provisions would be upheld without a written opinion.   It did not take long for Justice Antonin Scalia to side with Arizona, and it was not much later that Chief Justice John G. Roberts, Jr., showed that he, too, was inclined that way.   Justice Clarence Thomas, who said nothing during the argument, is known to be totally opposed to the kind of technical legal challenge that the government has mounted against S.B. 1070.

That left Justices Anthony M. Kennedy and Samuel A. Alito, Jr., as the ones that might be thought most likely to help make a majority for Arizona.  Their questioning, less pointed, made them somewhat less predictable.  However, they did show some sympathy for the notion that a border state like Arizona might have good reasons for trying to deal with what Kennedy called the "social and economic disruption" resulting from illegal immigration.

The Court's three more liberal Justices — Stephen G. Breyer, Ruth Bader Ginsburg, and Sonia Sotomayor — offered what appeared to be a less than enthusiastic support for the federal government's challenge, although they definitely were troubled that S.B. 1070 might, in practice, lead to long detentions of immigrants.  They wanted assurances on the point, and they were offered some by Arizona's lawyer, Washington attorney Paul D. Clement.

Clement's entire strategy (aside from an emotional plea that Arizona had to bear the brunt of the wave of illegal and often dangerous immigrants) was to soften the seemingly harder edges of the 2010 state law that set off a wave of new state and local legislation to control the lives of foreign nationals living illegally in the U.S.   To each question Wednesday about how S.B. 1070 would work if put into effect, Clement pared down the likely impact and insisted that Arizona was only seeking to be a cooperative junior partner in enforcing federal laws and policies against undocumented immigrants.
The Solicitor General, by contrast, clearly did not have a very good day yesterday. Based on the reports, even the Court's liberal members seemed skeptical of the arguments he was making against the Arizona law. At one point, for example, he seems to completely lose Justice Sotomayor when he essentially argues that it would be acceptable for individual Arizona law enforcement officers to cooperate with Federal immigration authorities, but that it's somehow unacceptable for that kind of cooperation to be a matter of official state policy or law. More importantly, it seems that Verrilli never really managed to get his point across about what is likely the strongest part of the Federal Government's challenge to SB1070:
[H]is national supremacy argument seemed regularly to falter, because the Justices as a group seemed much more interested in parsing just how the Arizona law would work in tandem with or, potentially, in conflict with federal policy.   Verrilli, in fact, never quite got his point across about federal supremacy, and that showed in an exchange between him and Justices Alito, Kennedy, and Sotomayor.

Alito said he could not understand why Verrilli seemed to be saying that Arizona could not instruct its own state employees on how they should enforce the state's own law, but rather that they should only do what federal authorities wanted them to do even though they don't work for the federal government.   The question seemed to indicate that Alito did not see that Verrilli was arguing that, since it was federal law that was at issue, federal priorities should govern.

Verrilli replied that, if a state wanted to cooperate in immigration enforcement, they needed only to bring to federal attention the fact that a given illegal immigrant was in the U.S.   But Kennedy shot back that Alito was only talking about whose law state employees should enforce as a state priority.  The Solicitor General then repeated the idea that the federal priorities should govern what state employees did, in the immigration context.

At that point, Justice Sotomayor said that the government argument left her "terribly confused."  She said she could not understand what was wrong with a system in which, if federal officials are contacted about an arrested immigrant and said they did not want that person detained, that person would have to be released.   She was relying, of course, on attorney Clement's assurance that that was what would happen if a federal official waved off the need for an immigrant to be detained further.

Chief Justice Roberts, though, went the furthest to try to discount Verrilli's core argument about the disruption of federal immigration enforcement if Arizona were allowed to have its own style of enforcing immigration law.  All that Arizona's law required, Roberts suggested, was that a state officer let the federal government know that there was an illegal immigrant in its midst, and that did not force the government to do anything; it could enforce its ban on such immigrants or not.  Somewhat sarcastically, the Chief commented: "If you don't want to know who is in this country illegally, you don't have to."
Whether this ends up being an accurate statement of how this particular provision of SB 1070 would be enforced is rather beside the point, as are any legal challenges that might arise in the future alleging that the law is being enforced in a discriminatory manner. Clearly, the Court, and not just the conservative members of the Court, is skeptical of the Federal Government's argument at this early stage. All in all, it was not a good day for the Federal Government's argument. Ultimately, all of this doubt may end up meaning nothing. Unless the Court is able to come up with a majority on all, or even just one, of the issues before it then the decision below, in which the 9th Circuit Court of Appeals ruled that the law was unconstitutional. Given Justice Kagan's recusal, the possibility that this case could end in a serious of 4-4 ties on all four issues strikes me as being fairly high unless the skepticism expressed yesterday is so widespread that even the Court's most liberal members end up handing the Federal Government a defeat, if not on the whole case then at least on the "stop and detain" provisions in the law.
It's important to note what wasn't before the Court yesterday. The Federal Government's challenges to SB1070 make no allegations regarding racial profiling or the possibility that this law will be disproportionally enforced against people of Hispanic decent. In reality,  this is the type of argument that really cannot be made until the law has actually been enforced and there's some actual evidence, and more important actual Defendants, that the Court can look to in order to determine whether there are Equal Protection violations inherent in the law. Even if the law survives this challenge, then, the likelihood that we'll see some kind of future litigation either by the Feds, or by private parties, is fairly high.
In all likelihood, we'll be getting this decision in late June,  around the same time as the ObamaCare ruling, and just in time for the General Election campaign to heat up. Whichever way it goes, it should be interesting.
Here's the transcript of yesterday's argument: