Daniel Ellsberg Wants More Leaks
The Pentagon Papers guy laments that there are too few like him.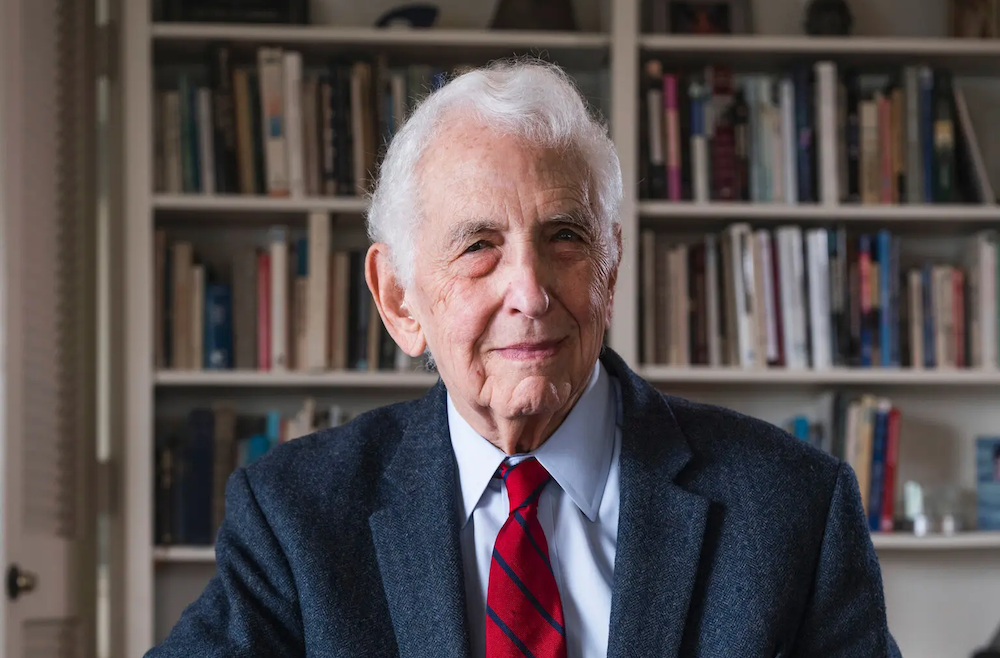 NYT editorial board member Alex Kingbury interviews 91-year-old Daniel Ellsberg and discovers that "The Man Who Leaked the Pentagon Papers Is Scared" about the possibility of a nuclear war and that we're not doing enough to combat climate change. I find that less interesting than his expansionistic view of leaking government secrets.
Q. The number of people with the security clearances to view classified material has expanded, perhaps exponentially, since the leak of the Pentagon Papers, and I wonder, aside from a few people like Edward Snowden and Chelsea Manning, why haven't there been more Dan Ellsbergs? Why aren't there more people who, when presented with evidence of something that they find morally objectionable, disclose it?

A. Why aren't there more? It's a question I've often asked myself. Many of the people whistle-blowers work with know the same things and actually regard the information in the same way — that it's wrong — but they keep their mouths shut. As Snowden said to me and others, "Everybody I dealt with said that what we were doing was wrong. It's unconstitutional. We're getting information here about Americans that we shouldn't be collecting." The same thing was true for many of my colleagues in government who opposed the war. Of course, people are worried about the consequences.
I find it fascinating that neither Kingsbury nor Ellsberg distinguish between the actions of Ellsberg, Snowden, and Manning. Ellsberg was, at the time he leaked the Pentagon Papers, a rather seasoned official who tried and failed to get the truth out through proper channels. Only after key Senators refused to do anything did he go to the press and, even then, he was careful to release only documents that showed the malfeasance he was highlighting. Snowden was more reckless, neither attempting to go through channels nor being particularly careful about what he released—but he was at least highlighting a particular program. Manning actually enlisted with the intention of committing espionage; he simply released documents willy-nilly.
Before my case and the Obama administration's prosecutions of whistle-blowers, they needn't have been worried about going to jail. But apart from that, they fear losing their jobs, their careers, risking the clearances on which their jobs depend. People who have these clearances have often invested a lifetime in demonstrating that they can be entrusted to keep secrets. That trust becomes a part of your identity, which it is difficult to sacrifice, so that one loses track of a sense of higher responsibility — as a citizen, as a human being.
I think this is all true. But it's also true that the overwhelming number of people who have security clearances actually access very little secret information and almost none are privy to the sort of secrets Ellsberg himself had. (He had been in senior advisory positions in government and was back at RAND working on a top secret project commissioned by Secretary of Defense McNamara.) And the relatively few people who encounter troubling information are acculturated to a chain of command, operating on the presumption that those senior to them are acting under good intentions and sound legal advice.
Q. We tend to think of the classification system as a system of protection. But you sometimes talk about it, and I think correctly, as a system of control.

A. That is what it is. It is a protection system against the revelation of mistakes, false predictions, embarrassments of various kinds and maybe even crimes. And then the secrecy system in its application is predominantly to protect officials, administrations from embarrassment and from accountability, from the possibility that their rivals will pick these things up and beat them over the head with it. Their rivals for office, for instance.
This is utter bullshit. To be sure, we reflexively over-classify for a variety of reasons. (More on that later.) But the amount that's intentionally covering up mistakes and the like is less than a rounding error. Indeed, essentially none of it is classified by people at that level; it's almost all done at the operational levels and below.
Q. How should the average reader understand the difference between the importance of a risotto recipe that was disclosed by the Russian hack of John Podesta's email account and serious secrets like those disclosed by Snowden? Steven Aftergood at the Federation of American Scientists, who studies secrecy, for instance, once called the indiscriminate disclosure of military files by WikiLeaks a kind of "information vandalism."

A. I disagree with Steve. I think he greatly underestimates the amount of overclassification. The media as a whole has never really investigated the secrecy system and what it's for and what its effects are. For example, the best people on declassification outside the media, the National Security Archive, month after month, year after year, put out newly disclosed classified information that they have worked sometimes three or four years, 10 years, 20 years to make public. Very little of that was justified to be kept from the public that long, if at all. An expert estimated in Congress in 1971 that 5 percent of classified information met the criteria for secrecy at the time it was classified, and after a few years that decreased to half of one percent.
I've never met Aftergood but have followed his work for at least the last twenty years. He's painfully aware of overclassification, as are any of us who have clearances. I agree with Ellsberg that it's too hard and takes to long to de-classify what has been classified. But relying on 52-year-old analyses is rather silly. Further, all of the incentives point in the direction of classifying—but not for the nefarious reasons Ellsberg cites.
Mostly it's simply CYA: the penalties for failure to classify that which ought be classified are much higher than for the reverse (essentially none). Additionally, there are powerful bureaucratic incentives to classify. Having possession of highly classified information makes you more valuable. And decisionmakers are, for weird psychological reasons, far more likely to pay attention to Information That Only Very Special People Get to See than they are to that which can be gleaned from open sources.
Ellsberg is, quite naturally, anchored to his own experiences with the Vietnam War, the lies told in its advancement by the Johnson administration, and the overzealous prosecution of his leak by the Nixon administration. He's 91 years old and has been diagnosed with terminal cancer, with perhaps just months to live.
I believe his actions in leaking the Pentagon Papers, while violating his oath, were legitimately motivated by patriotism. Ultimately, though, I believe that the system for protecting state secrets, established in law by Congress and overseen by an elected President and his Senate-confirmed officials, is a necessary but imperfect system. We can't have every idiot private with a security clearance act as a personal arbiter of our nation's secrets.