Dead Children Make For Bad Laws: The Case Against "Caylee's Law"
The result in the Casey Anthony case is leading, inevitably, to a host of new proposed laws.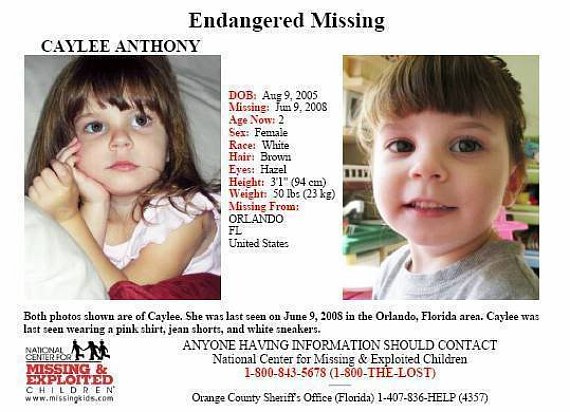 The negative public reaction to the verdict in the Casey Anthony trial has led, inevitably, to calls for new laws to address a supposed problem:
Lawmakers outraged over Casey Anthony's acquittal have responded by proposing so-called Caylee's laws that would allow prosecutors to bring felony charges against parents who do not quickly report missing children.

The new measures were triggered, at least in part, by an online petition that had more than 700,000 signatures Friday. Some questioned whether a new law would do any good because the circumstances of the Anthony case were so rare, but lawmakers in at least 16 states have already floated proposals reacting to the verdict.

"Casey Anthony broke new ground in brazenness," said Florida state Rep. Scott Plakon, who is sponsoring the proposal in his state. "It's very sad that we even need a law like this, but Casey Anthony just proved that we do as unfortunate as that is.

(….)

Florida's proposal would make it a felony for a parent or other caregiver to not report a child under the age of 12 missing after 48 hours. It also makes it a felony to not report a child's death or "location of a child's corpse" to police within two hours of the death.

Had Florida's measure been in place and Anthony been convicted, she could have faced another 15 years behind bars.

Other states are considering similar measures and the online petition at Change.org, started by an Oklahoma woman, calls for a federal law.

(…)

In Alabama, a bill would make it a felony for a parent, legal guardian or caretaker not to notify law enforcement authorities within an hour after the death of a child and also require parents to report a missing child within 24 hours. In Kentucky, the proposal would make failing to report a child under 12 who has been missing for 12 hours or more punishable by one to five years in prison.

Other states where lawmakers are considering such measures include Georgia, Kansas, Louisiana, New Jersey, New York, North Carolina, Ohio, Oklahoma, Pennsylvania, South Carolina, Texas and West Virginia, according to news reports.
This isn't a new phenomenon, of course. Every time there's been a horrible crime involving a child that gets a lot of media attention, someone  somewhere decides there outta be a law. It's an understandable reaction on some level because it grows out of revulsion toward a horrible crime, sympathy toward a child, and, in the Anthony case, the idea that someone got away with something. The first and most well-known of these laws is "Megans Law," which has led to the adoption of some form of sex offender registration  by every state in the country. The unintended consequence of such registries, however, has been that even relatively minor offenses committed by people under 18 end up becoming the modern equivalent of a Scarlet Letter, branding someone as a sex offender for life and essentially forcing them into a life under ground. Now some form of notification that a violent sex offender lives nearby may be a good idea. However, more often than not these laws drafted in the heat of passion and outrage end up being far too harsh and don't recognize the fact that not every crime deserves to be treated the same way:
[H]arsh laws often do little to protect the innocent. The police complain that having so many petty sex offenders on registries makes it hard to keep track of the truly dangerous ones. Cash that might be spent on treating sex offenders—which sometimes works—is spent on huge indiscriminate registries. Public registers drive serious offenders underground, which makes them harder to track and more likely to reoffend. And registers give parents a false sense of security: most sex offenders are never even reported, let alone convicted.
The problems with the proposed "Caylee's Law" idea are even more apparent than the problems we've discovered with Megan's Law, though. As John Stossel points out in a blog post, a law like this has the potential to create a nightmare world for parents:
The potential unintended consequences are endless. What if the child has a history of getting mad and running away for a day? Or a week? What if the kid sleeps over at a friend's place?
Moreover, as Josh Blackman points out, its rather obvious that this proposed law would do absolutely nothing to deter criminal activity:
So let me be really cynical here. How would this keep a case like Caylee's out of the courts. If a parent actually killed her daughter, do you think she would tell the police so as not to violate some random federal statute. The purpose of this law, much like laws requiring that people notify the police about lost guns, is to allow the police to easily arrest someone, without sufficient cause to show they committed the underlying offense-whether it is a gun crime, or murder.
Of course, it's already rather apparent that many of the people pushing for this new law aren't really concerned about deterring crime, they just want to give prosecutors another arrow to put in their quiver:
Oklahoma Rep. Paul Wesselhoft said that the petition, created by Michelle Crowder of Durant, Okla., caught his eye and the eyes of his constituents.

"Yesterday, I got a lot of emails from my constituents who are very outraged by the trial and the verdict," Wesselhoft told ABCNews.com. "We're all outraged that Caylee did not receive justice. There's no question about that."

Wesselhoft, a Republican, plans to propose a law at the start of Oklahoma's legislative session in 2012 that would make it a felony for a parent of guardian not to notify authorities within 24 hours of a child's death. He also plans to propose a requirement for parents to notify runaways under the age of 12 in a timely manner, although he admits having a time table for that is "more difficult because you don't know when the clock starts," he said.

"It probably won't be a deterrent to crime, but at least it's something the prosecutors can charge someone with who's violated the law," he said. "If this law was in Florida, Casey would have some more jail time to stand."
So what we're talking about here isn't really drafting a law to address a serious criminal offense, it's about giving prosecutors another weapon they can use to punish someone even if they cannot prove in a court of law that they did anything wrong. It's no surprise to see politicians jumping on this bandwagon so quickly, of course. Cracking down on pedophiles, or the Casey Anthony's of the world, wins votes and makes a politician seem like they are "tough on crime." Of course, being "tough" means that the new laws must be more severe than laws that are already in place, which themselves were proposed by "tough on crime" politicians. There's very little incentive to vote against such laws, and no politician would dare vote against them because, if they do, the inevitable attack ads will be easy to foresee. Heck, even the Florida ACLU has said it would be unlikely to fight a law like this.

It seems likely that a Federal "Caylee's Law" would be an unconstitutional exercise of Federal authority, however even a state-based "Caylee's Law" poses serious Constitutional problems. Let's say there's a hypothetical parent out there who has in fact murdered their child and hidden the body. The police are now engaged in a missing persons search and asking the parents questions. Rather than telling the truth, they say nothing. Under the law, you have a Fifth Amendment right to remain silent. What "Caylee's Law" says is that you can be punished criminally for exercising your Fifth Amendment rights.. Do we really want to start drafting legislation like that in response to a unique tragedy? I don't think so.
Shepard Smith had a very good discussion about this issue late last week, and his skepticism is well-taken:

There's an old saying in the law that bad cases make bad law, and that's true of no case more than the Casey Anthony case. Whatever really happened in June and July of 2008 was an outgrowth of an exceedingly odd family situation, a mother who seemed more concerned with the good life in Florida than her child, and grandparents who are just, quite honestly, odd people. Trying to make law out of such a case will just result in a bad law that is more likely to ensare the innocent and enhance the power of prosecutors of police than it is to avert another tragedy. It's sad that Caylee Anthony never got the chance to live the life she was meant for, but using her memory and her name to draft stupid laws is an insult to her and to the law.