Death of the Middle Class?
Lots of jobs that existed in recent memory -- secretaries, travel agents, gas station attendants, cashiers -- have been replaced by technology. The middle class may be disappearing with them.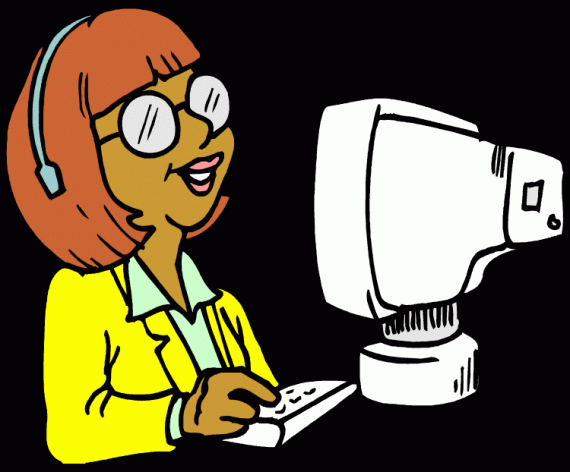 Jason Kottke points me to Douglas Coupland's "A radical pessimist's guide to the next 10 years." Most of it strikes me as either obvious or outlandish. But this one is pretty interesting:
6) The middle class is over. It's not coming back

Remember travel agents? Remember how they just kind of vanished one day?

That's where all the other jobs that once made us middle-class are going – to that same, magical, class-killing, job-sucking wormhole into which travel-agency jobs vanished, never to return. However, this won't stop people from self-identifying as middle-class, and as the years pass we'll be entering a replay of the antebellum South, when people defined themselves by the social status of their ancestors three generations back. Enjoy the new monoclass!
Travel agents are a much better example of this phenomenon than the one's I tend to use:  secretaries and gas station attendants.  All three jobs still exist, of course, but they're radically less abundant than they used to be, largely replaced by technology and deemed too inefficient by businesses striving to maximize productivity.  And, while we've saved money in all three cases, we're likely worse off as a society for the change.
The transformation has been rapid.   All of these changes have occurred within my clear recollection.
When I was a little kid, someone pumped the gas, cleaned the windshield, checked the tire pressure, and handed out some sort of keepsake prize (a Zodiac sign coffee mug or a plastic tumbler, say) whenever dad pulled up to fill the tank.  Then came the Arab oil embargo and higher gas prices.  Soon, some station owners started to have "Self-Service" pumps wherein customers could pump their own gas and save, say, a nickel.  Even though my dad hated to get the smell of gasoline on him, it was worth the risk to save the money.    Before long, "Full-Service" stations became a rarity outside the states that forbade allowing customers to pump their own.
Within my memory, although not my working life, office workers of any seniority had someone to do the time consuming work of sorting through the mail, answering phone calls, sending routine correspondence, making photocopies, sending faxes, mailing packages, scheduling meetings, and the dozens of other tasks that really aren't a manager's job but that would otherwise wind up taking up for too much of their time.   I'm not sure if "Mad Men" is completely accurate in this regard but the idea is:  even very junior executives had secretaries to do this sort of thing into the early 1980s or so.
The rise of word processing, email, and other technologies made it simple enough for managers to do.  Other office machines became more automated, too, so little or no training is needed to make copies or send a fax.   But, at the end of the day, the $100,000 a year middle manager is now spending a large part of his day doing tasks that a $40,000 a year assistant could be doing instead.
Much more recently, it became possible to bypass the airlines and the travel agents and do comparative shopping online for the best air fares and hotel rates.   This was largely a boon, in that it added transparency to a system that was far too mysterious.   You could still call a travel agent, of course, but why would you pay the added expense after having done the leg work already?
The problem, though, is that, unless you're a frequent traveler between two cities — and maybe even then — you're operating blind.   In theory, at least, an experienced travel agent knew which hotels were worth staying out, why a particular discount package wasn't so good a deal after all, and so forth.   But it's a service that hardly exists anymore.
We're seeing this sort of thing all over the place.   Suddenly, we're being transformed into grocery store clerks, as supermarkets make you either queue up behind the one manned register or scan your own items.   Oh, and put them in your own bag:  the teens who used to earn some pocket money bagging your groceries don't work there anymore.
Of the jobs mentioned, travel agents are the best example because they were unquestionably middle class.  Secretaries could at least aspire to it middle class status as their careers progressed.   Gas attendants, checkout clerks, and grocery baggers were always low wage jobs, although ones frequently performed by young people on their way to bigger and better things.
I'm not suggesting that the disappearance of these jobs has been mostly bad.   Some of the efficiencies have been passed on to consumers in reduced prices, enabling us to enjoy luxuries that we couldn't previously.   And some of the people who would have taken those jobs doubtless moved on to better ones requiring more skills.
But, in addition to lowering our quality of life in other ways — turning us all into clerks, as it were — the fact remains that the type of fellow who was pumping gas or bagging groceries at age 40 is unlikely to have landed at Google through the miracle of creative destruction.