Debt Deal Emerging
President Obama and Congressional Republicans have the outline of a deal to raise the debt limit past the 2012 elections.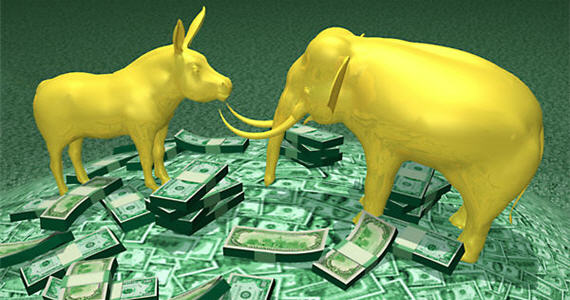 President Obama and Congressional Republicans have the outline of a deal to raise the debt limit past the 2012 elections.
ABC's Jonathan Karl:
Here, according to Democratic and Republican sources, are the key elements:

A debt ceiling increase of up to $2.1 to $2.4 trillion (depending on the size of the spending cuts agreed to in the final deal).
They have now agreed to spending cuts of roughly $1.2 trillion over 10 years.
The formation of a special Congressional committee to recommend further deficit reduction of up to $1.6 trillion (whatever it takes to add up to the total of the debt ceiling increase). This deficit reduction could take the form of spending cuts, tax increases or both.
The special committee must make recommendations by late November (before Congress' Thanksgiving recess).
If Congress does not approve those cuts by December 23, automatic across-the-board cuts go into effect, including cuts to Defense and Medicare. This "trigger" is designed to force action on the deficit reduction committee's recommendations by making the alternative painful to both Democrats and Republicans.
A vote, in both the House and Senate, on a balanced budget amendment.

Democrats won't like the fact that Medicare could be exposed to automatic cuts, but the size of the Medicare cuts is limited and they are designed to be taken from Medicare providers, not beneficiaries.

Two sources briefed on the framework say the automatic cuts would hit Defense spending harder than Medicare. A Republican briefed on the framework says this will be unacceptable to many Republicans because it could force them to face a choice between accepting tax increases (if that is what the committee recommends) or automatic cuts that would gut the Pentagon's budget.
National Journal's Major Garrett has somewhat different details:
In many respects, the deal will, if approved by all parties, resemble the contours of a short-lived pact negotiated last weekend by House Speaker John Boehner, R-Ohio, and Senate Majority LeaderHarry Reid, D-Nev. Obama rejected that deal, forcing Congress to wrestle with other inferior legislative options throughout the week.

Among the newest wrinkles, according to informed sources, is an agreement to extend the current $14.3 trillion debt ceiling very briefly to give the legislative process time to work without resorting to emergency, hurry-up measures.

President Obama has said he would only sign a short-term extension (days, not weeks) if it were linked to an extension of borrowing authority that lasts beyond the 2012 election.

According to sources, the Senate would use the military construction appropriations bill, one currently available for action, as the vehicle for the short-term extension. This element of the arrangement, like everything else, is subject to modification. But those close to the negotiations expect Congress to slow things down without jeopardizing the nation's full faith and credit. A debt extension of days would achieve that goal.

Other component parts of the tentative deal include:

$2.8 trillion in deficit reduction with $1 trillion locked in through discretionary spending caps over 10 years and the remainder determined by a so-called super committee.
The Super Committee must report precise deficit-reduction proposals by Thanksgiving.
The Super Committee would have to propose $1.8 trillion spending cuts to achieve that amount of deficit reduction over 10 years.
If the Super Committee fails, Congress must send a balanced-budget amendment to the states for ratification. If that doesn't happen, across-the-board spending cuts would go into effect and could touch Medicare and defense spending.
No net new tax revenue would be part of the special committee's deliberations.
Most of us have presumed from the outset that a disaster-averting deal would be struck, although the inability of Republican leaders to get their own caucuses to agree to seemingly slam dunk deals brought that into question. It's always possible that the combination of defense and Medicaid cuts will cleave off enough Republican and Democratic votes, respectively, to kill the compromise. But it's looking like people are ready to get this over with.
As is always the case in tense negotiations, one wonders why the deal couldn't have been struck long ago. Most of these issues have been agreed to in principle for quite some time. But, as with labor deals, impending deadlines that impose dire consequences are usually necessary to get people to swallow bitter concessions.