Deficits, the CBO and H.R. 2
When determining the effects on the deficit of a certain legislative action, both revenues and spending have to be accounted for. Indeed, you can't determine whether there is a deficit, surplus or balanced budget without both variables.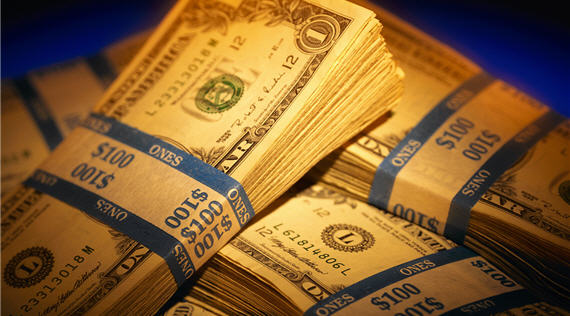 Currently Memeorandum is headlined by an American Spectator blog post entitled BREAKING: CBO Says Repealing ObamaCare Would Reduce Net Spending by $540 Billion, which led my OTB colleague Dodd Harris to post No, Repealing Obamacare Will Not Increase the Deficit.
I must confess, however, that I am a bit confused by both what has the AmSpec, and Dodd, so excited. The e-mail from the CBO quoted by AmSpec includes the following:
CBO anticipates that enacting H.R. 2 would probably yield, for the 2012-2021 period, a reduction in revenues in the neighborhood of $770 billion and a reduction in outlays in the vicinity of $540 billion, plus or minus the effects of forthcoming technical and economic changes to CBO's and JCT's projections.
Does not the basic arithmetic dictate that decreasing revenues by $770 billion whilst only reducing spending by $540 result in a shortfall (i.e., a deficit) of $230 billion? As such, the e-mail in question appears to me to actually back the claim that repealing PPACA will result in an addition to the deficit. Given that, I am not sure how it proves what the headline of Dodd's post claims that it proves or, really, what difference it makes if it cuts spending, as per the AmSpec headline if it cuts revenues even further.
Indeed, in a post at the CBO's blog states the following:
Because CBO and JCT estimated that the March 2010 health care legislation would reduce budget deficits over the 2010-2019 period and in subsequent years, we expect that repealing that legislation would increase budget deficits. The resulting increase in deficits projected for fiscal years 2012 through 2019 is likely to be similar in size to—but not exactly the same as—the reduction in deficits that was originally estimated to result from the enacted legislation.

[…]
As a result of changes in direct spending and revenues, CBO expects that enacting H.R. 2 would probably increase federal budget deficits over the 2012-2019 period by a total of roughly $145 billion (on the basis of the original estimate), plus or minus the effects of technical and economic changes that CBO and JCT will include in the forthcoming estimate. Adding two more years (through 2021) brings the projected increase in deficits to something in the vicinity of $230 billion, plus or minus the effects of technical and economic changes.
As such, I am not sure what the brouhaha is all about, as according to the CBO, yes, repealing the PPACA will, in fact, increase the deficit which is why the House leadership had to exempt H.R. 2 ( the somewhat juvenilely named "Repealing the Job-Killing Health Care Law Act") from the CUTGO rule (the new House rule that states any bill that would increase the deficit must have a commensurate cut in it to offset the potential deficit increase).
It seems that at least for the AmSpec post that the logic of the headline is that decreases in revenue (i.e., tax cuts and the like) don't matter for deficits, only spending matters. While it would be nice if tax cuts didn't count against the deficit, they nonetheless do. The entire process is one of a combination of spending and revenue and any serious discussion of the deficit (and therefore the debt) has to acknowledge this fact.
Editor's Note (James Joyner): Steven has posted a follow-up titled "Some Details on Why Repeal of PPACA Would Increase the Deficit." Since it's "hidden" in the Quick Picks section, I'm reproducing it as an update here. Since there are already comments there, I'm leaving the post up.
UPDATE: Via CSM's The Vote blog: Health care law repeal: Why would it increase the deficit?
Two main side effects of repeal would cause this gusher of red ink, said CBO.

First, getting rid of health-care reform would mean rescinding planned cuts in federal spending on health care, largely for Medicare.

Under the terms of Obama's health bill, government payments to Medicare Advantage – plans run by private insurers that are an alternative to traditional Medicare – are supposed to be reduced by $132 billion over a decade, for instance. (Those plans now get around 14 percent more per person than traditional Medicare does.) Payments for Medicare home health care would also be slashed by around $40 billion over ten years.

Second, repealing health-care reform would also entail rolling back scheduled tax increases and fees.

For example, individuals making over $200,000, and couples making over $250,000, face higher Medicare Part A (that's hospital insurance) taxes under Obama's health reforms. Their Part A tax rate is supposed to go up 0.9 percent on January 1, 2013. That's a big money raiser, estimated to bring in $210 billion between 2013 and 2019. And it would be eliminated if the health care reform law is repealed. So would planned fees levied on insurers, medical device manufacturers, and others.
Whether one is pro-PPACA or pro-repeal, the numbers are the numbers. Further, it is clear that (at least symbolically, since this is all going nowhere), the GOP values repeal over deficit reduction. That is, actually, quite fair as politics requires tradeoffs. However, it is yet another example (two more that come to mind are here and here) that there appears to be a chasm between the GOP's rhetoric on fiscal policy and their reality.