Delta Airlines PR Gaffe Over Military Baggage
Charging soldiers $200 for an extra bag on their way home for war? Really Delta?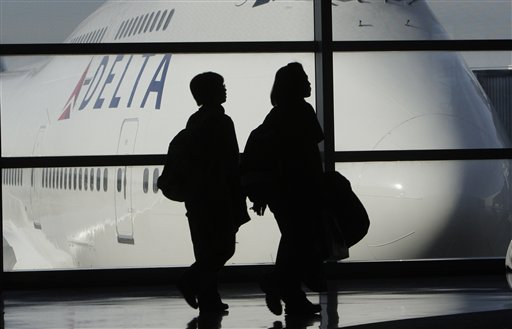 Earlier this week a group of soldiers who had just returned from Afghanistan were making their way from Baltimore to their base in Louisiana, when they ran into a Delta Airlines baggage policy that said they would have to pay for the five bags per person they were carrying, which including not only personal gear but also equipment. When they got on the plane, they whipped out the video camera:
The video quickly went viral and got picked up by several news networks. Needless to say, Delta is changing their policy:
Facing a barrage of criticism for charging soldiers returning from Afghanistan $200 each for a fourth checked bag on a flight from Baltimore to Atlanta, Delta Air Lines on Wednesday changed its policies about military baggage.

It will allow U.S. military members traveling on orders in economy class to check four bags without charge. Military members flying business or first class may check up to five bags free. The airline also expanded the size and weight of each bag to up to 70 pounds, more than the usual allowed 50 pounds, Delta announced Wednesday.

The move came after soldiers posted a YouTube video upon being charged the fee as they were en route home after deployment. The video was posted Tuesday and was viewed almost 200,000 times before it was removed by the person who put it up. By Wednesday afternoon, a Facebook page called Boycott Delta for Soldiers had sprung up, and the airline was backpedaling and apologizing to the soldiers.
My question is what gate agent in Baltimore lacked the common sense to take the initiative and wave the fees to begin with?
UPDATE (James Joyner): While I agree that Delta screwed the pooch on this, I think most of the criticism being leveled at them has been unfair.
It's worth noting that Delta had already allowed soldiers to bring an extra bag and increased the weight allowance; the soldier in question had two more bags than coach passengers are ordinarily allowed to bring. Additionally, Delta, like most if not all the other major airlines, bends over backwards to give special treatment to troops in uniform. They're allowed, for example, free use of the 1st Class lounges at most airports. And many airports have special USO lounges exclusively for the use of military personnel.
While I despise the chiseling being done by the airlines with their nickel-and-dime fees, charging for things that used to be expected parts of commercial air travel, it's not at all unreasonable to limit the number of bags people can check for the ticket price. I think three for First and Business class, two for coach–which is one more than most airlines allow now–is reasonable, especially given that security regulations make checking bags a necessity for longer stays. While I think $200 for an extra bag is outrageously excessive, the notion of a fee itself isn't objectionable. Added weight burns up expensive fuel and cargo space is a valuable commodity.
If soldiers traveling on military orders back from a combat zone need additional bags, then why isn't it negotiated into the government's contract with the airlines? The soldier shouldn't be on the hook for his ticket or his bags. But nor should the airlines be expected to provide unlimited baggage space for what I imagine are reduced cost tickets.