Democratic Jump in Generic Ballot Poll
Democrats have opened up a 6 point lead in the Gallup generic ballot tracking poll, their first statistically significant lead of the cycle.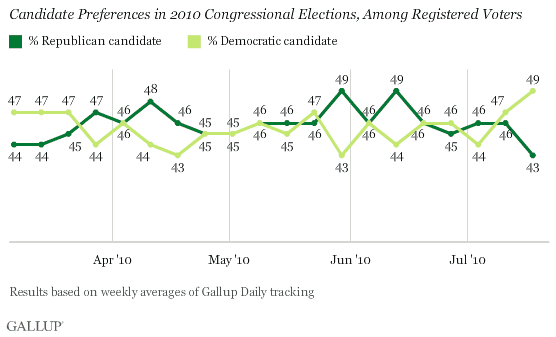 The latest Gallup poll shows an increase in the gap between Democrats and Republicans in the generic ballot poll to 6%.
Now, I am skeptical of the exact usefulness of the generic ballot poll method, given that it does not relate directly to how people vote (i.e., we vote for candidates in districts, not just for a party).
Further, the jump is only two points up for the Dems and three points down for the Reps—not exactly epic stuff, but not nothing, either:
The Democrats' six-point advantage in Gallup Daily interviewing from July 12-18 represents the first statistically significant lead for that party's candidates since Gallup began weekly tracking of this measure in March.
In any event, it is interesting.  One wonders if the Republican's ploy regarding unemployment benefits is backfiring a bit.
Also interesting:  Republicans appear quite jazzed to vote:
Simultaneous with increased support for Democratic congressional candidates, Gallup polling last week found Republican voters expressing significantly more enthusiasm about voting in the 2010 midterms. The 51% of Republicans saying they are "very enthusiastic" about voting this fall is up from 40% the week prior, and is the highest since early April — shortly after passage of healthcare reform. Democratic enthusiasm is unchanged, at 28%.
UPDATE (James Joyner):  It's worth noting that Gallup is tracking "adults" here which, as noted this morning, is the most Democrat-friendly sample.   Republicans do better among "registered voters" and much better among "likely voters."