Democrats Adopt New Rule Requiring Candidates To Actually Be Democrats
Democrats have adopted a new rule requiring future candidates for President to certify that they are Democrats, but it seems largely unenforceable.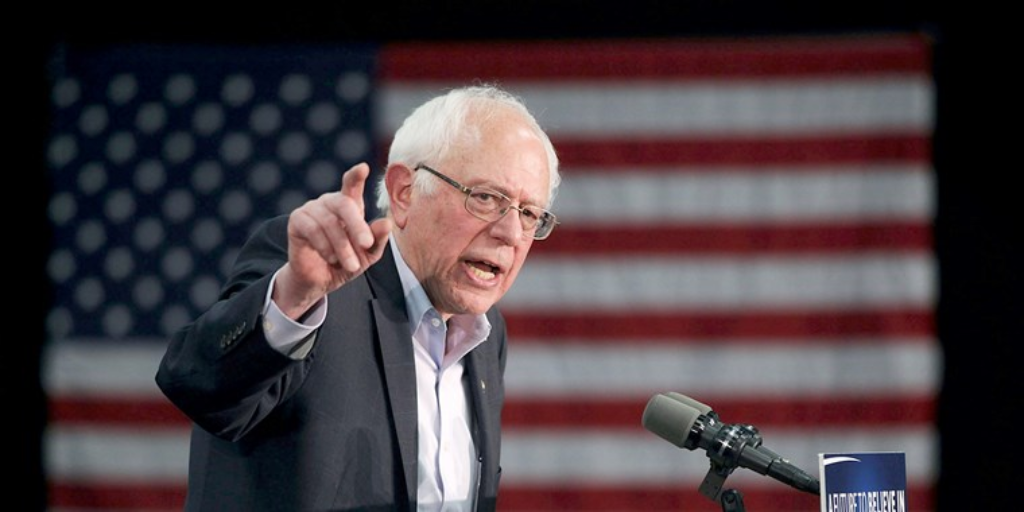 In addition to changes to the rules regarding the role of superdelegates in the nomination process, the Democratic National Committee is also working on other changes to the way the party's nomination process works, and this one seems to be directly aimed at Vermont Senator Bernie Sanders and his supporters:
Democratic National Committee officials on Friday moved forward with a proposal to force the party's presidential candidates to identify as Democrats, a move that drew immediate criticism from a top official in Bernie Sanders' 2016 campaign.

The prospective rule change, approved by the DNC's Rules and Bylaws Committee, would not necessarily impact Sanders, the independent Vermont senator who ran for president as a Democrat.

Sources familiar with the discussion said officials believed the rule change could help garner support for a separate bid to reduce the influence of superdelegates in the party's presidential nomination process — a priority of Sanders' supporters after the 2016 election. Both proposals are scheduled to be considered by the full DNC in August.

Still, Mark Longabaugh, a senior adviser to Sanders' 2016 presidential campaign, bristled at the DNC committee's action.

"I really don't get the motivation for the resolution at all," he said. "You know, Bernie Sanders got 13 million votes in 2016. Thousands, if not millions, of those votes were young people and independents he brought into the Democratic Party. And I'm just stunned that the Democratic Party's rules committee would want to try to make the Democratic Party an exclusive club, for which we want to exclude voters and large segments of the American electorate."

He said, "I just find it a stunning resolution."

Longabaugh said Sanders would unlikely be affected by the rule change anyway because he could list himself as a Democrat again if he runs in 2020.

According to the draft rule change adopted Friday, "At the time a presidential candidate announces their candidacy publicly, they must publicly affirm that they are a Democrat."

The draft goes on to require that any candidate pursuing the Democratic Party's nomination for president confirm in writing to the Democratic National Committee chairman that they are a member of the Democratic Party, will accept the Democratic nomination and will "run and serve as a member of the Democratic Party."
More from The Hill:
The Democratic National Committee (DNC) adopted a new rule on Friday aimed at keeping outsider candidates like Bernie Sanders from trying to clinch the Democratic presidential nomination in 2020.

The new rule, adopted by the DNC's Rules and Bylaws Committee, requires all Democratic presidential candidates to be a member of the Democratic Party, Yahoo News reported.

A presidential candidate running for the Democratic nomination must be a member of the party, accept the Democratic nomination and "run and serve" as a member.

Sanders, who has maintained his status as an Independent, fought a tough primary race for the Democratic nomination against eventual Democratic presidential candidate Hillary Clinton in 2016.

A source familiar with the discussions told Yahoo News, however, that the rule wasn't targeted at Sanders. Randi Weingarten, president of the American Federation of Teachers and DNC member, posted a photo on Twitter Friday of the rules change at the meeting in Providence, R.I.
Here's Weingarten's Tweet:
@DNC #RBC just changed the rules to ensure to run for President as a Democrat you need to be A Democrat pic.twitter.com/RyHhV0Exhr

— Randi Weingarten (@rweingarten) June 8, 2018
Based just on basic common sense, it seems axiomatic to me that a political party should be able to insist that a candidate running for their party's nomination actually be a member of their party. That this would even be controversial at all is, well, strange. Republicans faced a similar issue during the race for the 2016 nomination, of course, when Donald Trump made news by being the only person on the stage for the party's first debate who would not agree to say that he would support whoever won the nomination. This led to several weeks of controversy, as well as efforts by party leaders in some states to keep Trump off the ballot unless he changed his position. Eventually, the seeming "crisis" was solved when Trump signed an agreement reached with Reince Priebus, then the Chairman of the Republican National Committee, in which he stated that he would support whoever won the nomination. The agreement, of course, was entirely unenforceable and Trump left open the possibility that he would not support the nominee if he failed to win the nomination. Moreover, Trump essentially abandoned the pledge in March 2016, as it became clear that he was going to win the nomination in any case.
During the Democratic nomination fight between Sanders and Hillary Clinton, meanwhile, the issue also came up as many Clinton supporters pointed out that Sanders himself was not even a Democrat even though he caucused with the party in the Senate and has largely voted with the Senate Democratic Caucus. Since there was no rule barring Sanders from running even though he technically wasn't a Democrat, there was nothing the party could have done. Even if such a rule existed, though, it strikes me that trying to enforce it would have made the fault lines that the Clinton-Sanders fight revealed even worse and made 2016 and the years that have followed even more difficult for the party. If Sanders hadn't become as popular as he did, perhaps, it would have been easy for the DNC and the state Democratic Party leaders to move against him, but given the fact that his candidacy took off like it did. Once that happened, though, any move to exclude Sanders from running would have been a recipe for disaster and a Democratic civil war that would have torn the party apart.
Even with this rule change, though, it's unclear what it actually means and whether it could even be enforced. Sanders, or a future candidate like him, could easily join the Democratic Party for the purpose of running for office, and then walk away from the party if they lose, and if they win the nomination then it doesn't matter what they call themselves since they would effectively be the de facto leader of the party. In that regard, it's worth noting that this is game that Sanders has played before, and continues to play now. Just a few weeks ago, for example, Sanders announced that he would seek the Democratic nomination for the Senate in Vermont, but that he would not accept that nomination if he won, which he most likely will. Although it is clearly a cynical attempt on Sanders's part to make sure that there isn't a Democrat on the ballot to run against him, it's a tactic that has worked in the past, and there's next to nothing the party can do to prevent it.
In a similar vein, Jazz Shaw notes that there's next to nothing the party can do to enforce this rule:
A better question at this point would be to ask how they plan to enforce this rule. Sanders is notorious for insisting that he's not actually a Democrat, but rather a Democratic Socialist. In 2016 he reluctantly signed on with the Dems but abandoned them as soon as he lost the nomination to Hillary. Let's just toss reality out the window for a moment and imagine a hypothetical picture of 2020 where Sanders not only runs again but secures the nomination and defeats Trump, becoming America's first socialist president. Sure, he signed a pledge, but it has no legal weight to it. He could once again quit the party immediately after the election if he so desired.

What would the DNC do at that point, shortly after securing the electoral victory they were so desperate for? Are they going to challenge their own president-elect in court? Will they try to force him out of office? Throw their support to Trump and try to impeach Sanders? Obviously not.
Like I said, this new rule, although perfectly understandable, is largely unenforceable.