Democrats Announce Convention Speakers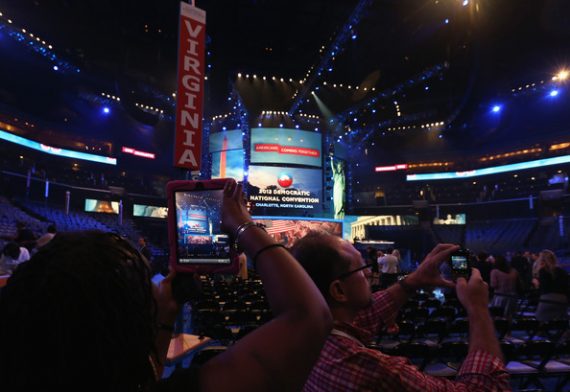 The Democratic National Committee has released a partial list of the people who will be speaking at next week's convention:
(CNN) – An hour after Mitt Romney stepped off of his party's convention stage, crowned as the Republican presidential nominee, organizers of the Democratic convention announced several speakers who will appear onstage in Charlotte, North Carolina next week.

The partial lineup released Friday highlights Democratic women, Latinos, African-Americans, and congressional leaders.

The convention speaker list includes Sen. John Kerry of Massachusetts; Maryland Gov. Martin O'Malley; Chicago Mayor Rahm Emanuel, the former White House Chief of Staff; and former Virginia Gov. Tim Kaine, who is running for a U.S. Senate seat.

Earlier this week, convention organizers announced that Newark Mayor Cory Booker and Rep. Barbara Lee of California would participate in revealing the party's platform.

Among the speakers announced Friday are House Democratic Leader Nancy Pelosi and Senate Majority Leader Harry Reid, the convention announced.

Congressional Hispanic Caucus Chair Charlie Gonzalez, Congressional Black Caucus Chairman Emanuel Cleaver, Rep. John Lewis of Georgia, and Judy Chu, who is among the Congressional Asian Pacific American Caucus, will also speak, the convention announced.
Additionally, earlier today it was announced that Governor Lincoln Chafee of Rhode Island, a former Republican Senator who s witch party affiliation to Independent in 2007, will be joining Charlie Crist as one of the "former Republicans" speaking at the convention. Much like Crist, I can't say that there are many people in the country who really care what Lincoln Chaffee has to say, or that he used to be a Republican but parties take advantage of switches like this all the time, witness this week's appearance by former Democratic Congressman Artur Davis at the Republican Convention.
Perhaps the most interesting this about the current speakers list is that it is populated with far more sitting Members of Congress than the Republican Convention had. Republicans instead chose to feature their new stable of Governors, although they did give plenty of time to young Members of Congress and Congressional candidates such as Utah's Mia Love. Partly, this is because the Democratic stable of Governor's isn't quite as well-stocked at the moment, of course, but given the relatively low opinion that the public holds Congress in I find it interesting that the Democrats are relying on so many members of that body to share their message next week.
The speaker that interests me the most is Cory Booker. I have a feeling that he could've been the Keynote Speaker but for his comments about the Obama campaign's Bain attacks earlier this year, but he'll still have one of the largest audiences he's ever faced and it will be an important test for his political future.  The other speaker that could be interesting is Rahm Emanuel. For that one, perhaps convention organizers should make sure they have either a "Bleep" button or a seven second delay, though.