Democrats Fear Obama's Jobs Plan Will Be Too Little, Too Late
Democrats are fearing the President's jobs plan will be underwhelming. Based on initial reports, it looks like their fears are well-placed.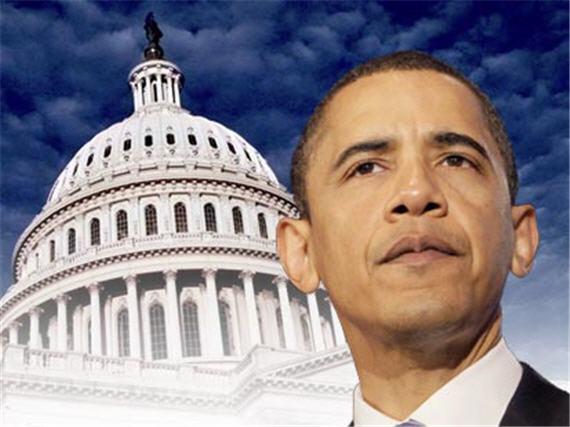 Forty-eight hours from now we'll be pouring through the details of the President's jobs speech, such as it is, but it doesn't sound like his fellow Democrats are very optimistic:
President Obama's new effort to revive the ailing economy may be too little, too late, according to Democrats and liberal policy experts.

They contend that Obama missed his chance to turn the economy around by November 2012, but still want him to call on Congress to move an aggressive new jobs plan — even if it has little chance of passing.

Obama should swing for the fences during his speech on Thursday, they say, claiming there is no need to be politically pragmatic with the House in GOP hands.

"The president has to bring forward a bold proposal. He can't start the process by negotiating with himself," said Sen. Bernie Sanders (I-Vt.), who caucuses with Senate Democrats. "He needs to say, 'If we do A, B and C, we can create millions of new jobs,' and take it to the American people."

The risk for Obama, however, is that he could appear weak by putting forth a jobs proposal that is immediately viewed as dead on arrival on Capitol Hill.

Liberal activists say the best chances for passing legislation that would have really spurred growth was in the last Congress, when Democrats controlled the House and as many as 60 seats in the Senate.

Obama successfully pushed a stimulus bill through the 111th Congress, but it attracted only a few votes from Republicans and was criticized by liberals as too small. The White House vowed it would keep unemployment rates at around 8 percent. Now, the nation's unemployment rate stands at 9.1 percent.

Dean Baker, co-director of the Center for Economic and Policy Research, said Obama made a mistake by not pushing for more stimulus when Democrats had the votes in 2009 and 2010.

"He should have said, 'This is a great first start, but we're going to need more,'" Baker said.
What this analysis ignores, of course, is the fact that, almost immediately after the 2009 stimulus bill passed Congress, the grounds of the debate were starting to shift. The first Tea Party protests, inspired at least in part by a classic rant from CNBC's Rick Santelli that ended up going viral, took place on on April 15th of that year and attracted large crowds in cities like Altanta, Georgia. Follow-up protests in the coming months would become energized when Congress took up a health care reform plan that became more controversial the longer it was pending on the House and Senate floors. That summer would see the famous Congressional Town Halls, which many took as a sign that the public, far from being placated by an election only a few months earlier was still angry, still upset at an economy that seemed in permanent decline, and once again, and perhaps not soon enough, fed up with Washington.
Even with the Democratic majorities in the House and Senate, it's difficult to see how another stimulus package could have passed during that twelve month period from January 2009 to January 2010. The public outcry would've been loud, and there would have been pressure on Blue Dog Democrats in the House and fiscal hawk Democrats in the Senate to resist the pressure to spend more money. It only would've taken one Democrat in the Senate to flip and given the people whose jobs were on the line in 2010 and 2012 (Blanche Lincoln, Ben Nelson, Kent Conrad, and Evan Bayh (who wouldn't go on to announce his retirement until 2010) come to mind) it's not inconceivable that more than one would've bowed to the pressure of constituents who didn't want to spend any more money.
And there was no way a stimulus package was going to pass in 2010, after Scott Brown's election, unless it included significant tax cuts. So, the argument that the President should've gone for more stimulus ignores political reality in the extreme. Perhaps he should have, but it likely would've required back pedaling on health care reform in exchange, and that would've really upset the Democratic base.
As for the rest of the advice, it doesn't look like the President will be going bold at all:
The economy weak and the public seething, President Barack Obama is expected to propose $300 billion in tax cuts and federal spending Thursday night to get Americans working again. Republicans offered Tuesday to compromise with him on jobs – but also assailed his plans in advance of his prime-time speech.

(…)

According to people familiar with the White House deliberations, two of the biggest measures in the president's proposals for 2012 are expected to be a one-year extension of a payroll tax cut for workers and an extension of expiring jobless benefits. Together those two would total about $170 billion.

The people spoke on the condition of anonymity because the plan was still being finalized and some proposals could still be subject to change.

The White House is also considering a tax credit for businesses that hire the unemployed. That could cost about $30 billion. Obama has also called for public works projects, such as school construction. Advocates of that plan have called for spending of $50 billion, but the White House proposal is expected to be smaller.

Obama also is expected to continue for one year a tax break for businesses that allows them to deduct the full value of new equipment. The president and Congress negotiated that provision into law for 2011 last December.

Though Obama has said he intends to propose long-term deficit reduction measures to cover the up-front costs of his jobs plan, White House spokesman Jay Carney said Obama would not lay out a wholesale deficit reduction plan in his speech.
So much of this seems like just a repeat of what we've seen before. We had infrastructure spending in the 2009 stimulus bill, and instead of spurring significant expansion and new hiring, it simply resulted in localities hiring the same contractors they usually do, most of whom completed the tasks with existing labor rather than taking on new employees. That bill encompassed hundreds of billions in spending and did nothing, and additional $50 billion is a drop in a bucket. The hiring tax credit is likely only to subsidize employers who are planning to hire already. If this is all the President is going to put forward on Thursday, then he's built up a lot of anticipation for a plan that isn't really worth more than a press release. And that could be a problem for him and his party.
No wonder Democrats are worried.