Democrats Kick Off Virtual Convention
The official campaign to oust Donald Trump is off to a good start.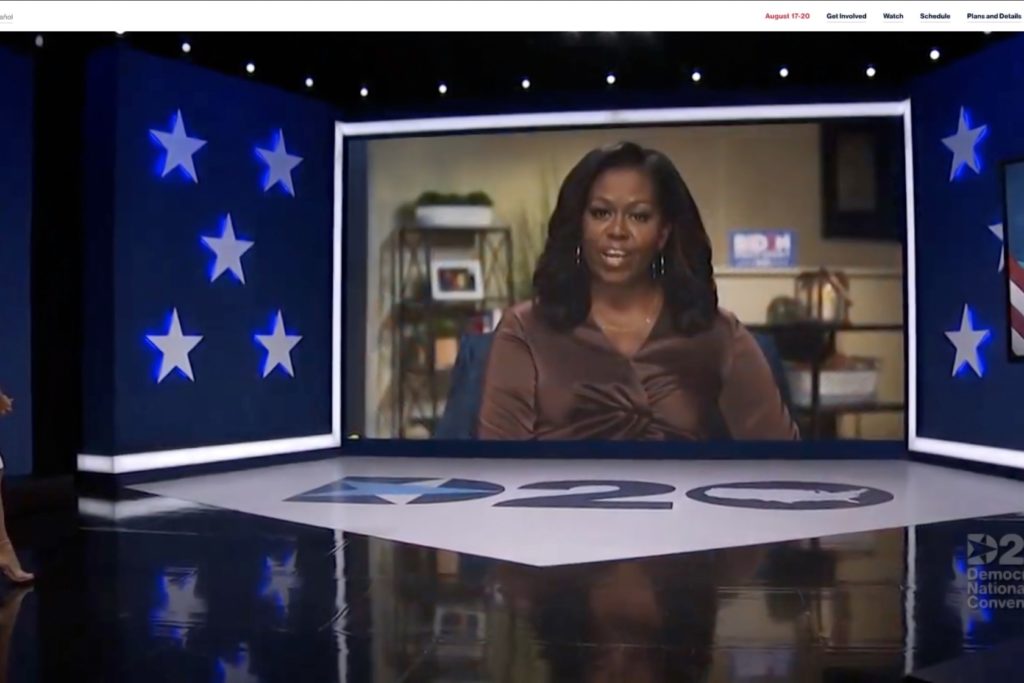 I did not watch the opening night of the Democratic National Convention. The events have become increasingly compact in recent cycles and being forced to go virtual by a global pandemic surely rendered it surreal. Still, it set the right tone, for my tastes anyway.
Washington Post ("On Democratic convention's first night, speakers blame Trump for America's woes"):
Democrats kicked off their virtual nominating convention Monday with a focused denunciation of President Trump, showcasing dozens of testimonials that culminated in lancing criticism from former first lady Michelle Obama, who cast Trump as incapable of meeting America's needs and said Joe Biden would usher in racial justice and ease the coronavirus pandemic.

In the centerpiece speech of the night, a searing indictment of her husband Barack Obama's successor, Obama declared that Trump has mishandled the pandemic and failed to respond to outcries over the deaths of Black Americans. She warned that the nation would suffer more if he is elected to a second term.

"Let me be as honest and clear as I possibly can: Donald Trump is the wrong president for our country. He has had more than enough time to prove that he can do the job, but he is clearly in over his head. He cannot meet this moment. He simply cannot be who we need him to be for us," she said, before quoting a line Trump used about covid-19 deaths in a recent interview: "It is what it is."

[…]

Other testimonials against Trump's stewardship ranged from democratic socialist Sen. Bernie Sanders (I-Vt.) to Ohio's Republican former governor John Kasich, both of whom have pleaded with the country to set aside ideological differences to defeat Trump. The daughter of a covid-19 patient angrily blamed her father's death on Trump during the broadcast, which repeatedly showed victims of the coronavirus.

The unprecedented virtual convention program, without crowds, floor fights or sign waving, reflected the extraordinary limits of current public health guidelines, as the country continues to keep socially distant in the face of a pandemic that has killed more than 167,000 Americans this year. Occasional live shots of Democratic delegates watching at home were cut in throughout the night to replicate some sense of a normal event.

In a truncated two-hour format, organizers sought to showcase a united front in support of presumptive Democratic nominee Biden, who appeared frequently in the program through speaking clips, still photos and prerecorded video. Borrowing heavily from the tropes of live cable television, he hosted a brief roundtable discussion with civil rights activists, including Gwen Carr, the mother of Eric Garner, who died in police custody in New York in 2014.

Most speeches lasted just a couple of minutes or less, leaving Obama with the longest address to close out the night. She acknowledged that voting might be even more difficult this year for some.

"We have got to grab our comfortable shoes, put on our masks, pack a brown-bag dinner and maybe breakfast, too, because we've got to be willing to stand in line all night if we have to," she said.

Obama repeated and expanded on her 2016 convention plea for Democrats to "go high" when their opponents go low.

"Going high means standing fierce against hatred," she said. "Going high means unlocking the shackles of lies and mistrust with the only thing that can set us free — cold, hard truth."
New York Times ("Democrats Begin Virtual Convention, Hailing Biden and Denouncing Trump"):
Democrats opened the most extraordinary presidential nominating convention in recent history on Monday night with a program that spanned the gamut from socialists to Republicans, from the relatives of George Floyd to family members of those killed by the coronavirus, in a two-hour event that was a striking departure from the traditional summer pageant of American democracy.

Truncated and conducted virtually because of the coronavirus crisis, the presentation at times resembled an online awards show, and it offered a vivid illustration of how both the pandemic and widespread opposition to President Trump have upended the country's politics.

[…]

Senator Bernie Sanders of Vermont, speaking before Mrs. Obama, gave voice to what he described as the historic stakes this November, arguing that "this election is about preserving our democracy" and alluding to his own family's experience with Nazi Germany.

"This is not normal," he said, "and we must never treat it like it is."

Kicking off a four-day conclave during which they hope to both win over moderates who are uneasy with Mr. Trump's divisive leadership and energize liberals who are unenthusiastic about their own nominee, Democrats reached for the recent past.

They showcased Mr. Sanders, the leader of the left and their reigning presidential runner-up; a handful of Republican defectors, including former Gov. John R. Kasich of Ohio; and the most popular figure from the previous administration, Mrs. Obama.

They hailed Mr. Biden, the former vice president, who will formally accept his party's nomination on Thursday, and his running mate, Senator Kamala Harris of California,and made clear their deep apprehension about the country's future if Mr. Trump were to win a second term.
This strikes me as the right strategy: highlight the range of support for Biden and opposition for Trump. Having a disaffected member of the opposition party in Kasich highlights how awful Trump is. Having Sanders, the symbol of the progressive wing that has not quite managed to win the nomination the last two cycles but is surely the party's future go early makes sense, too. And closing with Michelle Obama, quite likely the party's most popular, least divisive figure, was shrewd.
Not everyone agrees, of course.
Rebecca Traister, who has made a good living being angry, is, well, angry. She titles her column "Sixty Seconds to Self-Sabotage."
When the Democratic National Committee released its schedule for its big socially distanced convention this week, we learned that New York Rep. Alexandria Ocasio-Cortez, inarguably among the party's most dynamic figures, would have just sixty seconds to address the nation.

[…]

But the relegation of Ocasio-Cortez, who electrifies multiple parts of a Democratic base, to one meager minute, a segment that—unlike speeches by some other presenters—will be pre-recorded, isn't just a snub. The failure of a major political party to showcase one of its most talented politicians, a young person whose communicative reach and facility positions her to be among its leaders deep into our future, is self-sabotage. The error was underlined on Sunday when the convention announced that its Tuesday keynote slot—usually reserved to spotlight young politicians imagined to be the party's up-and-coming leaders-would this year be an address offered by seventeen people described as "rising stars": sixteen young lawmakers whose major star-making distinction seems to be that they lent their support to Joseph Robinette Biden early and also Stacey Abrams, the former Georgia gubernatorial candidate (who herself did not endorse Biden until May).

Abrams—who was tapped to deliver the party's response to the 2019 State of the Union (a usually thankless job that she aced), who in her bid to become the first Black woman ever to be elected governor increased youth turnout in her state by 139 percent, and who since her contested loss has launched a massive multi-state initiative to battle voter suppression, among the greatest threats currently facing democracy (and Democrats)-is most assuredly already a star. In fact, she shines brightly enough that Biden's team whispered about him hitching his then-floundering primary campaign to her last year. That at 46, Abrams is being sat at the kids' table is insulting, shortsighted folly.

But at least she and Ocasio-Cortez have prime-time speaking gigs, while many of their peers—the energetic new thinkers and voices of America's liberal and left politics, many of them from diverse backgrounds, with perspectives and experiences fresh to the party—have not been given featured berths at all.

Where will Julian Castro be this week? What about Katie Porter? Pramila Jayapal? Lauren Underwood? Anna Eskamani? Jennifer Carroll Foy? How about Wisconsin's Lieutenant governor Mandela Barnes or Pennsylvania Lt. Governor John Fetterman? Some of these people will be speaking to afternoon caucus meetings and doing small-potatoes participation that gives the DNC plausible deniability against accusations that they excluded them, but why the hell isn't, for example, Massachusetts Rep. Ayanna Pressley being put in front of a big national audience, perhaps as the Tuesday keynote speaker? She is one of the party's best orators, a genuine rising star (albeit one who endorsed Elizabeth Warren over Biden, which I guess was determinative). If Abrams had been (correctly) given her own slot, and a full chance to bring her fight against suppression to the national audience, Pressley could have blown the roof off of whatever room she'd be speaking from, and the convention would have held a lot more promise-not just for entertainment, but for inspiration, vision and a view of a path forward-than it currently does.
Traister's lament seems silly. Ocasio-Cortez is indeed a gifted politician. It's quite plausible that she'll be the party's presidential nominee one day; certainly, she's likely to be a contender for years to come. While I don't quite get the hype over Abrams, she's also quite popular in party circles.
But this is not like the party conventions of my youth or, indeed, my early adulthood. The Democrats don't have sixty hours of airtime to fill; they have eight. Why would they devote time to Castro, who was a nonfactor in his bid for the nomination, much less a bunch of people even most political junkies have never heard of?
Traister and I ultimately view the strategy differently, as we have different theories of victory.
My sense, which is congruent with the longstanding conventional wisdom of American politics, is that the contest between now and November 3 (and, really, less than that given how many people will vote early this year) is one of persuading the persuadables. Traister seems to be relying on a revisionist theory that has gained currency of late that elections are simply about turning out the base.
Traister, presumably, would argue that there are very few persuadables out there. Therefore, the Democrats needed to spend these four days energizing young voters and alienated progressives.
If I'm right, the people who would prefer that AOC got an hour-long speaking spot last night and that Bernie Sanders, or at least Elizabeth Warren, were going to be accepting the nomination Thursday instead of Joe Biden, are already in the bag. Conversely, people who wish John Kasich were on the Republican ticket rather than Trump may well be persuaded to vote for Biden if Kasich himself tells them it's okay—but may hold their nose and vote for Trump if AOC and The Squad is the face of the alternative.
Given that Trump's ceiling seems to be around 40 percent and that Biden has maintained a sizable lead over him since becoming the presumptive nominee, it seems that my theory is the safest. It doubles down on Biden's brand as the safe choice, a responsible, calm leader who can guide the ship of state back to safety after four years of being captained by a madman.
UPDATE: Stephen Colbert liked it.