Dianne Feinstein: No Evidence That Bergdahl Was In Imminent Danger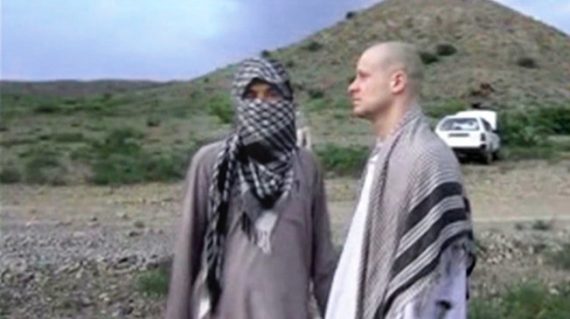 While the Administration's explanations for why it did not comply with the 30 day notice requirement for release of Gutantanamo Bay prisoners when making the deal that resulted in the release of Sgt. Bowe Bergdahl, the one that they seem to be relying upon the most is the argument that the decision was made to complete the deal quickly because of concerns about Sgt. Bergdahl's health. Earlier this week, for example, the White House showed every member of the Senate a so-called "proof of life" video from earlier this year that they say led to those concerns, but many of the remarks afterward seemed to indicate that they video wasn't very convincing. Senator Tom Coburn, who is a physician, said it appeared to him that Bergdahl had been drugged, which is a tactic that hostage takers often use to make it appear that captives are in worse physical shape than they actually are. Senate Intelligence Committee Chairwoman Dianne Feinstein, meanwhile, is saying that she's seen no evidence that Bergdahl was in any significant danger prior to his release:
Senate Intelligence Committee chairwoman said she's not convinced there was a "credible threat" against the life of freed Army Sergeant Bowe Bergdahl that motivated the White House to keep its plans secret.

"I don't think there was a credible threat," U.S. Senator Dianne Feinstein said in an interview yesterday for Bloomberg Television's "Political Capital with Al Hunt" airing this weekend. "I have no information that there was."

Senators were told at a June 4 classified briefing that President Barack Obama's administration had received indications that Bergdahl's life could be jeopardized if the detainee exchange proceedings were disclosed or derailed, according to a government official who sought anonymity.

Feinstein, a California Democrat, is among lawmakers who criticized the administration's decision not to adhere to a law requiring 30 days' notice to Congress before releasing detainees from the Guantanamo Bay facility in Cuba. Prisoners from wars following the Sept. 11 terrorist attacks are held there.

Bergdahl, the last remaining U.S. prisoner of war in Afghanistan, was handed to U.S. forces in eastern Afghanistan on May 31 in exchange for five Guantanamo detainees.

Feinstein said it was difficult for her to tell, based on the information she's been provided, whether Bergdahl's health had deteriorated to the point where his life was in serious danger without an immediate release.

"There's no question he was debilitated," she said. "There was no question he was under stress — blinking rapidly, probably held in dark surroundings for a long period of time."

"But he'll receive very good care and recover, and I think that's what's important," she added.
Perhaps it's the case that there is evidence that Bergdahl was in danger, thus justifying a quick deal that required the Administration to ignore the law. So far, however, they haven't presented that evidence and, even conceding the point that Bergdahl should have been brought home somehow, the Administration still seems to have made a serious political mistake in ignoring the law and flouting Congress in this manner.