Do Presidential Pardons Still Make Sense?
Obama has issued more commutations than all his predecessors combined. He set the single-day record Monday.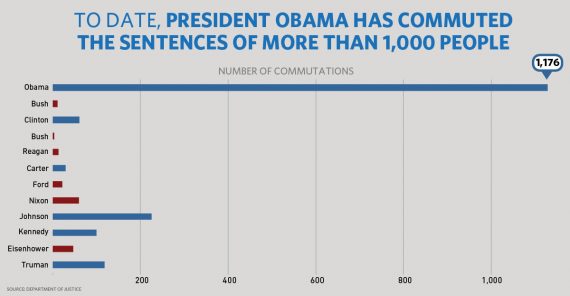 President Obama, who has issued more career commutations than all his predecessors combined, broke the individual daily record yesterday. From the press release:
Today, President Obama granted clemency to 231 deserving individuals — the most individual acts of clemency granted in a single day by any president in this nation's history. With today's 153 commutations, the President has now commuted the sentences of 1,176 individuals, including 395 life sentences. The President also granted pardons to 78 individuals, bringing his total number of pardons to 148. Today's acts of clemency — and the mercy the President has shown his 1,324 clemency recipients — exemplify his belief that America is a nation of second chances.

The 231 individuals granted clemency today have all demonstrated that they are ready to make use — or have already made use — of a second chance. While each clemency recipient's story is unique, the common thread of rehabilitation underlies all of them. For the pardon recipient, it is the story of an individual who has led a productive and law-abiding post-conviction life, including by contributing to the community in a meaningful way. For the commutation recipient, it is the story of an individual who has made the most of his or her time in prison, by participating in educational courses, vocational training, and drug treatment. These are the stories that demonstrate the successes that can be achieved — by both individuals and society — in a nation of second chances.

Today's grants signify the President's continued commitment to exercising his clemency authority through the remainder of his time in office. In 2016 alone, the President has granted clemency to more than 1,000 deserving individuals. The President continues to review clemency applications on an individualized basis to determine whether a particular applicant has demonstrated a readiness to make use of his or her second chance, and I expect that the President will issue more grants of both commutations and pardons before he leaves office. The mercy that the President has shown his 1,324 clemency recipients is remarkable, but we must remember that clemency is a tool of last resort and that only Congress can achieve the broader reforms needed to ensure over the long run that our criminal justice system operates more fairly and effectively in the service of public safety.
I have no idea how "deserving" said individuals are, especially in comparison with the massive number of people who will remain in prison after Obama leaves office. I have no reason to think they weren't well-vetted by the Justice Department or that there's anything nefarious going on here. Indeed, it looks like genuine acts of mercy on the part of the president.  This isn't Bill Clinton pardoning wealthy donors on his way out the door.
Still, like the Electoral College, this seems like an anachronism that has outlived its day. Our entire system of government is based on a system of checks and balances yet we give our chief executives—the presidents and many (most?) state governors—the power the unilaterally overturn the results of the criminal justice system. Not only is it rife with potential for abuse (indeed, Newt Gingrich is openly encouraging President-Elect Trump to use it to allow his cronies to ignore anti-corruption laws) but it seems patently wrong to reserve mercy to those who can somehow gain the attention of the president or governor.
Former Illinois Governor Pat Quinn issued  1,752 pardons during his tenure, including 232 on his way out the door last year.  That's very much on the high end. As a piece in Governing magazine from 2013 notes, governors have been less inclined to issue pardons in recent decades because of increasing political scrutiny. Then again, a 2015 piece in the same forum reports, "gubernatorial pardons may be about ready to start making a comeback. As part of the broader rethinking of criminal justice strategies, in which concerns about rehabilitation, exonerations and expungement of records have become part of the mix, more governors seem willing to embrace their historic role of offering clemency to those who have earned it."
But should such an important government function really be subject to such whims? Many states have decided not:
In six states, pardons are entirely the province of an independent commission. In 20 states, the governor can make the decision, but must consult with a board of one kind or another. In Rhode Island, the Senate must approve every pardon application before it can be granted.
I'd prefer a commission or the like become the norm for both state and federal offenders but would be fine with a Rhode Island-style model as well.
There isn't going to be enough of a groundswell to amend the Constitution on this issue unless Trump abuses it bigly—in a completely unpresidented fashion.  But it's really time for it to go.