Do What You Hate?
The advice "Do what you love. Love what you do" is not without pitfalls.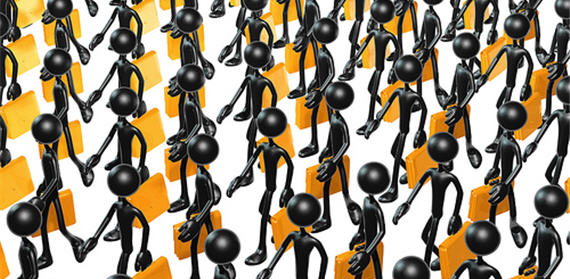 Miya Tokumitsu, who holds a PhD in art history from the University of Pennsylvania, vehemently pushes back on the notion that people should make a living doing things they love, which she argues is simultaneously elitist and a tool for exploitation from our corporate overlords.
There's little doubt that "do what you love" (DWYL) is now the unofficial work mantra for our time. The problem is that it leads not to salvation, but to the devaluation of actual work, including the very work it pretends to elevate — and more importantly, the dehumanization of the vast majority of laborers.

Superficially, DWYL is an uplifting piece of advice, urging us to ponder what it is we most enjoy doing and then turn that activity into a wage-generating enterprise. But why should our pleasure be for profit?
That seems at first an odd formulation. After all, the point of the advice is that, since we're going to have to spend so much of our adult life earning money, we might as well find something we like doing. Someone is going to profit from our work, regardless; the question is how miserable that work is going to make us.
Who is the audience for this dictum? Who is not?

By keeping us focused on ourselves and our individual happiness, DWYL distracts us from the working conditions of others while validating our own choices and relieving us from obligations to all who labor, whether or not they love it. It is the secret handshake of the privileged and a worldview that disguises its elitism as noble self-betterment. According to this way of thinking, labor is not something one does for compensation, but an act of self-love. If profit doesn't happen to follow, it is because the worker's passion and determination were insufficient. Its real achievement is making workers believe their labor serves the self and not the marketplace.
Again, this seems odd. It's true, of course, that the overwhelming majority of mankind will never be able to make a living doing something they love. See Chris Rock's classic bit on the distinction between "jobs" and "careers." So, yes, to some extent DWYL is an aphorism of those elites who can aspire to the creative class. But I don't believe I've ever heard anyone argue that those who don't achieve the goal have failed, much less because their "passion and determination were insufficient."
Nor does the advice come predominately from the captains of industry or others seeking to exploit workers. Rather, it comes mostly from parents and guidance counselors and those who are either living the dream—they actually are making a nice living doing what they love—or those who are older and have profound regrets over not having, to use a phrase from days gone by, followed their bliss.
Tokumitsu provides a compelling counterexample, though, to make a powerful point:
[T]he most important recent evangelist of the DWYL creed is deceased Apple CEO Steve Jobs.

His graduation speech to the Stanford University class of 2005 provides as good an origin myth as any, especially since Jobs had already been beatified as the patron saint of aestheticized work well before his early death. In the speech, Jobs recounts the creation of Apple, and inserts this reflection:

You've got to find what you love. And that is as true for your work as it is for your lovers. Your work is going to fill a large part of your life, and the only way to be truly satisfied is to do what you believe is great work. And the only way to do great work is to love what you do.

In these four sentences, the words "you" and "your" appear eight times. This focus on the individual is hardly surprising coming from Jobs, who cultivated a very specific image of himself as a worker: inspired, casual, passionate — all states agreeable with ideal romantic love. Jobs telegraphed the conflation of his besotted worker-self with his company so effectively that his black turtleneck and blue jeans became metonyms for all of Apple and the labor that maintains it.

But by portraying Apple as a labor of his individual love, Jobs elided the labor of untold thousands in Apple's factories, conveniently hidden from sight on the other side of the planet — the very labor that allowed Jobs to actualize his love.
This is a classic conceit and not one limited to the elites. Most of us, I think, tend to think of companies like Apple in terms of their founding geniuses and maybe also the creative teams that design and engineer their products. It's those people who can aspire to—and frequently achieve—the goal of doing something they love while also making a nice living. In some cases, a fabulous living. But we tend to forget about the lowly worker bees who far outnumber the creative types. They're of course vital to the success of the company but are faceless and interchangeable cogs, at least in terms of the narrative.
After a brief diversion comparing Jobs to Henry David Thoreau, she continues,
One consequence of this isolation is the division that DWYL creates among workers, largely along class lines. Work becomes divided into two opposing classes: that which is lovable (creative, intellectual, socially prestigious) and that which is not (repetitive, unintellectual, undistinguished). Those in the lovable work camp are vastly more privileged in terms of wealth, social status, education, society's racial biases, and political clout, while comprising a small minority of the workforce.

For those forced into unlovable work, it's a different story. Under the DWYL credo, labor that is done out of motives or needs other than love (which is, in fact, most labor) is not only demeaned but erased. As in Jobs' Stanford speech, unlovable but socially necessary work is banished from the spectrum of consciousness altogether.

Think of the great variety of work that allowed Jobs to spend even one day as CEO: his food harvested from fields, then transported across great distances. His company's goods assembled, packaged, shipped. Apple advertisements scripted, cast, filmed. Lawsuits processed. Office wastebaskets emptied and ink cartridges filled. Job creation goes both ways. Yet with the vast majority of workers effectively invisible to elites busy in their lovable occupations, how can it be surprising that the heavy strains faced by today's workers (abysmal wages, massive child care costs, et cetera) barely register as political issues even among the liberal faction of the ruling class?

In ignoring most work and reclassifying the rest as love, DWYL may be the most elegant anti-worker ideology around. Why should workers assemble and assert their class interests if there's no such thing as work?
There's a lot packed in there, some of which I agree with and most of which I don't.
First, as Tokumitsu herself will go on to note later in the piece, it's simply not the case that creative work is always more lucrative than other work. While it's true that those fortunate to get the good jobs in academia, journalism, publishing, and the like can make very good wages, most of them make far less money than a mediocre plumber or electrician. It's true that the former jobs are more prized by society (although, even there, there are resentments); it's not true that they're generally better rewarded monetarily.
Second, while society definitely pushes people to do intellectually based work that requires college—and preferably professional or graduate education—rather than become tradesmen, much less coal miners and factory workers, it goes to far to say that we disdain or "erase" those who take the latter path. Certainly, to the extent we "erase" them from our narrative, we do so for essentially everybody. There are maybe two or three people from Apple and Microsoft whose names we know; all the rest—even those who made millions—are "erased" in that sense.
Third, this is, always has been, and always will be the human condition. It has nothing to do with the "do what you love mantra." Whether people were making their living as subsistence farmers or emptying trashcans at Apple or even being the chief engineer at General Motors, they lived anonymously to those outside their immediate reach and invisibly to history. Hell, there are U.S. presidents that we barely remember; most cabinet secretaries are anonymous in their own day. Almost every four-star general and senior executive in the federal government is faceless, despite their very localized prestige and relatively handsome compensation.
Fourth, and most importantly, it remains odd to me to claim that "do what you love" is some evil plan designed to suppress wages. To be sure, it can have that effect. Far too many people are pursuing jobs as college professors, journalists, actors, writers, and other creative occupations for the market. So, at the low end, this means those seeking to hire people trying to get footholds in those industries can exploit the oversupply. But those skilled and lucky enough to rise to the top nonetheless make handsome if not fabulous sums. The fact that there are thousands of pretty young actresses willing to star in the latest blockbuster for scale doesn't stop the studios from instead hiring stars for millions.
From there, though, she goes on to make a much more compelling point:
"Do what you love" disguises the fact that being able to choose a career primarily for personal reward is an unmerited privilege, a sign of that person's socioeconomic class. Even if a self-employed graphic designer had parents who could pay for art school and cosign a lease for a slick Brooklyn apartment, she can self-righteously bestow DWYL as career advice to those covetous of her success.

If we believe that working as a Silicon Valley entrepreneur or a museum publicist or a think-tank acolyte is essential to being true to ourselves — in fact, to loving ourselves — what do we believe about the inner lives and hopes of those who clean hotel rooms and stock shelves at big-box stores? The answer is: nothing.

Yet arduous, low-wage work is what ever more Americans do and will be doing. According to the US Bureau of Labor Statistics, the two fastest-growing occupations projected until 2020 are "Personal Care Aide" and "Home Care Aide," with average salaries of $19,640 per year and $20,560 per year in 2010, respectively. Elevating certain types of professions to something worthy of love necessarily denigrates the labor of those who do unglamorous work that keeps society functioning, especially the crucial work of caregivers.
Indeed, as a recent report in The Atlantic shows, we have more recent college graduates in jobs that don't require college than we've had in a long time—and as many as we ever have.  But this has many causes, with DWYL surely very low on the list.
But, while recognizing that Tokumitsu points to a serious flaw in the advice—that it's simply unattainable for the vast number of our fellow man and can blind us to privilege—it's not at all obvious what we should do about it. I don't know if writing magazine pieces is what she loves or even if it's the primary way she makes a living, but it's actually rather odd for someone with an Ivy League PhD in the archetypal "what the hell are you going to do with that?!" field to rail against people pursuing their passions. It's one thing to recognize that very few people, indeed, can get into grad school at U Penn and that fewer still can afford to spend a decade or more foregoing a real income to achieve their doctorate in a field where they may not find a great job waiting for them. But to tell people that they shouldn't at least factor what it is they love heavily into their decision-making seems cruel coming from someone privileged enough to have done so.
To be fair, she goes on at great length about the pitfalls, many of which we've been talking about for years at OTB. The decline of the tenure track in the academy and their replacement with underpaid adjuncts. The rise of the unpaid intern, the default track for hiring at think tanks, major media outlets, fashion houses, publishers, and many other highly-sought-after creative class jobs. Those are real problems that are damaging to society and to those industries, essentially locking out those from the outside the most privileged quintile from those careers.
But it's not clear what it is Tokumitsu proposes to do about it. Her conclusion:
In masking the very exploitative mechanisms of labor that it fuels, DWYL is, in fact, the most perfect ideological tool of capitalism. It shunts aside the labor of others and disguises our own labor to ourselves. It hides the fact that if we acknowledged all of our work as work, we could set appropriate limits for it, demanding fair compensation and humane schedules that allow for family and leisure time.

And if we did that, more of us could get around to doing what it is we really love.
What does that mean, exactly?
Presumably, the vast preponderance of those who would like to have been actors or novelists or fashion designers in fact followed this advice. They dismissed their dreams as unrealistic and instead got "real" jobs. But surely the advice isn't the nobody should pursue those careers. Aside from making sure our sons and daughters and our students are armed with good information about how limited those paths are, why shouldn't they make their own choices?
Maybe we should turn around the sage advice of Waylon and Willie and encourage more of our children to be cowboys—or at least plumbers, electricians, and HVAC technicians—than doctors and lawyers and such. At the very least, we should make it clear that those are perfectly honorable and acceptable choices. But it still seems perfectly reasonable to exhort them to try to pursue a path that they enjoy.