Donald Trump Continues To Lead As The GOP Race Appears To Consolidate
The latest national poll of the Republican race shows Trump continuing to lead, Ben Carson fading, and Ted Cruz and Marco Rubio rising while the rest of the field is stagnant or sinking.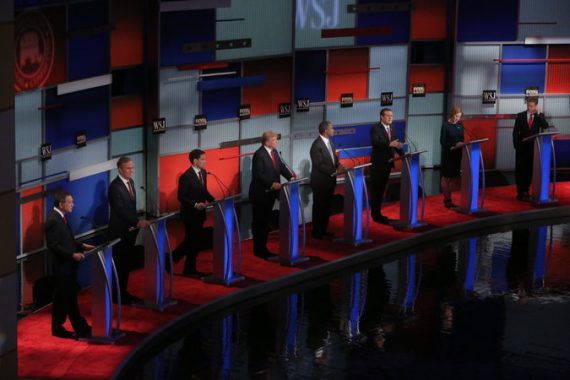 The latest national poll of the Republican race for President shows that Donald Trump continues to maintain his lead, and that Ben Carson is fading while Senators Marco Rubio and Ted Cruz appear to be moving closer to their own battle for second place:
Ben Carson took a tumble in the latest national poll, falling six points from last month in the Quinnipiac University survey, after weathering heavy criticism for his lack of foreign policy expertise and scrutiny about his personal tale of redemption.

After pulling into a virtual tie with Donald Trump in the prior poll, the retired neurosurgeon dropped back to third place with 16 percent support among Republican voters, while Trump moved up three percentage points to dominate the field at 27 percent.

Also enjoying a bump — Sen. Marco Rubio, who moved up 3 percentage points and into second place with 17 percent support, and Sen. Ted Cruz, who also gained 3 percentage points and tied with Carson at 16 percent. The 3 percent hikes for Trump, Rubio and Cruz are all within the poll's margin of error.

Behind Trump and the triumvirate vying for position behind the Manhattan businessman, no other candidate finished in the double digits.

Former Florida Gov. Jeb Bush earned 5 percent, followed by former Hewlett-Packard CEO Carly Fiorina at 3 percent, with no one else receiving more than 2 percent support and 8 percent undecided.

Carson's dip follows a series of unforced errors, including a flap over his assertion that China is involved in the Syrian conflict and his struggle to answer whom he would call first to form a coalition against the Islamic State. He also has come under increased scrutiny for the stories he has often retold about his violent childhood and his religious redemption that allowed him to become a highly successful pediatric neurosurgeon.

After surging in the early fall, nipping at the heels of Trump and even surpassing him in some polls, Carson appears to be settling back down in some surveys.

"Poll numbers will go up and down. It's a marathon, not a sprint," Carson told NBC's "Today" on Tuesday in addressing his slide among Iowa Republicans specifically.

This most recent poll delivered some good news for Rubio and Cruz, who have both recently upped their profiles on the campaign trail and engaged in some nasty backs-and-forth about their respective political records, especially regarding immigration.
Beyond the top four of Trump, Carson, Rubio, and Cruz, support for the rest of the Republican field appears to be collapsing. As stated above, former Florida Governor Jeb Bush is at 5%, followed by Carly Fiorina at 3% and then a triumvirate of candidates, Chris Christie, Rand Paul, and John Kasich,, who register at 2%, Mike Huckabee at 1%, and all the other candidates at or near 0%. This apparent consolidation is also apparent in the poll averages. At RealClearPolitics, Trump is at the top at 28.3%, followed by Carson who registers an 18.3% average largely due to the fact that the average is still considering polling from earlier in November when he was still still performing well. Senators Rubio and Cruz are moving up in the average, with Rubio now at 13.8% and Cruz not far behind at 13.0%. After that, the numbers fall off in much the same way that the poll numbers do in this latest poll. Jeb Bush sits at an average of 5.3%, followed by Carly Fiorina at 3.5%, and then Huckabee, Christie, Kasich, and Paul all averaging below 3% and the remaining candidates all averaging below 1%. While the numbers are slightly different, the Pollster average shows roughly the same trends, with Trump, Carson, Rubio, and Cruz in the top tier, Jeb Bush in the middle, Fiorina, Huckabee, Paul, Kasich, and Christie seemingly fading, and the other candidates basically dead. Of more immediate concern to the candidates, this latest poll, which is among those that will be considered in determining who gets invited to the next debate, suggests a much small main debate stage than we've seen before. To get on the main stage this time, a candidate must have an average in the designated polls that CNN will consider of either 3.5% nationally or 4.0% in either Iowa or New Hampshire. If my estimate of that criteria is correct, the main stage of the next debate will consist of Trump, Carson, Rubio, Cruz, Bush, and Christie. The remaining candidates, including candidates like Carly Fiorina, Rand Paul, John Kasich, and Mike Huckabee, would be relegated to the undercard debate while some candidates, like Lindsey Graham and George Pataki, may not even get invited to that debate at all.
The biggest takeaway from this poll, and from the poll averages, seems to be the idea that we are seeing some level of consolidation as we head into the final two months before voting actually begins. Donald Trump remains, as has been for the past five months, at the top of the field with little sign that he is going to be deposed from that position any time soon. Ben Carson is still in second place, but he is quickly fading as the questions raised about  his character, his trustworthiness and, perhaps most importantly, his preparedness to be President on important issues like foreign policy. Meanwhile both Marco Rubio and Ted Cruz are beginning a rise in the polls that is well-timed for both of them as we head toward Iowa and New Hampshire. The reality of that rise can be seen in the fact that we are seeing both Senators go after each other more directly on the campaign trail, while they simultaneously compete to pick away at what's left of Jeb Bush's support, and Marco Rubio racks up an impressive array of endorsements from Republican Senators and other elected officials. Jeb Bush, meanwhile, is arguably alone in the middle of the field but with little sign that he'll be turning his fortunes around any time soon. After Bush, there's Carly Fiorina, Mike Huckabee, Chris Christie, John Kasich, and Rand Paul all bunched just above or just below a 3% average in the national polling. Below them, are the candidates who, in ordinary years, would probably be out of the race by now but seem to be staying in largely because they have nothing better to do and because the continuation of the largely unnecessary undercard debates means that they still have a chance to get some free television coverage that might lead to future media deals or gigs on the speaking circuit. Most importantly, these trends appear to be occurring as well in the early primary states, most importantly and Iowa and New Hampshire.
This chart from RealClearPolitics provides a good illustration of what seems to be happening: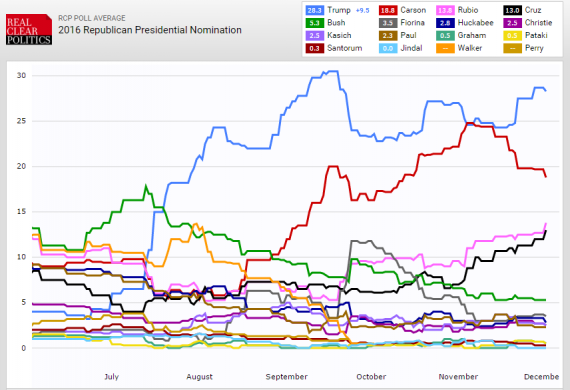 If these trends continue, then it's likely that the next two months or so of the campaign will consist of a combination of Rubio and Cruz fighting each other to see which one continues to rise to be the next primary challenger to Donald Trump. Indeed, it seems fairly clear that the battle between Cruz and Rubio will have to be resolved before either one of them can seriously take Trump on, and that may not happen until we've gotten a few primaries under our belt in mid-February. Additionally, since it's still not outside the realm of possibility that another candidate, such as Jeb Bush, John Kasich, or Chris Christie, could see their fortunes turn around before the end of January, it may end up being the case that Cruz and Rubio end up damaging each other so much that neither one of them is able to take on Trump. Additionally, it seems likely that both Senators are likely to become the target of Trump attacks the closer they get to him. Ben Carson, meanwhile, appears to be on a clear downward trajectory that is unlikely to reverse itself at this point. The biggest question will be where the Carson support goes. At least in the short term, it appears to be dividing itself between Rubio and Cruz, but it's possible that some of the people who supported Carson in past polling could give some of the candidates further down the list another look. For the time being, though, we appear to be headed toward a race dominated by Trump, a fading Ben Carson, a Rubio-Cruz battle for who gets to rise next, and then a bunch of candidates consisting of everyone from Jeb Bush to Rand Paul, John Kasich, and Chris Christie, who appear to have stalled and seem unlikely to rise. As the caveats always say, there's still time for something that could change the race between now and the time voting starts, but that time is growing short and, with the holidays approaching, the race will largely be frozen in place from mid-December until after the New Year. That won't give the other candidates much time to turn things around.