Donald Trump Not Really Concerned That Vladimir Putin Has Political Opponents Murdered
Donald Trump loves the fact that he's being praised by an autocratic dictator.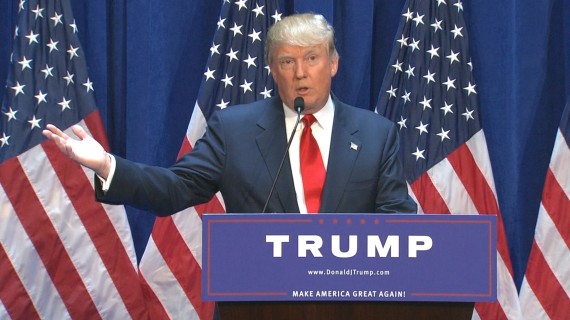 As I noted yesterday, Russian President Vladimir Putin had some decidedly, perhaps to some surprisingly, kind words to say about Donald Trump and his upstart campaign for the Republican Presidential nomination. At least in public, Trump seems to be relishing in the endorsement notwithstanding the source. Yesterday, for example, he called Putin's words "a great honor" and went on to talk yet again about the fact that only he could be the kind of person to 'work with' Putin on issues ranging from Ukraine to Syria. This morning in Morning Joe Trump doubled down on that reaction and seemingly dismissed the examples of Putin's autocratic rule that most of the rest of the the Western world has condemned:
During a Friday-morning interview with Donald Trump, MSNBC host Joe Scarborough was baffled by the Republican front-runner's embrace of Russian President Vladimir Putin

"Sure, when people call you 'brilliant' it's always good. Especially when the person heads up Russia," Trump told cohost Mika Brzezinski when asked about Putin praising him as "very talented" the day before.

Scarborough pointed to Putin's status as a notorious strongman.

"Well, I mean, it's also a person who kills journalists, political opponents, and invades countries. Obviously that would be a concern, would it not?" Scarborough asked.

"He's running his country, and at least he's a leader," Trump replied. "Unlike what we have in this country."

"But again: He kills journalists that don't agree with him," Scarborough said.

The Republican presidential front-runner said there was "a lot of killing going on" around the world and then suggested that Scarborough had asked him a different question.

"I think our country does plenty of killing, also, Joe, so, you know," Trump replied. "There's a lot of stupidity going on in the world right now, Joe. A lot of killing going on. A lot of stupidity. And that's the way it is. But you didn't ask me [that] question, you asked me a different question. So that's fine."

Scarborough was left visibly stunned.

"I'm confused," the MSNBC host said. "So I mean, you obviously condemn Vladimir Putin killing journalists and political opponents, right?"

"Oh sure, absolutely," Trump said.

(…)

Friday during his "Morning Joe" interview, Trump said he always "felt fine" about Putin and touted the Russian president's poll numbers. Putin's position in his country is bolstered by the Russian government's control over much of the Russian news media.

"I always felt fine about Putin," Trump said. "I think that he's a strong leader. He's a powerful leader … He's actually got a popularity within his country. They respect him as a leader."

Trump contrasted Putin's numbers with President Barack Obama's.

"I think he's up in the 80s. You see where Obama's in the 30s and low-40s. And he's up in the 80s," Trump said. "And I don't know who does the polls. Maybe he does the polls, but I think they're done by American companies, actually."
Here's the video:
I don't know for sure, but I tend to doubt that the polls of Putin's popularity that Trump refers to are being done by independent American or European polling firms, or even that they are an accurate representation of the state of public opinion to the extent that ordinary Russians, while they may generally support Putin as someone who sends a message of restoring Russian pride, are also reluctant to speak out against the man for rather obvious reasons. The  memories of the Soviet era aren't all that old, after, and as Daniel Ruiz notes, Putin has a long history of oppression of  political dissidents and journalists that extends all the way to imprisonment on trumped-up charges and murder. He orchestrated an obviously fixed referendum in Crimea that resulted in that peninsula's re-absorption into Russia proper. And, his backing of pro-Russian rebels in Eastern Ukraine, which seems to have clearly included Russian troops and special forces engaging in at least some combat on the ground, clearly played a direct role in the shooting down of Malaysian Airlines Flight 17 last summer, killing all 298 people on board.
Trump, apparently, is okay with all of this, or at least okay enough with it to gladly accept what he seems to be taking as Vladimir Putin's endorsement of his campaign for the Republican nomination. Given Trump's own history of appealing to the worst of American politics and why I personally feel free in calling his rhetoric seemingly fascist demagogic, along with the appeal to xenophobia inherent in his positions on things like Muslim immigrants, perhaps it shouldn't be surprising that Donald Trump welcomes Putin words. The fact that this probably won't impact the way his supporters feel about him, though, continues to say something about the state of American politics, and none of it is good. Trump is awakening a kind of populism that has, on the whole, never had a positive influence on the state of the country, and the fact that it's likely to long survive whatever becomes of his candidacy is quite troublesome.