Donald Trump To Make Presidential Announcment On 'Apprentice' Finale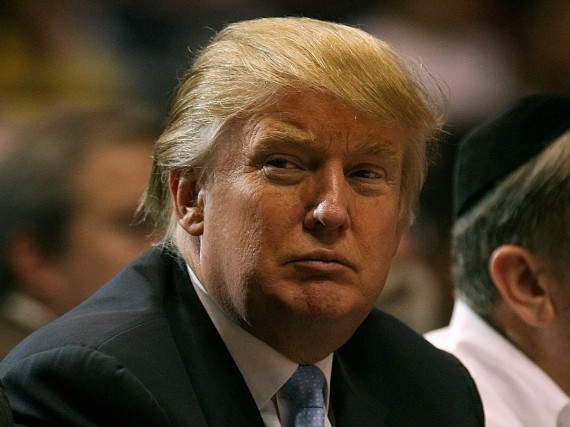 Donald Trump wants to make sure we all tune in to the two-hour live finale of his reality show:
Proving once again that Donald Trump knows a bit about publicity, the business man and real estate mogul will make an announcement on the season finale of "Celebrity Apprentice" about his intentions on running for the White House.

On the final episode of the popular TV reality show, Trump "plans to give an announcement date" for his decision on whether he'll make a formal bid for the Republican presidential nomination, senior Trump adviser Michael Cohen confirms to CNN.

The season finale of "Celebrity Apprentice" airs May 15. In numerous interviews with CNN and other organizations, Trump has said he'll make a decision on a White House bid by June.at s
Newsmax reports that the finale announcement will in fact be the prelude to the announcement of a Presidential campaign:
If you wonder whether Donald Trump is serious about running for president, tune in to the finale of "The Celebrity Apprentice" on May 15.

Trump plans to say on the NBC show that he will be holding a press conference a few days after the May 15th show. At that press conference in the Trump Tower in New York, Trump will be announcing his candidacy for the presidency.
Of course, the cynical among us will say that leaks like this fit in perfectly with the theory that Trump's flirtation with Presidential politics is really all about boosting his own brand, and the ratings of his television show. That certainly is a plausible theory. Another theory is that Trump really is serious about running for President.
Here's what I think we'll see.  At some point after this season of Celebrity Apprentice ends, Trump will announce that he is going to explore the idea of running for President via a series of tightly scripted, laudatory, speaking engagements around the country (he's already booked to appear at a rally in Boca Raton, Florida on Saturday, and that the Iowa GOP's dinner in June). The media will slavishly follow him around the country, partly because he'll be one of the few candidates in the race, and partly because, well, he's Donald Trump. Then, at some point in the fall, he'll announce that he's decided not to run because it's time to start shooting the next season of, you guessed it, Celebrity Apprentice.
It'll be a whole summer of the Donald Trump Media Circus. Enjoy.